No Pride in Policing Coalition (NPPC) hosted a rally for BIPOC students and migrant sex workers to begin a month-long action plan to disrupt municipal meetings and oppose increased spending on police services. 
"A new approach to safety and wellbeing is as urgent as ever," said NPPC organizers University of Toronto professor Beverly Bain, and author-activist Desmond Cole in a written statement read by "Defund" writer-researcher Robyn Maynard today. 
"Policing does not address the lack of housing, the cost of transit, or provide child care," Maynard added to over 100 attendees in front of city hall. 
Bain told NCM before the rally that putting more police on the streets would particularly burden Black, Indigenous and unhoused communities. 
"We are calling for a process of care for people in this city," the historical studies scholar told NCM before the rally, pointing to demands from 2020 to reallocate police funds for mental health and addictions, education, housing, and employment services above incarceration and police.
Tory's budget trinity includes $91.9 million from the federal government for refugee initiatives, and $48 million from the province for supportive housing units.
Toronto homeowners are preparing for a 5.5 per cent hike to the residential property tax rate to prepare for any "unprecedented inflationary pressures" the municipality may need to tackle in 2023, the CBC says. 
The $48.3 million increase in investment – a decade-long, record-breaking expenditure to an already-over $1.1 billion budget line – the Toronto Police Services plans to add 200 officers to its force of 7,600, including community neighbourhood initiatives. 
In response to blow-back from his Jan. 3 2023 budget announcement, Mayor John Tory told Metro Morning guest host Jason D'Souza that any investment in police over social services wasn't a question of "either-or." 
"The adequacy of police resources that are on the ground, versus how those police carry out their job are two different issues," Tory said. "I'm addressing one through the budget." 
The other, he says, underlies the service's modernization efforts. 
But experts and critics disagree. 
"How the police do their job impacts whether or not they're going to be good at it," Social Planning Toronto's executive director, Jin Huh said, whose non-profit examines municipal processes like the budget committee closely. 
And she says "they're failing on a number of fronts."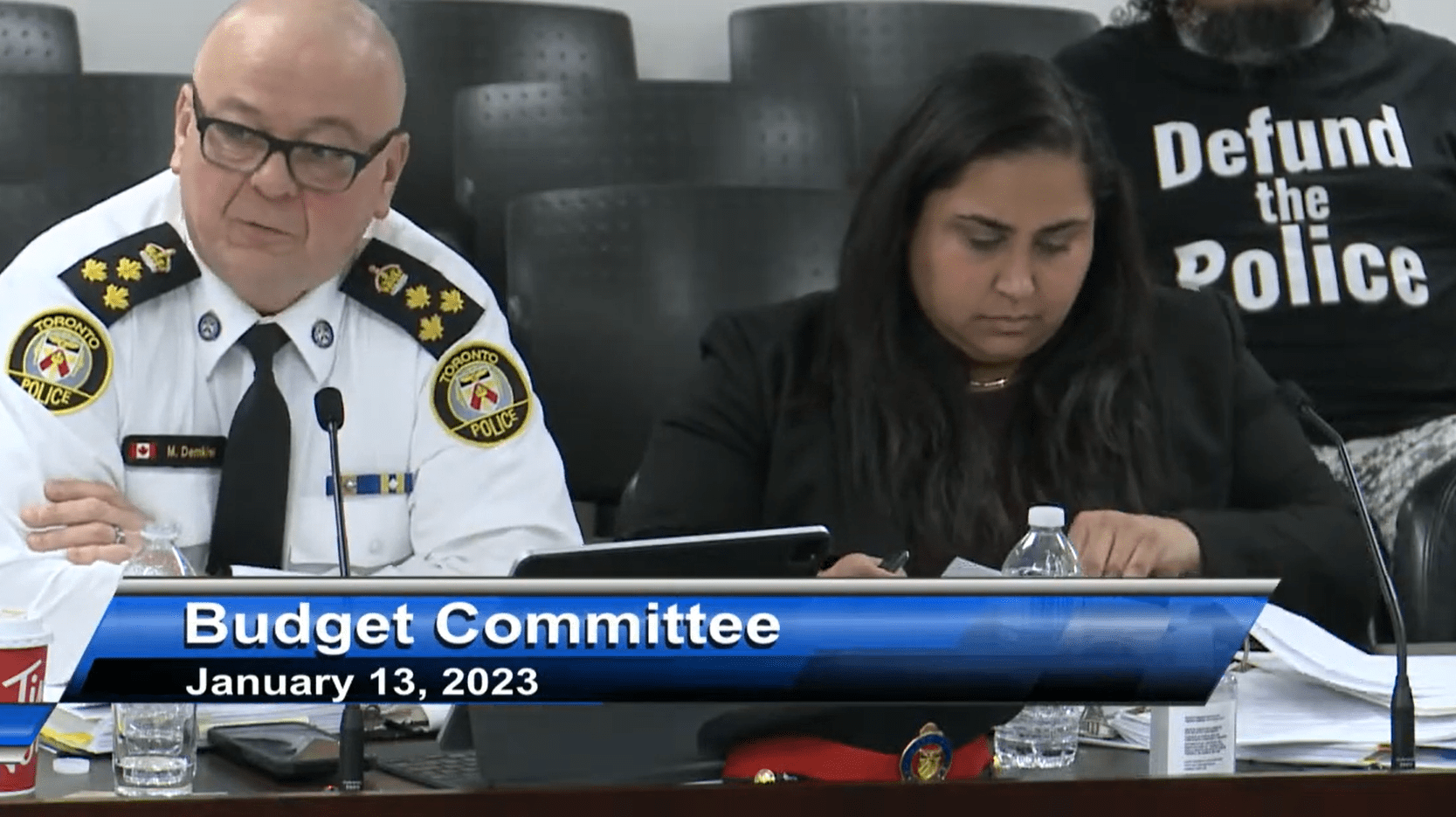 "There is an interconnectedness between racism against Black and Indigenous lives, and their general health outcomes in this city." – Dr. Suzanne Shoush, Drs for Defunding
The Data 
Data on escalating violence against racialized people – including Black, Indigenous and New Migrants – in the city by its police services has been recorded and analyzed for over a decade. 
In 2018, the Ontario Human Rights Commission raised "concerns about officer misconduct, transparency and accountability" in their final report on racial bias in the Toronto police from 2013-2017. 
The OHRC found that a Black person was nearly 20 times more likely to be involved in a fatal shooting with the Toronto Police Service than a white person. 
This familiar trend can be found two years later. In 2020, Toronto police were more likely to draw their firearms on Black people without a weapon, than a white person with one, according to their own data. 
The TPS race-based data portal released in 2021, found that Black, East and Southeast Asian, Middle Eastern, Latino and Indigenous people experienced a disproportionate amount of police force.

In comparison, police were more likely to use de-escalating force when white people were involved regardless of whether police perceived a weapon. TPS officers are 1.4 times more likely to use less lethal force on white people when a weapon is not perceived, and 2.7 times more likely to use physical force when one is. 
"Overall, incidents involving White people had lower uses of force rates, while those involving Black people were higher," the report said (pg. 61).   
According to Statistics Canada 55.7 per cent of Toronto represents a visible minority –  the highest proportion at 14 per cent being South Asian, followed by Chinese (10.7 per cent), Black (9.6%) and Filipino (6.2%). 
South/East Asian and Latino people had a low impact, high conflict meter. These racial groups were less likely to interact with police, but when they did were met with more dangerous use of force. 
South Asians, particularly, had the highest rate of police use of force in drug-related incidents than any racial group across all crime categories. Keeping in mind the TPS reneged on data available in this crime category for Latino, Middle Eastern or Indigenous people from 2020 (pg. 57). 
"This increase in the police is taking away from effective services that would have an impact on people who are really struggling right now," said Huh. 
The policy reviewer would like to see more investment in pilot programs that include grassroots efforts to meet BIPOC needs, and return Toronto's crumbling infrastructure to a higher "state of good repair."
A Tough Conversation
"There have certainly been some concerns raised around consideration and funding for the kinds of support and services that we understand truly make a community safe," Etobicoke-Lakeshore councillor Amber Morley told NCM before the Toronto police board's budget presentation at City Hall on Jan. 13. 
"From a proactive and preventative standpoint – not just from a policing and enforcement standpoint," she added.  
"As a physician I see everyday that the safest communities are not the communities with the most police, but communities with the most resources," Drs for Defunding spokesperson Dr. Suzanne Shoush said in her deputation against the proposed increase to Toronto Police Services Board, during deliberations at TPS headquarters on Jan. 9. 
"It's important to name the problem," Davenport councillor Alejandra Bravo told the city council's budget review committee on Jan. 12. 
"Homelessness is different this time," she said, pointing to first-hand accounts from emergency department workers to transit and library unions on post-pandemic engagement with unhoused communities. "I don't know that we're naming it properly in this budget." 
Added Dr. Shoush: "The crisis starts decades before the 911 call is made through the underfunding and under-resourcing of social programs."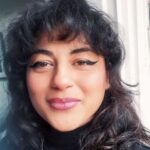 Keitlyn (they/them) is a multi-media journalist residing in Scarborough, Ont. They are interested in long-form journalism that highlights the visibility of BIPOC expression. True to millennial form, they are a small business owner, carpenter and freelance photographer. They were interested in NCM as it understands the "big picture." Journalists are dedicated to truth and democracy. Our communities have not always had access to these privileges. NCM is filling in a large gap that North American media has long neglected.