It is hard to associate the city of Thunder Bay in northwestern Ontario with Syrian cuisine. 
Known for the highest concentration of Canadians of Finnish origin, a large Indigenous population, a healthy percentage of South Asians, Chinese and Afro-Caribbean immigrants, authentic Syrian food has been as rare a treat in the city as poutine is in Syria.
There was one restaurant started by one of the two Syrian families who arrived in Thunder Bay in 2016, but the owner moved to Niagara, says Aya Wadi, the 25-year-old co-founder of Royal Aleppo Foods, which took its place in June 2020. 
Since then, the mother-daughter founding team have been whipping up delicious treats and using some of the proceeds to support refugees.
Their efforts have not only helped them integrate into the community but have brought Thunder Bay onto the spotlight after the United Nations High Commissioner for Refugees (UNHCR) featured Wadi in their e-cookbook last December along with 14 talented Canadian refugees from other provinces.
The e-cookbook, titled Tastes from Home: Recipes from the Refugee Community, helped spread the word about her restaurant, inviting visitors from near and far.
"I had customers from B.C. this summer [2021] to try our food after they heard about us," says Wadi, who is "honoured and thankful" to be part of the initiative that was started to support refugees worldwide.
Lauren La Rose, a member of UNHCR Canada's fundraising communications team, says including Wadi in the e-cookbook was a "great opportunity to share not only the recipes of refugees in Canada, but also the stories of how they came here." 
"Not all individuals featured in the e-cookbook are working professionally in the culinary industry. We thought it was incredibly kind of Aya to not only help her community this way [sending proceeds from her restaurants to support refugees] but also start her own business in such challenging, unconventional times in the middle of the pandemic," says La Rose from Toronto.
Looking at her success today, it is hard to believe that just six years ago, in 2014, the Wadis had fled war-torn Syria for Turkey with nothing but the clothes on their backs.
A difficult decision
"When you hear the word 'war,' you know what it means," Wadi grimly recalls during a phone call from Thunder Bay. 
"There were bomb blasts everywhere. We stopped having access to clean, drinking water. Most people were not able to meet basic food needs. We lost so many people that we loved: relatives, friends, family members," she says. 
After a bomb blast too close to their home shook them up, her father, mother, grandmother and siblings all took the difficult decision to leave their home to take asylum in neighbouring Turkey.
"Turkey was generous to host Syrian refugees, but I'm sorry to say that the Turkish people were not so welcoming," Wadi says, sadly.
"There was no support from the Turkish government for the refugees. There were no rules to prohibit racism…Each time I left home, people would yell 'go back to Syria.'"
After three years of facing discrimination, she says, and living "in fear of not being welcomed and being forced to go back to Syria," the family applied to immigrate to Canada through the United Nations.
"In Canada, our lives turned around 180 degrees," she says, cheerfully.
Culinary welcome
"Some of the unique dishes we created are potato rolls, burger pie and pumpkin bread. We created the recipes blending the Middle Eastern touch with Canadian flavours to suit special Canadian occasions" — Aya Wadi. (Photos supplied by Aya Wadi. Video by Joyeeta Ray).
The Canadian federal government directed them to Thunder Bay to begin their new lives. Wadi recalls a heavy snowstorm blanketing the city the very first day they landed in late November 2017.
"My mother thought we were in the North Pole," Wadi says, laughing, adding that they are glad to live in Thunder Bay, where the community received them warmly. 
To integrate better, Wadi and her mother joined the Thunder Bay Multicultural Association, where they learned about Culture Kitchen, a cooking program that offers a variety of food-related activities from growing garden produce to cooking in the kitchen. Started by Roots to Harvest, a non-profit organization, it also offers training on how to launch a business and on how to attain safe food-handling certification.
"Culture Kitchen opened the door for us to get involved in the community. I learned about customer service, making money through fair pricing, and cooking Canadian dishes," says Wadi.
The training was especially helpful because Wadi and her family did not have a commercial culinary background (in Syria, her mother was a housewife, while her father owned a small stationary shop).
But their passion to build a good life for themselves and give back to the community that embraced them helped them overcome their limitations and eventually open a restaurant. 
Learning the trade
Wadi toyed with the idea of starting a Syrian food restaurant right in the middle of the pandemic, which made it a bigger struggle to set up than they expected.
"I was not familiar (with) the registration process, getting the license or information about taxes," she says. 
As a result, they first started as a takeout service. Wadi recalls the deep fear of failing as the pandemic discouraged people from dining out. However, their friends spread the word about their enterprise, bringing the community to their doorstep.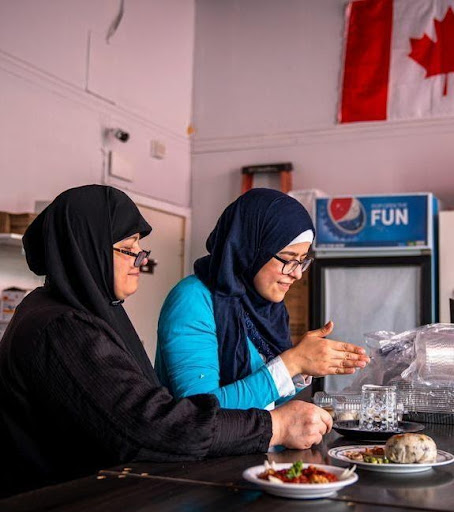 But there were several other challenges she hadn't seen coming. 
"As an entrepreneur, insufficient knowledge about the rules and regulations (to set up a business) was difficult," she says.
"It took me three months to make sure everything was right before we opened Royal Aleppo Foods as a home catering business in 2019."
Wadi simultaneously worked on her English-speaking skills to build confidence. Although she spoke well enough before entering Canada and served as an interpreter in Culture Kitchen, she was initially shy of speaking around native Canadian English speakers until she had a good grip on the language.
When the pandemic restrictions eased briefly in 2021, the popularity of their Syrian cuisine spiked up, running six days a week. This has sparked a fierce determination to expand their services, starting with their in-room dining space. In two years time, she aims to start a restaurant chain across Canada.
"This is not a dream. This is a goal that requires hard work," asserts Wadi, who believes that Culture Kitchen is the best thing that happened in her life.
La Rose agrees, adding that there is no better way to connect people than through food.
"There is so much tradition, so many memories attached to food," she says.
"Refugees are good for Canada. Immigrants to Canada and their children make such a big difference. Individuals like Aya are living proof of that."
"Aya's story is so different from where she grew up in Syria," says La Rose about Wadi's selection as one of the 14 refugees in the cookbook. (Photos courtesy of UNHCR; Video: Joyeeta Ray)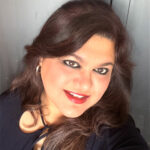 Collective Convenor & Communications Planner - Joyeeta Ray is a multimedia journalist, internationally awarded digital content specialist, and children's books author, based in Toronto. Born in India, she brings over two decades of advertising and journalism experience across seven countries to Canada. Joyeeta started her journalistic career in Jakarta, led an editorial team in Bangkok, and is a student of Multimedia Journalism from The University of Toronto. She is an enthusiastic NCM-CAJ member, actively involved in amplifying new Canadian voices as NCM's Convenor, Communications Planner, Mentor, and Reporter.