Child marriage—considered a human rights violation according to UN principles—is prevalent across the board in Canadian society and is not limited to immigrants or "exotic" religious minorities, says a new report by a scholar at Montreal's McGill University.
Alissa Koski, assistant professor in the Department of Epidemiology, Biostatistics and Occupational Health, who has studied child marriage as a public health and development issue, pinpointed a curious paradox that would shock most Canadians.
"Canada has positioned itself at the forefront of global efforts to end child marriage," Koski said.  "Our government has co-sponsored UN resolutions to end child and forced marriages. In 2017, we adopted a Feminist International Assistance Policy, placing gender equality and the empowerment of women and girls at its centre."
"Yet child marriage remains legal in Canada and occurs in every province and territory," she stressed.
She said that between 2000 and 2018, there were 3383 cases of children between the ages of 16 and 18 being married in Canada, with Ontario (1,353) and Alberta (791) recording the highest numbers, Nunavut, Yukon and Prince Edward Island had fewer than five cases. She cautioned, however, that there are probably more, as it is difficult to find evidence of common law and informal marriages.
She offered these statistics and insights as the keynote speaker at a recent webinar hosted by Zonta Club of Ottawa, a member of Zonta International, an international organization of professionals that aims to empower women across the globe through service and advocacy. 
Child marriage no longer an immigrant issue
Koski's soon-to-be-released research report reveals an even more startling fact. The issue is not confined to immigrant or fundamentalist religious communities. 
Looking for answers to the question if child marriage is more prevalent among immigrants, she said she discovered that this is no longer true. 
"In 2006, this used to be the case, with child marriage being twice as common among the foreign-born as the Canadian- born," she said. "But by 2016, this script had flipped. Twice as many child marriages were among children born in Canada. The perception that it is only an immigrant issue doesn't hold water."
Another important point that Koski highlighted is that girls bear the brunt of the detrimental effects of child marriage—from abuse and loss of personal freedom to aborted educational and career opportunities, to lifelong emotional scars.
"It is a highly gendered practice, and it's more common for girls to marry men who are at least five years older," she said. "In the most extreme cases, there is an age difference of up to 34 years."
Girls suffer the most
Samra Zafar of Mississauga, Ontario, is a woman who has emerged from the long, dark cocoon of a forced and abusive child marriage and is now spreading her wings as an author, motivational speaker and educator who advocates for gender equity, inclusion and human rights.
Her best-selling book, A Good Wife: Escaping the Life I Never Chose, is a story of triumph over disaster—a life of confinement with shattered dreams and ambitions within the prison of a forced child marriage, her eventual escape to freedom and self-fulfillment, and her new role as a mentor to those oppressed by this practice.
"Child marriage is legalized pedophilia," she told New Canadian Media in an exclusive interview.
Although Zafar, born to Pakistani parents in the United Arab Emirates, is herself from an immigrant culture, she agrees with Koski that child marriage is endemic to Canada and should be treated as a serious issue in this country, not something "out there' in another world.
 "It is not confined to one religion or culture, but occurs in every culture within the Canadian mosaic," she said.
She added, however, that religion and culture can be used to justify such practices, and to exert pressure on the victims of child marriage.
"I badly wanted to get an education, and I was afraid the same thing [child marriage] would happen to my daughters," she said when asked how she gathered the courage and determination to break free.
One of the solutions that both Zafar and Koski recommend is to change the Civil Marriage Act in Canada and to make it illegal for people under 18 to get married. Under the existing regulations, the minimum age to contract marriage is 16. Koski added that there needs to be more documentation, since under-reporting is a serious problem for scholars and policy makers.
"If we don't tackle the problem at home, it seriously undermines Canada's efforts to change it globally," Koski pointed out.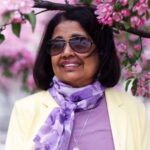 Ottawa-based writer/journalist, editor, blogger, communications professional seeking freelance opportunities in political and travel writing.