The Bangladeshi community in the Greater Toronto Area has come together to condemn the recent attacks against Hindu minorities in Bangladesh. Hundreds of Canadian Bangladeshis put aside their religious differences to rally at several locations in late October, and further action is planned after Parliament resumes on Nov. 22.
The violence began on Oct. 13., when Bengali-speaking Hindus worldwide were celebrating the holy festival of Durga Puja. Hindu temples in the city of Cumilla, Bangladesh, were attacked by Muslim fundamentalists after a rumour on social media that the Quran had been insulted during the celebrations, as reported by the BBC.
At least seven people were killed, and hundreds injured as a result of the attacks that spread across the country in the following days, according to Amnesty International, which also quoted local reports that 25 houses and businesses in the Rangpur district were burned down. At least two media outlets, Sirf News and The New Indian Express, reported that women have been raped.  
"In the past seven days, the violence spread across 17 districts," Sushital Chowdhury, one of the founders and director of the Hindu non-profit Toronto Durgabari, told New Canadian Media after the Oct. 25 rally that took place in front of Queen's Park. He estimated more than 300 people representing different religious backgrounds and communities came out.
"We are protesting against the systemic and organized violence against Hindus and condemning the Bangladeshi government's inaction to contain the atrocities," Chowdhury said.
Canada is home to more than 100,000 people of Bangladeshi origin, stemming from both the Muslim majority and the Hindu minorities. Bengali is one of the top 15 most popular second languages spoken in immigrant households in the Greater Toronto Area. 
Solidarity across religious, political divides 
Doly Begum, the Ontario NDP MPP for Scarborough Southwest, showed up in solidarity at Queen's Park, later stating through her Facebook page that, "many community members reached out to our office to share their deep concerns about the violence. These atrocities against Hindu minorities must stop and the perpetrators must be brought to justice."
Arun K. Dutt, from the Global Bengali Hindu Coalition, was among the estimated 200 people who came out to a vigil in front of the International Mother Language Monument in Dentonia Park in Toronto on Nov. 7 to decry the violence. He said he hoped the event would instill courage in Hindus, including Bengalis, to stay united and stand for their rights.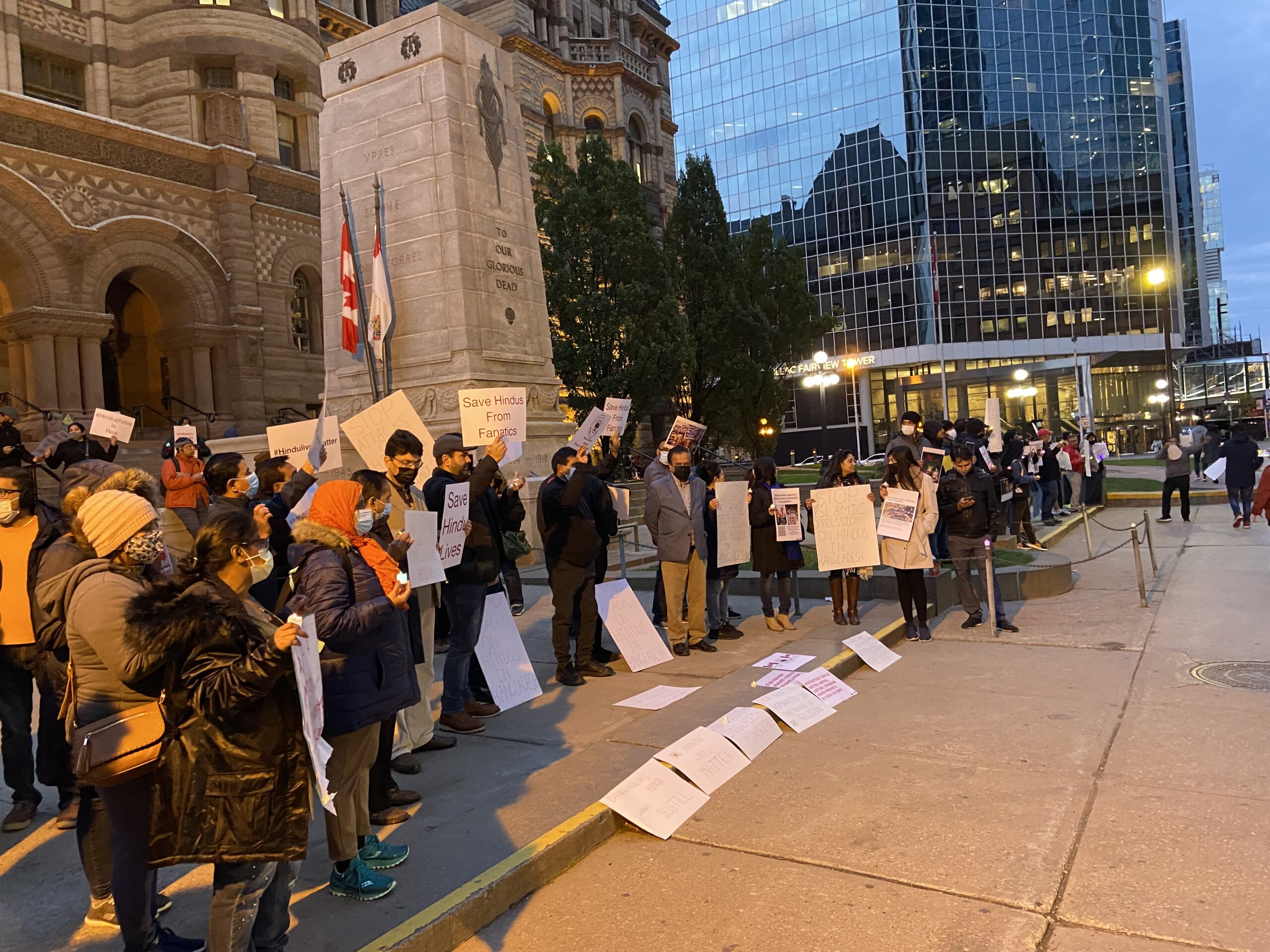 Since several temples of the International Society for Krishna Consciousness (ISKCON) were also targeted, Bhaktimarg Swami, an ISKCON member in Toronto, said more than 500 protesters congregated peacefully in front of Old City Hall chanting the Maha-mantra "Hare Krishna" on Oct. 23. They demanded punishment for the perpetrators as well as protection for minorities in Bangladesh. 
Rajib Dey of the Toronto chapter of the Dream for Better Tomorrow Foundation, a charity focused on promoting education and welfare of underprivileged children in Bangladesh, said Buddhists also came to that rally to show their solidarity. He added that statistics alone couldn't fully capture the effects of the trauma induced by constant fear caused by living under threats by religious fanatics. 
Afraid that the atrocities might escalate to resemble the 1971 genocide of Hindus in Bangladesh, Global Bengali Hindu Coalition requested the Bangladeshi government "to look into this matter with utmost urgency and act accordingly to punish the culprits," according to an Oct. 23 press release.
Many of the protesting organizations, including Toronto Durgabari, also submitted a memorandum to the Ontario Premier's Office and the leaders of all major political parties. 
The Liberal MP for Beaches-East York Nathaniel Erskine-Smith told New Canadian Media he has "connected with community leaders" and has raised the issue "directly" with Minister of Foreign Affairs Mélanie Joly. 
"We should all condemn such violence and press the government in Bangladesh to take it as seriously as possible," he said.
Inadequate mainstream coverage
While international media have covered the attacks extensively, local demonstrators say Canada's mainstream media coverage of the protests has been inadequate and insufficient. 
"We are unhappy with the mainstream media coverage that these protests have received," Shahidul Islam Mintu, CEO of NRB TV, editor of the Weekly Bangla Mail and, privately, a Muslim, told NCM.
NRB TV, a 24-hour Bangladeshi community broadcasting channel, did more than just cover the protests in Toronto; the station also aired a live protest in order to amplify coverage. 
"That is why it was important that apart from broadcasting the unfolding of local events on our channel, we show solidarity and request our community to stay united," Mintu said.
Several eminent Bangladeshi immigrants, including political activists Bappaditya Basu and Marush Roshul, were invited to speak.
Subrata Kumar Das, a writer and activist who anchored the show, emphasized: "We hope the mainstream media will come up to cover these protests, and thus let Canadians know what is happening to the Hindus in Bangladesh."
The next opportunity should appear soon. Several Bangladeshi minority organizations, including members of Toronto Durgabari, Global Bengali Hindu Coalition and Bangladeshi Canadian Hindus, are planning a demonstration in Ottawa to demand diplomatic pressure from the Canadian government after Parliament resumes on Nov 22. They also plan to submit a memorandum and seek an appointment with Prime Minister Justin Trudeau.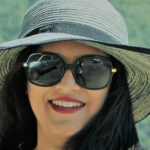 Amrita is an NCM-CAJ Collective Member, journalist and content writer, with nearly a decade of experience in content development and journalism in three countries. She started her career as a journalist with a leading daily, The Statesman, in India. She has also led content and editorial teams for several web content management firms. Amrita served as a Communications and Content specialist for some non-profit organizations like the American Red Cross after her move to the U.S. Based out of Toronto, she continues to follow her passion by reporting on human rights violations, education, crimes, inequality and community engagement. Amrita holds a Post Graduate Diploma in Print Journalism from Chennai, India.