The Greater Vancouver Japanese Canadian Citizens' Association is one of many organizations and community groups across Canada that joined a coalition in response to the rise of racist attacks against those believed to be from Eastern Asia.  
"What I appreciate about the [ACT2endracism coalition] is the groups of people coming together to about what to do with racism and how to help when dealing with the trauma," said association president Judy Hanazawa.
On May 22, the Vancouver Police Department reported an eightfold increase of anti-Asian hate crimes and hate-related incidents with 29 open investigative cases.
While the coalition came to exist due to specific anti-Asian sentiment during the COVID-19 pandemic, Hanazawa acknowledges the current climate of Black Lives Matter protests happening globally.
The ACT2endracism coalition is working together for a standardized reporting tool for all cases of racism, she said.
Currently, bystanders or victims across Canada can report anti-Asian incidents either online (seven languages available) or by text at 1-587-507-3838.
The collected data will include whether they went to the police and why or why not. Hanazawa said, "It helps us figure out what policy changes to push for."
Our national, online, texting reporting tool is receiving details of racist incidents across #canada people are getting hurt, some afraid to go get groceries. This is not ok. Step in be an active #bystander and #help text 1-587-507-3838 #raceisnotavirus #covid19 #act2endracism pic.twitter.com/e9ubr22fPO

— ACT2endracism (@ACT2endracism) May 25, 2020
Hanazawa said she has experienced racism first-hand.
Her last experience happened on May 8, when she was walking at a Steveston park with two friends, an African Canadian and another Japanese Canadian.
A young Caucasian man sitting on a bench mumbled behind the newspaper, "Fucking Ch*nk," as they walked by, Hanazawa said.
She said to him, "I can hear you."
In front of a needle-shaped monument dedicated to Japanese fisherman lost at sea, the 73-year-old and her friends yelled and swore back at him as he yelled and told her to go back to her country.
The man continued to yell at them as they left.
"We were unsure if we should report it to the police," she said, "Because, you know, nothing physical happened."
"People underestimate the level of trauma you go through."
All three filed a report to Richmond RCMP roughly 10 days after.
Based on a "responding to hate" guide created by two Canadian judges and three lawyers, Hanazawa's situation could be considered a "hate incident" under Canadian law.
To combat street harassment, Hollaback!, an organization dedicated to ending harassment, has developed resources about how to safely intervene in the case a bystander is being harassed. 
Regrettably, Hanazawa said, many incidents like this one will be underreported by the coalition because people may not know about the reporting tool or don't want to speak up.
Shouldering responsibility
North Vancouver MLA Bowinn Ma said she understands why other people of Asian descent are more comfortable staying silent.
"I've observed how a person who is being racially attacked can be further attacked for defending themselves and it is absolutely exhausting."
This applies to any kind of racism, whether it's anti-Indigenous or anti-Black racism, she added. 
Ma said that's why it's important for us to stand up for each other, especially when we're not a member of the impacted group.
"We need to help shoulder the burden of educating each other so we don't further harm people who are already negatively impacted."
While she receives a lot of attacks for speaking up against racism, very few of them come from the constituents that she serves, Ma said. 
Grateful for this timely message from the Premier.

Last night, I received an email that began w, "anyone want Chinese tonight," followed by a photo of snakes & pangolins in cages, some accusations & epithets, and a declaration that I was now their "new target for my invective". https://t.co/PZ0qd6a9L6

— Bowinn Ma (@BowinnMa) May 22, 2020
Most racism doesn't occur as blatant attacks, Ma said. "There are a lot of things people can say that are racist without them intending for it to be negative or for it to be an attack on me in any way."
If she believes the sender is trying to engage in good faith, she'll open up the conversation.
Ma tries to address the problematic elements of what one has said rather than condemn the person as a racist. Moreover, if someone feels attacked and if they can't be helped to understand why their statements are problematic, then they'll never learn to be better, she said.
"When we allow for hate against a group to proliferate and we allow it to be normalized, it puts everyone at risk."
Fighting for human rights
For nearly two decades, British Columbia was the only province in Canada without a Human Rights Commission who could weigh in on these attacks. The current Human Rights Commission started in the fall of 2019.
"(Without) a Human Rights Commission (for so long) the work to eliminate system racism hasn't been happening," Ma said. "It's something you have to work on consistently over time."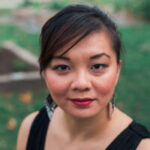 Deanna Cheng is a freelance journalist who has been published in various publications such as Vancouver Courier and Asian Pacific Post. She often covers culture, intersectionality and Vancouver.