A former Canadian U.N. official who flew to Delhi, India, in 1987 for a wasteland development and forestry project has continued with social involvements through peaceful advocacy in the country since then. As India battles its second COVID-19 wave, she's now helping educate and encourage indigenous women take over as frontline workers in their own villages.
New Canadian Media caught up with Jill Carr-Harris to discuss her COVID-19 rural relief efforts in collaboration with Canadian Gandhian organizations through Ekta Parishad Mahila Manch, the women's sub-division of Ekta Parishad (United Forum), founded by her husband in 1989.
"The government in Madhya Pradesh (Central India) started the Kill Corona with Vaccines campaign, but the vaccines are very few compared to what was promised," says Carr-Harris, who was in Toronto to pick up the Ursula Franklin Lifetime Achievement award for her humanitarian services. 
"Our first major step was to educate rural women and share the message about the importance of following social distancing and not going out till absolutely necessary."
Hiring vehicles to transport the vaccines was another challenge, given the foundation's limited funds. 
"We couldn't rely on teams coming from outside [the villages] because the workers were falling sick," she explained.
The vaccine shortage and overall government neglect, particularly for the poorest sectors in rural India, is what prompted her to focus on helping empower women through the foundation.
Empowering Rural Women
In 1987, when Carr-Harris first visited India, she immediately found herself in love with the country – even before she committed to the man of her dreams. 
"I was so enamoured by NGOs I saw, that I came back [to Toronto] to give my resignation and moved to India to set up my own NGO. After 2000, I went into villages for the first time to meet people and build solidarity. That's when we built the women's wing in Ekta Mahila Manch in Ekta Parishad, so that women could play a more important role in the fairly male-dominated movement."
At least 8 per cent of the grassroot volunteers in the foundation are women. The decision to help them become self-reliant is born out of necessity, given the shortage of vaccines in the country. 
"Jill empowers women within Ekta Parishad," says her husband, Gandhian activist Rajagopal P.V in a phone call from Madurai, in South India.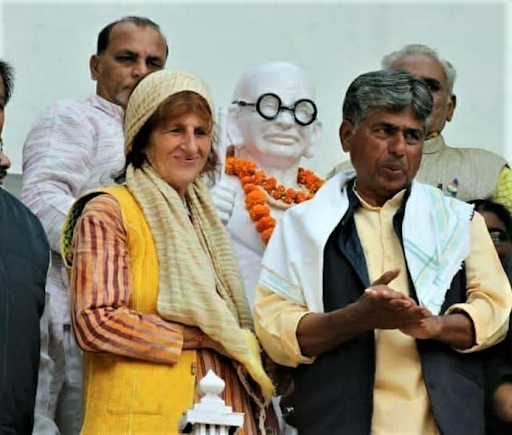 But putting the new learnings of the women volunteers into practice was easier said than done. 
Isolation and sanitization are challenging in regions of extreme poverty. Tiny one-room huts are shared by large families with little water at their disposal. 
Fighting Pandemic and Poverty
Carr-Harris says they work mostly in the central-eastern part of India with tribal people known collectively as Adivasi settlements.
These people are highly dependent on the natural resources provided by the forest, and in some states like Madhya Pradesh, they comprise up to 24 per cent of the population, said Rajagopal. 
They have historically been pushed "into cities and slums that they are not used to" – all in the name of "tourism and national sanctuaries," he explained.  
"These tribes, called Adivasis, are displaced because of coal mining, dams and national highways," Rajagopal said. "Now, we are asking them to lockdown and expect them to sustain themselves, after taking away everything they had. This is a huge crime against humanity." 
Carr-Harris said their core relief work – land reform rights for the landless poor – started since its inception in 1989. "We started the [COVID] relief work when migrant labourers started coming back from the cities after the first wave."
Adding to vaccine shortage and joblessness came starvation as these migrant workers crowded into their villages. Food packets were distributed, isolation centres were created and rehabilitation programs were started to help them earn a source of income such as reforestation and building community assets, she explained. 
Training Women Volunteers to be Frontline Rural Leaders
But the second wave turned out to be more virulent, meaning that relief required a different approach. Training the women, the caregivers and backbones of the families became imperative.
Many of them are competent leaders now. 
"They give talks on what they are doing. They are really phenomenal people," Carr-Harris said with pride.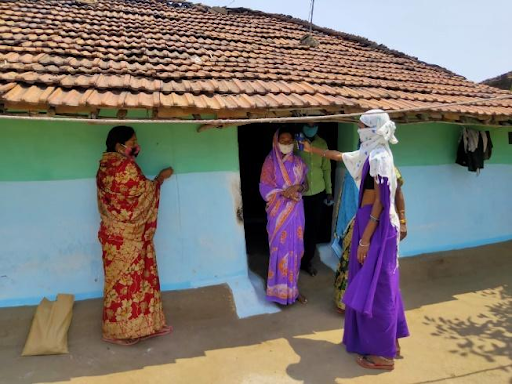 Grassroots Solidarity
"Being a white woman from the west," Carr-Harris says she knew there would be limitations to her work at the grassroots level, not least of all because of the language barrier.
"In order to do any kind of grassroots work, you have to speak Hindi," she said. 
She therefore made an effort to pick up the language while continuing advocacy toward their core land reform work, returning to Toronto time and again to strengthen her skills, ultimately completing her PhD in 2021. 
The award came as an unexpected surprise.
"Our mandate is to educate women and be visible. They are very powerful in Ekta Parishad," she says, adding that they have a network in 150 districts, 72 of which are in critical areas.
"We are trying to push this [fundraising initiatives] immediately because in another six to eight weeks, another wave of starvation will come. This time, not just from the lockdown but the rains."
Carr-Harris is using her time in Toronto to round up Gandhian organizations across Canada to offer solidarity and support through a community-to-community drive.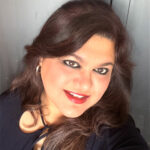 Collective Convenor & Communications Planner - Joyeeta Ray is a multimedia journalist, internationally awarded digital content specialist, and children's books author, based in Toronto. Born in India, she brings over two decades of advertising and journalism experience across seven countries to Canada. Joyeeta started her journalistic career in Jakarta, led an editorial team in Bangkok, and is a student of Multimedia Journalism from The University of Toronto. She is an enthusiastic NCM-CAJ member, actively involved in amplifying new Canadian voices as NCM's Convenor, Communications Planner, Mentor, and Reporter.