Zelle Eliz discovered that she was 'different' when the pandemic hit Canada. Zelle is an international student of Malaysian-Filipino descent. She almost decided to go back home when she was not able to secure a part-time job to help sustain her studies.
There is so much to learn 
"It felt quite like home," said Zelle recalling when she arrived in British Columbia as a Simon Fraser University (SFU) student. Born and raised in the culturally diverse Kuala Lumpur, Zelle did not think it would be challenging to integrate herself into a multicultural country like Canada. 
Her eagerness to learn more about social structures and how to impact lives in underprivileged communities brought her to Canada where she is now studying International Studies in Politics. "Having a different lens and viewpoint, and to be immersed in knowing what I can do drew me to take this course," she added.  
Growing up with parents who both do humanitarian projects, Zelle is very much aware of the inequities most experienced in developing countries like the Philippines, where her mother is from.  It was a trip in 2019 to Tondo, an impoverished community in Manila, where she volunteered with World Vision, that made her realize that she could do more to instill change. She became active in volunteering for social causes and used her talent in singing to raise funds for charitable programs.
Increase in international students
Zelle is one of the thousands of international students that Canada has attracted through its student visa program. Canada ranks third in the world for having the most number of international students and this has been continually increasing based on a 10-year study by Statistics Canada (2020).
International students accounted for all of the growth in postsecondary enrolments in 2018/2019 with over 2.1 million enrollees. In a course of 10 years, international student enrolments more than tripled contrary to the slower pace of increase in Canadian student enrolment.
Tuition has been a revenue source for Canada with a contribution of almost $4 billion annually. These students originate from 225 countries with over half from China and India, and two-thirds take courses in business, management and public administration. Many of these students choose to stay in Canada and become part of the labour market after finishing their degrees.
Pandemic hits international students
International students are in a well of challenges since the pandemic hit Canada. Coming in as a first-year student in the fall of 2019, Zelle had planned to take a part-time job to sustain her studies. She had a part-time job in December which eventually ended. She was not able to get a job after this with the pandemic lockdowns and when jobs became scarce in the first quarter of 2020.  
"It was a wake-up call to me," said Zelle. "Being stranded as a newcomer made me realize that I was different," she added.  Not being qualified to apply for the government's Canadian Emergency Response Benefit (CERB), and not securing a job put Zelle in a position where she almost went back to her home country.
However, this in itself was challenging because of the border closures and travel restrictions. Zelle had to seek financial support from others to sustain her studies. "The limited access to assistance was eye-opening," she said. She added that she felt that she will have to look out for herself with the limited available support to international students.
According to a Maclean's report, the COVID-19 pandemic has shifted the future of international students in Canada into uncertainty. Many students operate on tight budgets with currencies weaker than the Canadian dollar and they have to compete with other job seekers who were affected by nationwide layoffs.  In addition, they are not able to go home to visit their families and the traditional education-to-citizenship route (from student to permanent resident) has been disrupted.
Music as a channel of hope
Despite the barriers of pursuing her studies and hopefully calling Canada her new home, Zelle continues to find ways to do humanitarian work. In October 2020, Super Typhoon Goni brought destructive rains and winds in the Philippines affecting 260 thousand people. As a response to the overwhelming call for help, Zelle partnered with World Vision to help raise funds especially for the children displaced by the typhoon. 
Zelle wrote and recorded a new single, "By Your Side" which "touches on experiences of someone possibly feeling lost and alone in hard times, yet having the support of their loved ones as a reminder that they are not alone and there are people to help build you up again."
All proceeds from the sales of this song, which was launched on March 26, together with the songs from her current album "Abloom," will fund World Vision's program to assist children with their online classes especially with all schools closed in the Philippines due to the pandemic.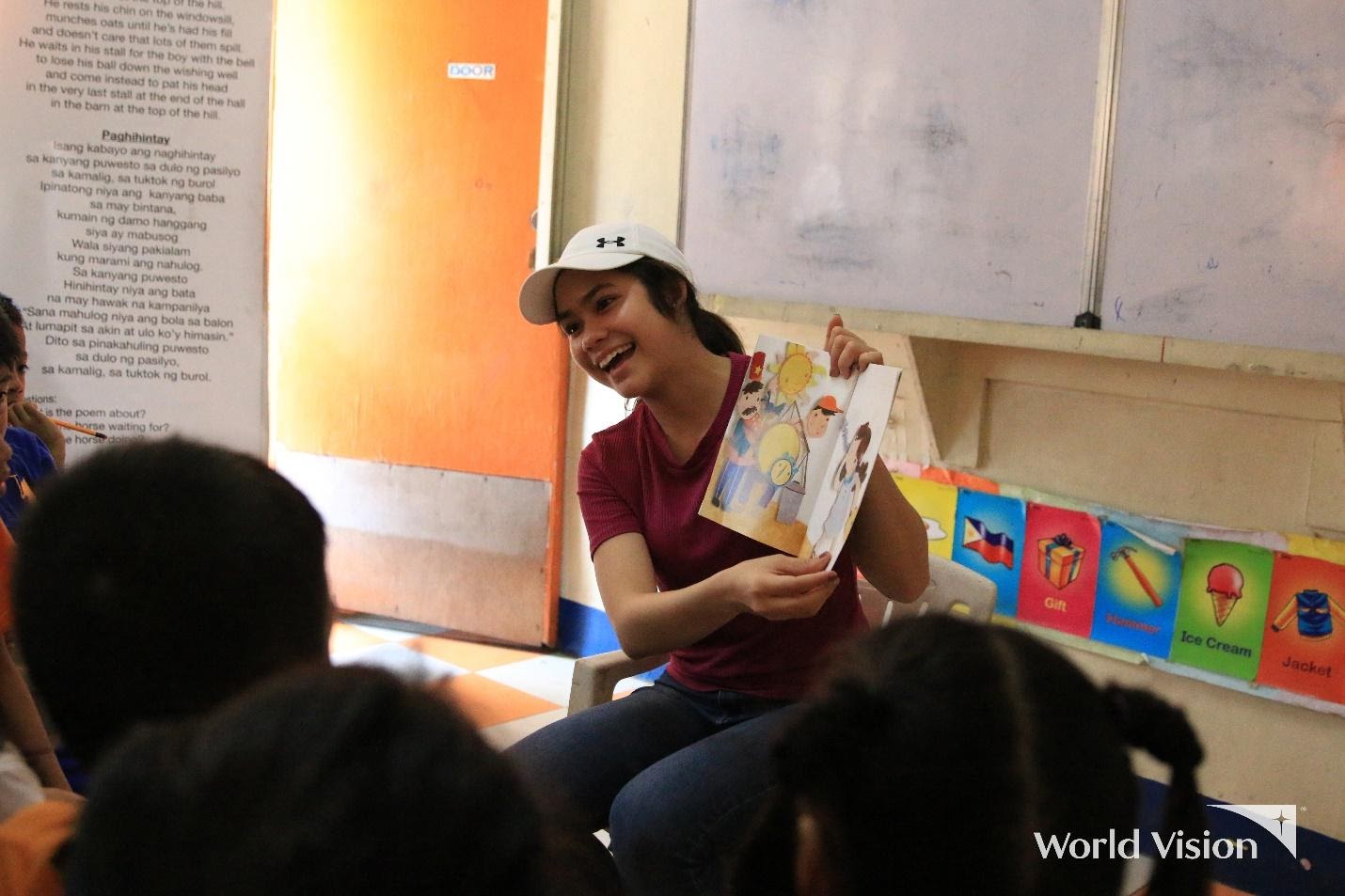 Zelle's song-writing process is helping her to find her voice in a new country where she is actively creating her own identity. Understanding better how she fits in the Canadian society empowers her "to be more vocal of her thoughts."
During the pandemic, she wrote two songs – "Battle Song" and "To the Other Side" which give messages of hope and resilience.  She said, "We have to be hopeful, be positive and be excited for the future." 
Zelle is looking forward to collaborating with other artists who share the same lived experiences, use music to find their voice and be a voice so that "we will feel liberated as individuals and as communities." 
(To connect with Zelle or learn about her new single, visit https://www.zelle-elizmusic.com/)

Gretchen is a development communicator who covers social change and issues through feature storytelling. With a Doctorate degree in Communication, she taught journalism as a professor of Development Communication in the Philippines for eight years before moving to Canada. She has published her own newcomer immigrant experiences and reports for NCM as an NCM-CAJ member. She is also currently volunteering as the head of the Publication and Promotions Committee of the University of the Philippines Alumni Association of Toronto where she publishes social media and web content.