Advocates are calling for the creation of a regulatory body and increased job security for personal support workers (PSWs), who are the backbone of Canada's health-care system.
This month, Ontario Premier Doug Ford said he was aware of the overtime hours and the challenging working conditions PSWs face at long-term care homes.
"They are grossly underpaid in my opinion," he said. "We're going to sit down and we're going to come up with a solution to support them."
The Ontario government has temporarily increased wages for PSWs by $4 an hour and offered a bonus of $250 for employees who work more than 100 hours a month. But advocates say these are only band-aid solutions, and much more needs to be done.
The COVID-19 pandemic has exposed the deep deficiencies in the health-care system. Thousands of medical workers across Canada have been infected with the virus, and PSWs are more likely to fall through the cracks.
Pandemic pressure
In Ontario, the most recent data shows that 14 health workers have died from COVID-19, and at least eight of them were PSWs. The majority of deaths have occurred in long-term care homes that struggled with a shortage of staff and personal protective equipment for their employees.
"Without personal support workers, the health system in Canada would be broken," says Hermisenda Reina. She has been a personal support worker for three decades and has worked in both Quebec and Ontario.
Reina spends about 10 hours a day caring for patients in their homes in the Greater Toronto Area. Depending on the time she needs to spend with each one, she cares for six to seven patients each day. Her patients range from children who have special needs to the elderly who are recovering from surgery. Reina says the pressure of the job has increased dramatically since the pandemic began.
"The volume of work we have with the pandemic is big. For example, because of the shortage of beds in hospitals, patients in need of palliative care are being sent home," says Reina, who did not have terminally ill clients before the pandemic hit.
"Sometimes the patients are so frail that the minimum movement to make them comfortable in bed can cause them some pain."
The 63-year old support worker says family members are usually appreciative and grateful that PSWs are going "above and beyond" their usual tasks to bring comfort to their loved ones' last days.
Reina considers herself "blessed" to be working at an agency that provides her with benefits and allows her to refuse work that involves caring for patients with infectious diseases. Reina has chosen not to visit homes of patients with COVID-19.
"At my age I better not risk myself to get sick," she says. But not all PSWs are as fortunate.
"I have benefits and the power to say no to do a job that I prefer not to do—like covering night shifts, for example. But at my work, we all know that PSWs working for private agencies have many troubles. Their bosses, being business people, are worrying only about money and pay [PSWs] the lowest wage they can, and give them responsibilities that they should not do."
Immigrant workers being exploited
One of the fiercest advocates of the rights of health-care workers is Doris Grinspun, CEO of the Registered Nurses Association of Ontario (RNAO).
"I have mentioned many times that about 45 to 50 per cent of PSWs have precarious employment. They are working in two or three different places because it's hard to have full-time jobs."
According to Statistics Canada, more than half of all PSWs work less than 30 hours a week.
As a result, many PSWs earning minimum wage have to work at multiple sites to make ends meet. That practice contributed to outbreaks in long-term care homes.
Grinspun says that, during COVID-19, the RNAO has been lobbying for the industry to change and employ more full-time workers.
She points out that agencies need to stop forcing PSWs to do the work of trained nurses as a means to save money.
"Personal support workers are here to do activities of daily living—to help the patients to eat, to get a bath, to get dressed—not for medical procedures," says Grinspun. "PSWs do not always have the body of knowledge, especially after graduating from courses that lasted six months."
Ian DaSilva, director of human resources at the Canadian Support Workers Association, says as many as half of all PSWs are immigrants, and some employers are taking advantage of immigrant staff because newcomers are often not aware of the laws in Canada that protect workers.
"There's a lot of money made on a quiet and obedient immigrant," says DaSilva, who is pushing for the creation of a regulatory body for personal support workers.
"Here we are, in the middle of COVID-19, and our PSWs are in desperate need. … For a long time, we have been asking the government to regulate PSWs and protect their titles. Because if we do that, that will give to these workers more rights, and more power."
An Ontario think tank is pushing for Premier Ford to go even further to protect the rights of personal support workers, by following the example set in British Columbia. The B.C. government turned all long-term care staff into unionized provincial employees. The Wellesley Institute wants to see all PSWs, including the ones who work in homes and long-term care facilities, given full-time status as public-sector employees. The reasoning is that, when PSWs feel safe and secure in their jobs, patients will also receive better care.
This story is a part of the "Immigrants on the Frontlines of Fighting COVID-19" series made in partnership with The Canadian Press.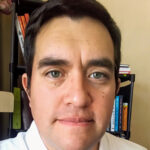 Raúl A. Pinto is a Chilean journalist with a decade of experience in Canada, working for radio, television, print, and digital media. During his career, he has interviewed a variety of people, from undocumented migrants to the Prime Minister of Canada, as well as movie stars, writers, artists, business people, politicians and others, with coverage almost exclusively directed to the migrant community. He has been nominated twice for Journalist of the Year at the Canadian Latin Awards, and won in 2019. He is married to Sandra and is the father of Ana and Lucas.