It is no secret Canada is aiming to increase its immigration numbers over the next three years. The Liberal government will look to hit a target annual intake of 340,000 new immigrants by 2020. A number that stretches far beyond what the country has been able to reach within the past couple of decades, but still falls short of the 450,000 figure that was recommended by the federal government's advisory council.
Immigration Minister, Ahmed Hussein, has pointed to the growing demand for skilled labour. However, with data that shows there are former engineers, doctors and architects working as cab drivers, there are those that are seemingly already falling through the cracks in today's job market.
Eugenia Gomez, once a researcher in infectology at the National Institute of Nutrition of Mexico, she now cleans residential homes in Toronto.
"My job was to work with the reagents, processed samples and special solution[s] for the scientific studies," she recalls during one of her breaks. A specialist on a stomach bacterium called Helicobacter pylori, she has had trouble finding work in her field, despite credentials from the National Autonomous University of Mexico (UNAM). Prior to her current position, she worked at a local Tim Hortons. A graduate of Chemical Pharmaceutical Biology, she hopes to one day return to her previous career.
After a brief pause to lace up her sneakers — ideal shoes for six hours of cleaning — she heads back to finish off her shift.
Give me a break
Others offer similar experiences in their job searches. Maria Alvarez, who was a regional sales director at an international cosmetology company based out of Latin America, has faced the same issue. With over 10 years of experience in business development, sales training and leadership roles, she has been unable to find anything that matches her skill set. And not for lack of trying, since her arrival in 2014, she has held numerous positions as a housekeeper, overnight cleaning lady, night attendant, and concierge.
"I have distributed my curriculum vitae (resumé) with many people, but until now nobody called me. I just need one opportunity to show my skills as saleswoman", she says.
Looking for a better way to make ends meet she finally decided to give driving for Uber a try, which she still does to this day.
"The income as a driver is not too bad if you are alone and work full time. In the last year and a half, I have made six thousand trips and my rating is 4.85 stars of 5," Alvarez boasts. Although it is not what she envisioned, she stands proudly behind the fact that she can provide for herself working nine-hour shifts six days out of the week.
As a small sample of the female talent that have gone unrecognized, these women provide insight into the growing issue of "Canadian experience" that most immigrants lack.
Paola Gomez, founder of the Network of Latina Women in Canada, maintains that although many Latina women are grateful for the opportunity presented by living in this country, there can be a steep price. For those with extensive experience or higher educations in their home countries it can be difficult to find work within the same stream, which usually reduces them to survival jobs.
Misperception of Canada
In some instances, Canada's reputation can actually hurt those who over-estimate the reach of the developmental programs in place. Claudia*, who immigrated from Mexico, explains that she was under the impression it would be easier to find employment once she moved.
"I wanted to be independent of my family. I thought it will be easier to find a job in Canada, similar to what I had in my country, but it wasn't," she says.
Previously a manager of a bank teller division, she still remembers how hard she pushed herself to climb the rungs. Now a cleaner, she spends her days mop in hand, moving around various residential and commercial buildings. To make matters worse, her supervisors are extremely unpleasant and a portion of her pay goes to a placement agency.
"I just need an opportunity in a company to show my skills. I know I can be selected in Canada as well I did in my country," Alvarez states.
Maria Alvarez was able to build a career based on her professional experience abroad without a post-secondary education. She argues that a lack of a degree should not prevent potential candidates from consideration. In her opinion, companies should keep some openings for immigrants without certification but with enough technical knowledge to compete for the positions.
Higher Education
While furthering one's education is always an option, working survival jobs does not always provide the best financial flexibility. Even with support programs many immigrants can have issues with the reduced schooling rates and the fact that they may not be able to work as many hours during that time frame.
"The problem is if I get the Ontario Student Assistance Program (OSAP) I would not live with the same standard I have now working as [an] Uber driver," Maria Alvarez explains. Sitting behind the wheel of her car she adds, "I would like to study Dental Hygienists or Digital Marketing."
For Eugenia Gomez family obligations as well as monetary limitations have discouraged her from adding to her Mexican credentials.
"We arrive in Canada with many dreams and eager to work. In the beginning, we accept all kind of jobs because we have to pay rent, but when we want to try something else we are faced with the 'Canadian experience' requirement that is difficult for immigrants," she explains.
The mother of two now prioritizes her sons as opposed to her own professional opportunities.
Whereas others like Claudia, are maintaining up to two jobs as they save for fees that will regularize their immigration status.
Reaching full potential
In the Latin American community as well as many other immigrant groups, there is talent, experience, and professional skills that can go unnoticed. The government has attempted to eliminate the barrier that is "Canadian experience", but as cases continue to arise, it seems a more concrete solution must be found.
Paola Gomez states that although these women face several professional obstacles of their own, they are content with the sacrifices they are making for their children.
"We need a more real political and societal intention, the intention of including Latina women into the workforce in ways that they can reach their full potential and Canadian society can benefit from it. Not only because of the betterment of the nation's economy but also because it gives a higher sense of belonging with the new home," she concludes.
---
*Full name withheld to protect the identity of the individual.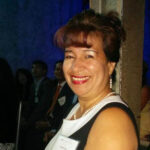 Isabel Inclan has worked as a journalist for more than 20 years, in both Mexico and Canada. She began working as a foreign correspondent in Canada in 1999 for Mexican media. She has been a New Canadian Media contributor since 2018. Her main areas of interest are politics, migration, women, community, and cultural issues. In 2015, Isabel was honoured as one of the "10 most influential Hispanic Canadians." She is a graduate of Masters in Communication and Culture at TMU-York University. She is a member of CAJ and a member of the BEMC´s Advisory Committee.