Atlantic Canada may emerge from the global pandemic as Canada's post-secondary utopia.
Close to 80,000 students will study at Atlantic Canada's 16 universities in September. This includes about 13,000 first-year students and 18,000 international students. The excitement on our campuses will be palpable.
At St. Thomas University's Commencement Ceremony, the day before classes begin, I will emphasize to students that while pandemic challenges have been daunting, the value of a university degree to them and to society will be worth their effort.
Like generations of students who preceded them, they will face the challenges of tackling new academic subjects, time management, and forging friendships, while parents will be anxious about letting go. Every step of the way they can count on dedicated professors to teach and mentor them and on caring staff to offer supports.
This academic year will be positive in another way.
Atlantic universities have long held our ground in comparison to top-tier post-secondary institutions across the nation, but COVID-19 has allowed us to showcase our value system and strengths. Known for top-tier academic standards and a broad range of higher-education opportunities, the region has served-up a master class on how to effectively protect populations and mitigate impacts throughout a pandemic.
Atlantic Canada is now seen as the go-to destination for tourism, remote work opportunities and, for many Canadians and a growing number of international students, post-secondary education.
Universities on Canada's east coast are world-class destinations for students looking to access the highest calibre of education and degrees recognized across the globe – all accessible in an environment that boasts beautiful, welcoming, and safe communities.
This resonates even more today. After nearly two years of fighting COVID-19, Atlantic Canada has been widely recognized for its exceptional leadership in executing an effective public health response that has resulted in significantly lower case numbers.
This commitment to looking out for one another has continued with the region's vaccination rates seeing almost 75 per cent of each province's population having received at least one dose of a COVID-19 vaccine. This trend is on track to continue and the call-to-action for vaccinations is extended to students looking to attend the region's universities – which encourage them to receive both doses, where possible, before arriving on campus.
As a result, students and their families are looking at Atlantic Canada as offering an ideal environment to access a high-quality education – as a place where they can trust that there is sound leadership by governments that have consistently placed people first when responding to each wave of the virus, and where students can feel more at ease that their health will be the top priority if another wave were to emerge. Atlantic Canada is best positioned to provide them with a sense of normalcy that one would expect during their university experience.
We know that these considerations play into the decision-making process of both prospective students and their families when determining the school of choice. In a recent Canada-wide report for Universities Canada by Abacus Research, enrolment intentions are tentative, but the data indicates up to 80 per cent would return to campus provided the circumstances seem safe in terms of infection rates, vaccination rates, advice of authorities, and safety protocols.
At one time, our provincial governments were considered too restrictive in terms of public health measures. Now our region is arguably regarded as the trusted adult in the room. Atlantic Canadian universities are in a position to safely welcome students to our campuses, where they can enjoy a sense of normal university life and where the surrounding communities can be confident that we are respecting their well-being.
The Class of '25 will acquire the knowledge and skills necessary to succeed in an evolving job market. Their university degree will mean higher employment rates, career satisfaction, and higher earnings. What they learn and how they learn it will enrich their lives.
These are goals they can accomplish through the high-quality education and unique and safe student experience offered by the 16 universities in the Atlantic Provinces.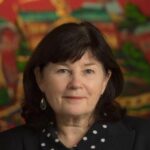 Dawn Russell is President of St. Thomas University in Fredericton and Vice-Chair of the Association of Atlantic Universities.