The way Canadian Arab media covered Prime Minister Stephen Harper's first visit to Israel and the Middle East in mid-January has illustrated that the six-decade-plus Arab-Israeli conflict is no longer occupying the first rank on the Arab political agenda. The fear of collapse of statehood in a large portion of the Arab world (in three countries at least — Syria, Egypt, and  Libya) has overwhelmingly dulled the search for a Palestinian state. Bloody conflicts that pit secularists against extremists, on the one hand, and set opposition factions against autocrats and oligarchs combined, on the other hand, have displaced intra-Palestinian splits in the first place, let alone their common enemy, Israel.
The chief editor–publisher of the Arabiya bi-weekly newspaper, Al Sayed Nasr, dedicated his editorial on January 30 to the Geneva II Conference on Syria, a UN-based international peace conference aimed at ending the Syrian civil war. Putting the whole blame on the Syrian regime, Nasr headlined his piece "The Montreux jesting," and wrote about how he expected that the conference, which ran from January 22-31in Montreux, Switzerland, would end in failure and result in nothing on the ground.
"No revolutions anymore, nor peoples demanding freedom; rather, there are radical-liberal governments warring against their peoples under the banner of [fighting] terrorism," he wrote.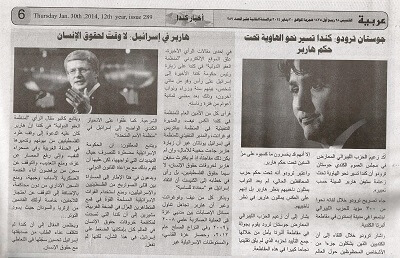 Mr. Nasr, nicknamed Abu Tarek, continued his criticism of the Syrian regime in the February 13 issue with an editorial headlined "Explosive Barrels." He wrote that although the Syrian opposition "is said to be corrupt and terrorist" and that some opposition factions are extremists accused of making Syria "another Afghanistan, history will undoubtedly record only one significant thing — the Assad dynasty seized power and ruled for nearly 50 years, causing torture to the people and nudging down an ancient and resource-heavy country to the bottom of the world's countries' list."
On Harper's visit to Israel, Arabiya reviewed an op-ed article posted on the website of Amnesty International Canada, co-written by Alex Neve, Secretary General, Amnesty International Canada; Béatrice Vaugrante, Directrice Générale, Amnistie internationale Canada francophone; and Yonatan Gher, Executive Director, Amnesty International Israel.
The Canadian prime minister's visit was disappointing, Arabiya said, citing an op-ed article posted on the web site of Amnesty International Canada. "Stephen Harper disregarded human rights, particularly those of the Palestinians; further, in his speech to the Knesset, Harper equated criticizing Israel with anti-Semitism."
"There was no criticism of civilian casualties during the armed conflict in Gaza in 2008-09 and 2012; nor has Canada raised concerns about the punishing Gaza blockade," Arabiya added, referring to the article.
Arabiya concluded, still based on the article, that Canada did not exert any effort to ask its friend to improve its human rights record.
The Canadian prime minister also visited the Palestinian Territories. According to a January 20 article in the Toronto Star Mr. Harper went to both sides to defend Canada's stance in the Middle East while reaffirming his "full-throated" backing of Israel. He made a historic address to the Knesset, Israel's Parliament, and promised to maintain Canada's tough economic sanctions on Iran. He also offered $66 million in new funding for the Palestinians.
The 40-page Arabic-language paper, which considers Egypt's secular uprising on June 30, 2013 as a coup and regards Islamist-led Tunisia on the right track to democracy, also published stories with headlines such as "Justin Trudeau: Canada drifting under Harper rule," "Canada's Foreign Minister: Al Assad supported terrorism," and republished a story from Al Jazeera reading: "Rabbi corruption: Threat to Israel."
Intra-Arab conflicts
The heavyweight Arab News bi-weekly, for its part, didn't give much attention to Harper's visit to the region.  Editor-in-chief Salah Allam earmarked the paper's editorials on January 29 and February 12 to two different issues, both of Canadian interest. In the first editorial, Mr. Allam called on Harper to work in the footsteps of Henry Ford, the American industrialist who founded Ford Motor Company. He said that in 1914, Ford doubled the wages of his workers and shortened work hours, which resulted in better productivity and lower car prices, thus increasing demand.
In his second editorial, Mr. Allam harshly criticized the new Canadian citizenship draft law, labeling it "discriminatory" against new Canadians.
"The Harper government has decided to play the role of Don Quixote fighting windmills," he wrote. "It seeks to launch a relentless campaign on 'problems' that have no existence in the current immigration law."
Mr. Allam said the new law "smells no-confidence, discrimination and humiliation to more than seven million foreign-born Canadian citizens, who have settled in Canada and account for one fifth of the population, not to mention the 250,000 new immigrants who will land this year."
He said he believes the Canadian parliament should interrogate the Conservative government over this "dangerous" law.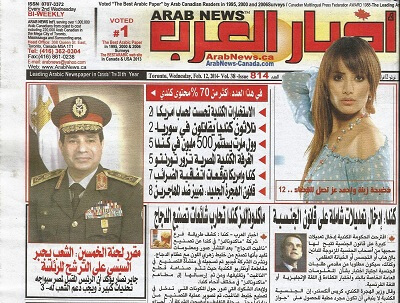 On Mr. Harper's visit to the Middle East, the Toronto newspaper reported Canada promised to offer $100 million to Jordan over the coming five years to help it deal with the influx of refugees from Syria. It also cited Minister of Foreign Affairs John Baird as saying that Bashar Al Assad opened the door to terrorists to enter Syria. In a separate news story, the paper reported Harper and Palestinian President Mahmoud Abbas dismissed reports alleging Canada had been asked to accept Palestinian refugees.
Arab News, contrary to Arabiya, recognized the June 30th uprising in Egypt as a revolution that ousted the country's first Islamist president Mohammed Morsi. For two consecutive issues, the paper published on its front page an official picture of Field Marshal Abdel Fattah Al Sissy, Egypt's defense minister, who is widely expected to tender his candidacy in the upcoming presidential elections.
Other Arabic-language newspapers, including the recently published Good News, as well as Al Wattan, Meshwar, Link, and Almultaqa News, did not cover Harper's unprecedented visit to Israel.
Good News, run by Egyptian Copts, moved ahead with trumpeting for the new regime in Egypt that relieved Egyptian Christian minorities from suffering still experienced by their counterparts in Syria and Iraq. Al Wattan, on the contrary, republished opinion articles by Egyptian journalists and activists laughing at what they see as a military coup that ousted a democratically elected civilian government. Essays included "the political field marshal," written by columnist Belal Fadl and "Congrats! The first elected civilian minister of defense field marshal," written by Ahmed Samir.
Activist Ahmed Maher, one of the April 6 Youth Movement's co-founders, wrote an article from prison. Mr. Maher was detained on November 29 for protesting against a new Egyptian protest law. He was sentenced on December 22 to three years in prison.
What the Arab media showed during Prime Minister Harper's visit to Israel is that Arabs and Israelis each are preoccupied enough not to care about their "hate relationship" for the time being: Arabs are swamped in several "hate affairs" with themselves, while Israelis are engaged in a long-distance "hate story" with Iran.

---
Mourad Haroutunian is a senior equities journalist at Proactive Investors, in Toronto. An Egyptian-Armenian media professional, Haroutunian has previously worked in Saudi Arabia, Dubai, the United States and Egypt, for Bloomberg News, CNBC Arabiya, Alhurra TV, Forbes Arabia and Nile TV International. He holds an M.A. in journalism and mass communication from the American University in Cairo.