People who want to obtain jobs and Permanent Resident status in Canada can revolutionize their application process by leveraging the power of artificial intelligence, social media and other online tools to become faster, more focused and more successful in their quests.
That's the message from Max Medyk, a Halifax-based advocate for international students and immigrants who has more than 250,000 followers on YouTube, TikTok, Instagram, and Bilibili.
Medyk captivated an audience of more than 60 at the Halifax Central Library on Sunday, teaching how to use AI to search for jobs, refine resumes, enhance cover letters and generate strategic guidance for immigrants to best navigate the often complex pathways to obtaining Permanent Residenct status. 
"You don't need to have paid technical knowledge to operate AI to get you to point B, to get you to jobs, to get you to PR," Medyk said in his presentation, which he said the was the first event of its kind in Canada to teach how to integrate AI into job search and PR applications.
"You can use it as a tool, as a vehicle that you can drive without having a driving license."
Medyk is an educational influencer and the founder of I'm Canada Media, which works to support newcomers and international students. 
Medyk has used ChatGPT since it first became available.
He's passionate about the power of technology, and follows the personal social media accounts of various technological innovators, from tech-firm founders to Silicon Valley researchers. 
He also works with immigration lawyers and government to help people to successfully emigrate to Canada. 
By working through Nova Scotia's immigration policies and requirements, he realized that immigrants could proficiently use AI in their pursuit of employment and PR pathways, relieving some of the burden.
"When I spoke with immigrants, most of them told me that their biggest problem is to find a job…and figure out how to emigrate, like which PR pathway to (use)," said Medyk, who is originally from Ukraine, "Some immigrants can't afford a lawyer, so this (AI) can really help them with that."
Medyk's I'm Canada team conducted a survey among newcomers, and more than 58 per cent of respondents said they had never used AI for job search and immigration.
Harnessing AI for resume and cover letter enhancement
Medyk invited a volunteer, Glycia Raposo, to prepare her resume to show how he would revise her resume and produce a cover letter.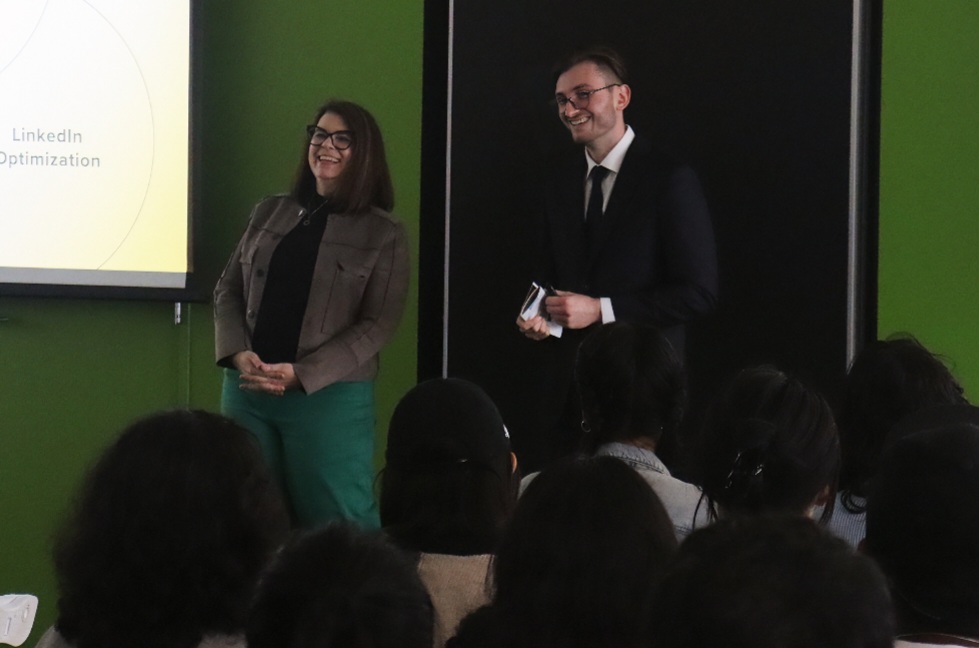 Medyk used a PDF reader plugin to get it ready for revisions. Medyk then launched LinkedIn to search for Raposo's desired job as an accounts receivable manager and found a suitable company.
Copying the job description, Medyk pasted it into ChatGPT, asking it to identify the ideal work experience and skills for the role. 
Moving forward, he integrated Raposo's resume, and directed ChatGPT to use a formatted table to meticulously outline the gaps between Raposo's resume and the potential employer's required skills and work experiences. The focus then shifted to enhancing Raposo's accomplishments, as Medyk requested ChatGPT to propose quantifiable metrics for her experience. Medyk then directed ChatGPT to craft an optimal resume for the position, encompassing all prior input and considerations.
Subsequently, he asked ChatGPT to identify the most significant challenges inherent in this role, drawing from the job description provided. Armed with this understanding, he tasked ChatGPT to write a cover letter based on both the job description and the now-identified challenges to explain why Raposo would be uniquely positioned for this job.
For Raposo, the use of AI has the potential to save her from having to work through hours of revisions and writing when looking for a job.
"It was very time-consuming and it's very stressful because you see the many job positions, you see the skills they require and then you have to make some adjustments to your resume," Raposo said.
"You have to change your cover letter. So, I would say if I was focused on doing that, I would take at least one hour doing my resume for a specific application. Today I saw like [it takes] two minutes to make adjustments to my resume and two more minutes to do the cover letter. So it is incredible," Raposo said. 
Navigating optimal PR pathways
Continuing with Raposo's case, Medyk demonstrated AI's efficacy in crafting a plan for her Canadian PR application. 
Raposo wanted to know about her potential eligibility for the Nova Scotia skilled worker immigration program. 
Medyk used ChatGPT to input her age, education level, work experience and language, asserting her interest in obtaining provincial nomination under the Nova Scotia skilled worker immigration program. 
Following ChatGPT's assessment of her profile against program requisites, Medyk went to the Nova Scotia immigration program website, extracting the pertinent program guide PDF and pasted its link in ChatGPT. 
With ChatGPT's confirmation of Raposo's eligibility, Medyk directed it to detail the application various steps and identify documents that would need extensive preparation, which will enable Raposo to prioritize her efforts. In this step, 
Lastly, they sought ChatGPT's assistance in generating a document checklist. When Raposo posed questions regarding the format of the required documents, ChatGPT gave her the answers.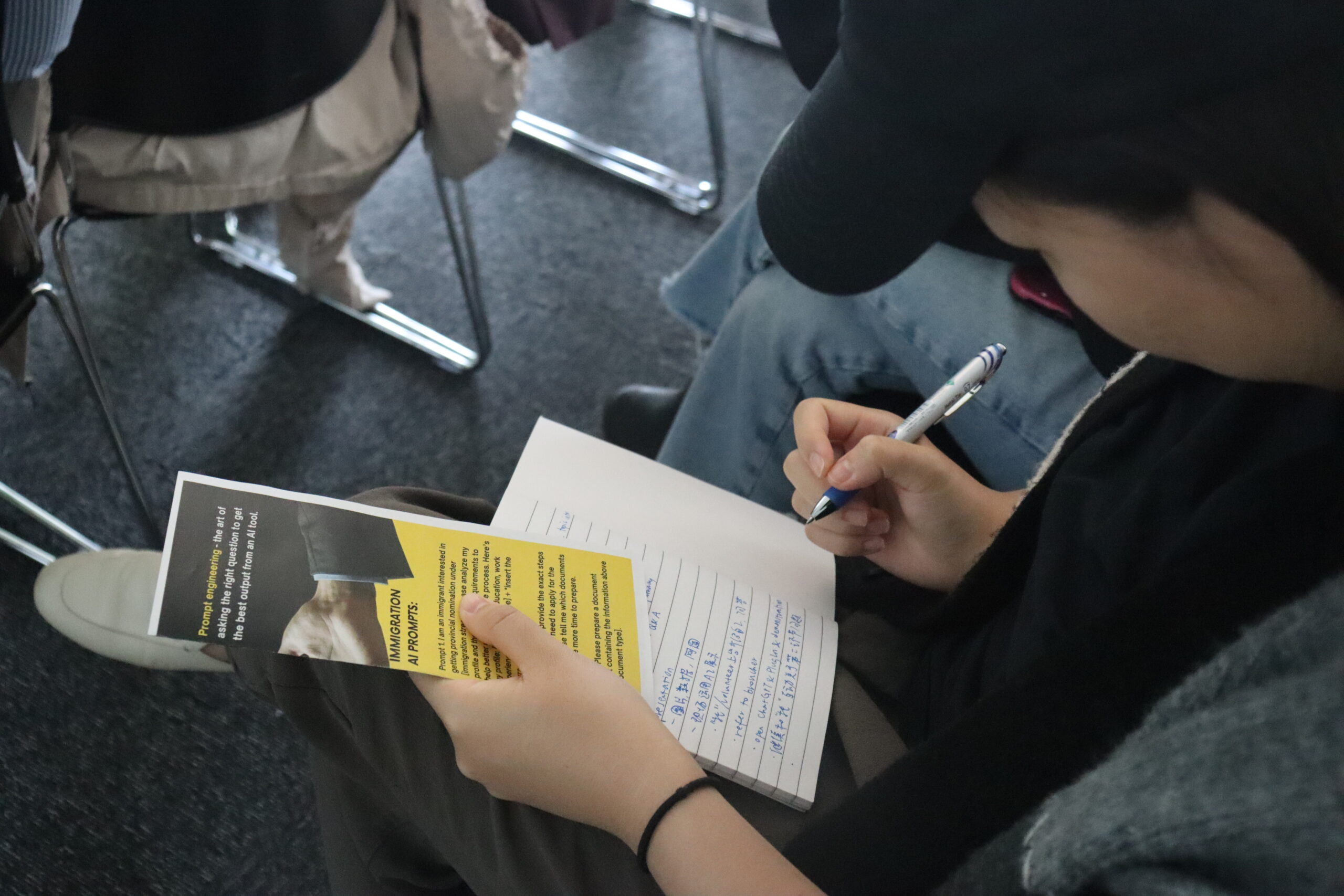 Raposo said had never used AI before, so the entire demonstration was a novel and unexpected experience for her.
"I didn't know that AI and specifically ChatGPT [could use] my own personal word document and have it blended with the government immigration programs. I didn't know that we could have outcomes that would be specific to my reality," Raposo said.
Before going to the AI workshop, Raposo searched for answers to her immigration application questions on Google and found various responses. While this gave her a basic understanding, she needed to consult with a licensed Canadian immigration consultant to receive accurate guidance which is usually around $300 per hour.
Other attendees at the Halifax event were also enthusiastic about the potential of AI and their search for work. 
For example, Raposo's new AI-generated resume made audience-members Afaf and Awatif Benzid rethink their use of AI.
Afaf and Awatif are sisters who arrived in Canada just a couple of weeks ago from Morocco.
By chance, they met Medyk and recognized him from his YouTube channel. He invited them to the seminar, and Afaf, a web designer who plans to study at the Nova Scotia Community College, hopes to work part-time.
Afaf Benzids' first language is not English, although she had used AI before to help in copy editing.
She said that she had never considered using AI technology to aid in her job search, as she preferred her resume to reflect her individual personality. 
She was unaware that some employers use AI tools to screen resumes based on keywords, increasing the likelihood of them being seen by potential employers. 
However, after seeing the accuracy of AI-generated resumes based on specific keywords, she now believes that AI could potentially assist her in creating more effective resumes for employers who may use AI to screen applicants.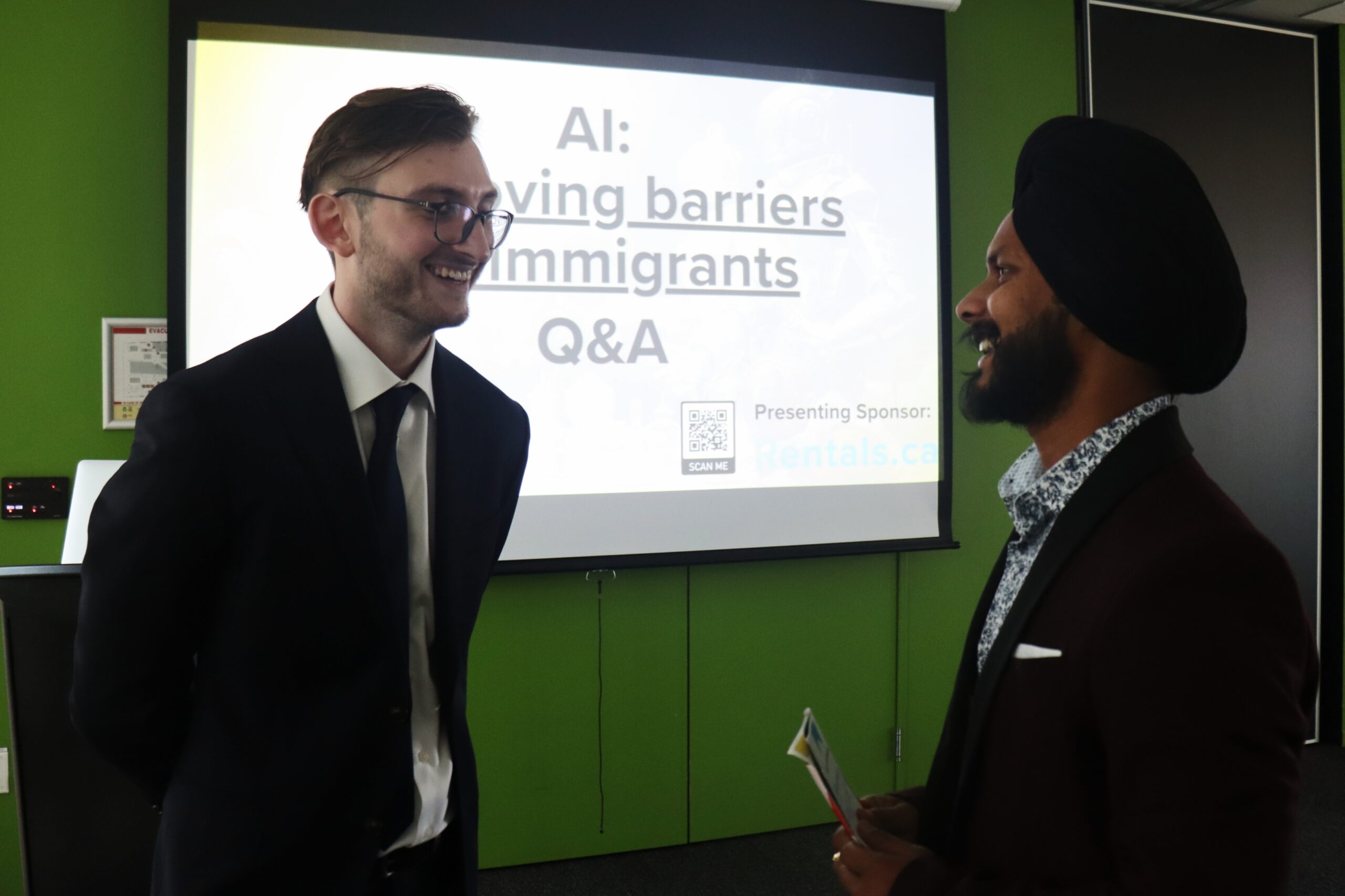 "[The employer uses] robots that analyze your resume and it checks if there are enough keywords in it," Afaf says. "I thought my resume would be handed to the employer directly. This is new for me and I didn't expect it."
For Raposo, using AI has the potential to save hours of work and years of delay.
"I would say that in the last two years, I've been waiting for my moment to apply for PR. In those five minutes, I trust that I have the correct information," Raposo said, referring to Madyk's help. "It's crazy, but I think it's helpful."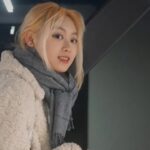 Xixi Jiang is a third-year journalism student at the University of King's College in Halifax. She's from China and is passionate about writing news stories related to immigration, international students, women's rights, and anti-racism.