Zahra Nader, a journalist from Afghanistan has paused her studies in Canada to run a news platform dedicated to women journalists living in the country. 
ZanTimes is a women-led newsroom that reports on human rights violations in Afghanistan. Its goal is to support, edit and publish the narratives of the most marginalized communities being affected by Taliban rule. 
A journalist: Centering women's voices, protecting free press
Before becoming editor-in-chief, Nader investigated the legitimacy of mainstream news reporting in Afghanistan at the height of conflict with the Taliban.  For example, in November 2021 she scrutinized a CNN segment on child marriage in the country, which turned out to be false.
On-the-ground interviewing showed CNN's report was based on the claim of one man. The story also missed cultural context and questioned the ethics of re-enacting events on camera that never happened. 
"We're already lacking urgency on this global topic in countries that should be responding to this attack on women's rights," Nader said about reports that women and girls have been banned from academia and education in the country, "And yet channels like CNN would put their resources into inventing stories out of Afghanistan."
Nader, a PhD student in Women and Gender Studies at York University, remembers her mother dragging her to different schools as a child in Iran, where they had moved fleeing the Taliban's previous assumption of power in the early 2000s, begging for access to education. 
"My entire childhood I was longing for education," said Nader, whose mother was finally able enroll her in an adult school at the age of 10. When the family moved back to Afghanistan, Nader went back to school, and graduated in 2010. 
A year later, she fell into the world of journalism.
"We are shaping our own narratives to tell our own stories to preserve it for the next generation," she said. "So they can look back on the struggles and the situation in which a woman in Afghanistan resisted the Taliban, and how they fought to prove their rights." 
Nader hopes to finish her studies in Canada and then return to Afghanistan to teach at universities when the full rights to education have been re-established for marginalized groups in the country. For now, she champions and cares for the safety of her newsroom staff. 
A singer: Reuniting in song 
Before Maryam Massoomi became a program facilitator in Saskatoon, she organized a harrowing escape from Afghanistan. 
When the Taliban took control on Aug. 15, 2021, after three months of insurrection, the principal of the school where Massoomi worked as a music teacher sent everyone home. A former student at Marefat High School, Massoomi knew its progressive philosophy to educate women in Kabul would be a prime target for the oppressive regime. 
Four days later, Massoomi got the call from her principal's son, who lives in America, and planned their evacuation with his Canadian nonprofit, 30 Birds Foundation. 
Massoomi organized over 200 Afghan women, girls and their families to gather their documents and cross the border to safety.
"I was so happy, I couldn't sleep," she recalled about the night before leaving, even though the road ahead would be dangerous.
In the morning, Massoomi travelled 14 hours from Kabul expecting to reach the first rendezvous point. There, she received a call that plans had changed, to return to the capital, and then head for Nangarhar Province, another 20 hours away, instead. 
"We divided into small groups so the Taliban wouldn't recognize us," Massoomi said, describing the risks she faced passing through checkpoints to get across the border to safety. 
Days later, Massoomi finally made it to Islamabad where she applied for a visa to Canada in September and settled in Alberta a month later. 
Massoomi was separated from her husband — who is now in Belgium — after her visa to Canada was approved, and is working on bringing him to the country; they haven't seen each other in more than a year. 
In the meantime, Massoomi has reunited with her music students and former colleagues in an all-women choir of traditional artists from Afghanistan. 
The Sound of Afghanistan performed for the first time since their harrowing escape this summer, and most recently performed in an intercultural exchange with the Nigerian community in Alberta. 
Massoomi is part of the "minority group" Hazara. Her family has lived through generations of Taliban rule since the 1990s. 
A Judge: Women's access to education and safety, empowers society  
Bibi Wahida Rahimi presided over domestic violence cases for three years in an Afghanistan provincial court.
Today, she works as a research assistant for the department of law at the University of British Columbia, reflecting upon and documenting her experiences as a former judge in the Panjshir circuit. 
Rahimi fled her home country with her husband and two children on a high-risk flight to evacuate 390 lawyers and judges who would have been targeted by the Taliban. 
She arrived in Greece at the end of August, and, then, spent five months in Germany waiting for visas to Canada. 
During her layover in Europe, Rahimi never gave up on her career path and applied to several schools in Canada and the U.S. She was accepted to a masters program at the University of Notre Dame in the U.S. on a scholarship but deferred for a year when her family received their visas to Canada.
She says starting over in a new country was a challenge for her children. "I wanted stability for them," Rahimi said, on the plan to adjourn her studies until next year. 
The importance of women judges, Rahimi says, is to encourage women to seek justice and education. 
"When she's making changes for herself, it's a change to society. For a woman to defend herself, is to value herself," she added, drawing on her years hearing gender-based violence issues in court. 
"In hard times we have to stand strong and start making the change in our own self." 
And when it comes to shifting positive change, Rahimi believes in the importance of generational balance. 
"My sons will learn from me and make changes in their own fields," Rahimi said on the power of legacy.  
Rahimi speaks regularly with her international colleagues who were on the same flight away from Afghanistan. "We talk about how to support women from Afghanistan," she said, and encourage her former peers to "keep and empower our own selves." 
"We are still alive, we are still full of energy, we still have our vision and drive."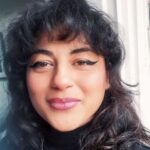 Keitlyn (they/them) is a multi-media journalist residing in Scarborough, Ont. They are interested in long-form journalism that highlights the visibility of BIPOC expression. True to millennial form, they are a small business owner, carpenter and freelance photographer. They were interested in NCM as it understands the "big picture." Journalists are dedicated to truth and democracy. Our communities have not always had access to these privileges. NCM is filling in a large gap that North American media has long neglected.