Sniffles came from the crowd. Even the children present knew to remain quiet.
Syrian journalist Maisoun Almasri said she saw her younger brother get shot by a Syrian government sniper. That sniper prevented anyone from trying to rescue the little boy.
Through a translator, Almasri said no one had any experience doing first aid.
"So my brother lost his life in our arms. We can't do anything. Looking at me, looking at our mother, all those surrounding him, and we can't do anything. I was haunted by the look in his eyes."
She said that look haunted her every night. "The feeling of helplessness will kill you. The guilt of doing nothing will kill you."
Almasri joined the White Helmets after that moment in 2013.
"The feeling of helplessness will kill you. The guilt of doing nothing will kill you."-Maisoun Almasri
She uses that first memory as a reminder of what it means to be part of the organization and to prevent it from happening again.
In total, she has lost two younger brothers.
Three White Helmets volunteers shared personal stories of their lives in Syria, through Mohammed Alsaleh and two other translators, to a packed hall at Simon Fraser University. Those three volunteers wished for Vancouver residents to understand essay help the daily tragedies happening abroad, to have a better understanding of what the organization is about, and to pressure the Canadian government into helping them build a democracy similar to the one Canadians enjoy.
Syria Civil Defense
White Helmets, known officially as the Syria Civil Defense, is a formal emergency response team of civilian volunteers and an apolitical organization. Its four principles are humanity, objectivity, neutrality and independence.
Almasri said 112,000 lives have been saved by the White Helmets.
Nedal Izdden, one of its board members, said, "We are the only non-armed group doing this kind of work in Syria."
He adds that 233 volunteers have lost their lives from this war.
By doing this humanitarian work of easing people's suffering, Izdden said, the volunteers are sending a clear message that violence can only produce violence.
"We strive for stability in the area."
The ultimate goal is peace, he said. Rebuild the cities and the country.
"We are the only ones praying to lose our jobs," he joked.
In contrast to the quiet sounds of a little toddler burbling on her father's lap in the room, Mustafa Almahamed talked about his 10-year-old nephew dying in his arms on December 15, 2012.
Turning to Almasri on the panel, he said, "That look haunted me too."
Today, Almahamed is the Syria Civil Defense manager for Daraa, a city in southwestern Syria. He continues to face the results of cluster and barrel bombs.
In the last year and a half, the organization started helping people find places to hide when the bombs hit.
Breaking down Gender Barriers
Almasri shared what women have contributed to the cause. The customer support as well as the security measures taken by a online casino to protect your private data for example should be of utmost importance to you before you make your choice of registering and depositing your money and especially before you will start to play lovely online casino games with them.
When White Helmets was first established, she said, there were no more than 10 women.
Now there are over 400 female volunteers and more than 45 women centers.
"We provide the same service as men. This includes carrying people to the ambulances and search and rescue."
The difference they have made are noted in certain conservative groups where women were uncomfortable being helped by men.
Almasri said gender was a barrier. "Women were able to fill the gap and provide support."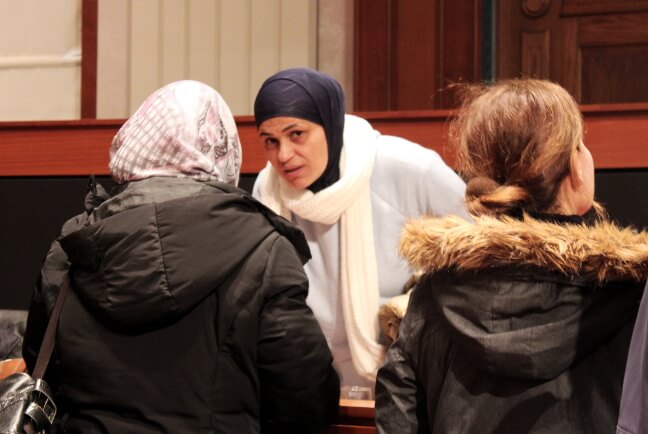 The women centers provide first aid training, search and rescue efforts and trauma support for children, she said. Outreach programs have volunteers doing demonstrations at schools and in people's homes.
The goal is one rescuer in each home.
"In six months, we have closed more than 30,000 cases," Almasri said.
Currently, the organization is training women on how to work with unexploded devices and identify non-traditional weapons such as barrel bombs.
Remaining Apolitical
When asked how White Helmets remain apolitical and how to ensure it remains that way, Izdden said, "We all know countries have a humanitarian side to them and it is the side we are talking to."
He said the organization is lucky to be recognized by countries such as the United Kingdom, Canada, Germany, Japan and the Netherlands.
In response to the second part of the question, Izdden said the 4,000 White Helmets are not angels.
"We are everyday people. Our work, like schools and institutions, is dedicated to a code of ethics and a code of conduct."
He said when they recognize a member who isn't committed to the organization's four principles or to its code of ethics and conduct, they simply stop their association with the person and he or she is no longer a member.
Reasons for expulsion include using a gun or an affiliation with a political group.
"Mistakes do happen," Izdden said. "We do our best to address them when they happen."
Almasri still reports on life within Syria, issues such as safety and socio-economic affairs, in between her duties as the head staff of women's affairs. She plans to commit fully to journalism after the White Helmets are not needed anymore.
Same as Izddan with dentistry. Same as Almahamed with auto mechanics.
The event was co-hosted by SFU International, PeaceGeeks and the British Consulate-General Vancouver. The three Syrians visited Ottawa with the assistance of Global Affairs Canada before coming to Vancouver.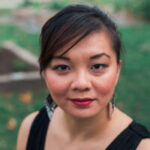 Deanna Cheng is a freelance journalist who has been published in various publications such as Vancouver Courier and Asian Pacific Post. She often covers culture, intersectionality and Vancouver.