Although Dalhousie University has opened its doors to Ukrainian scholars in response to the Russian invasion through the Scholars At Risk Program, no candidates have yet been placed.
But that doesn't mean that Dalhousie is bereft of Ukrainian graduate students. Instead, the institution is finding that direct networking may be a better way to help Ukrainian scholars find opportunities in Nova Scotia, away from their war-torn country.
Since December 2021, Dalhousie has been a member of Scholars At Risk (SAR), an international network of academic institutions designed to protect scholars and promote academic freedom. Its program is also focused on helping with relocation costs of the candidates and their family. 
SAR at Dalhousie is run by five faculty members: Matthew Schnurr, chair of the committee, Kiran Banerjee, Talan Iscan, Natalie Rosen and Sarah Stewart-Clark, Associate Professor at the Department of Animal Science and Aquaculture and the interim leader of the steering committee. 
Stewart-Clark says that the SAR committee worked with Dalhousie to waive fees for students coming from Ukraine. 
In addition, in 2022, the committee received funding to host a scholar for a three-year faculty position, and several PhD and postdoctoral students. However, according to Stewart-Clark, they are still looking for candidates.
"We've tried to interview some candidates, and they have already been offered placements in the U.S., which is fantastic for them because they were placed, but it makes us continue to look for that scholar," says Stewart-Clark. "So I think that that's been the most difficult part, and I think we thought it would be much easier."
SAR members have also been working on advertising PhD and MSC (Master of Science) opportunities for graduate students.
Although the Scholars at Risk Program has struggled to find candidates, Dalhousie has been successful in helping Ukrainian academics. The SAR committee has provided help in connecting Ukrainian graduate students with faculty members and researchers, which would then fund their work. Graduate students can also get additional funding through the Mitacs Accelerate program, which connects industry or not-for-profit organizations with students for a collaborative internship project, and Research Nova Scotia through the Ukrainian Emergency Research Support Program, which supports Ukrainian students and researchers who relocate in Canada following the Russian invasion.
The Dalhousie website indicates that SAR at Dalhousie is exploring a fundraising campaign that would support scholars in Ukraine and other conflict zones. Stewart-Clark says the committee instead focuses on connecting graduate students with faculty members with open positions.
"Once we made the link between the faculty member needing a student and the student, we kind of step away. And so it was up to those individual labs and faculty members to welcome the students to Canada and really help them become established," says Stewart-Clark.
John Archibald is the Director of the Institute for Comparative Genomics and professor in the departments of Biochemistry & Molecular Biology, and Microbiology & Immunology. He has connected through another faculty member with a Ukrainian graduate student, Dmytro Tymoshenko, and hired him as his research assistant in his laboratory.
"Dmytro had skills that were relevant to my particular lab," says Archibald. "I just wanted to help him out. We all see the news and see it's heartbreaking what's happening in Ukraine. I'm fortunate to be well funded right now and I thought: 'here's a chance to try and do some good with that money.' I suppose it was a bit of a risk, but that was a risk that I was willing to take."
Although Archibald reached out to Scholars At Risk, he says he did not receive any formal support. "I'm sure they're doing good things. Just in our particular case, we advanced it quite quickly," says Archibald.
Archibald says his colleague, Craig McCormick, head of the Department of Microbiology & Immunology at Dalhousie, provided him with Tymoshenko's contact.
"I've been trying to tap into mechanisms to help these students succeed in Canada. And obviously they sort of have a network of friends and colleagues and know of other talented people who could contribute to the research environment here. And so that led to identifying additional people like Dmytro," says McCormick.
McCormick has previously worked with Ukrainian scientists. He hired Alina Botova, Ukrainian master's student at the Department of Microbiology & Immunology, who gave him Tymoshenko's contact.
Tymoshenko comes from Zaporizhzhya, a city in Southeast Ukraine. He graduated from university in Kyiv where he received his bachelor and master's degree in molecular biology and bioinformatics. Since coming to Canada in August 2022, he has been working in Dalhousie's laboratories. In September, he will be starting his PhD. 
Aside from hiring him, Tymoshenko says that Archibald provided major financial support, helping him with flight costs, finding accommodation and filling his PhD application. 
"It is pretty cool that in university there are a lot of people that are really glad to help you," says Tymoshenko. 
Victoria Brzezinski is a New Canadian Media correspondent based in Halifax, Nova Scotia. This story and photo are part of a partnership between the SaltWire Network and New Canadian Media.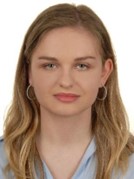 Victoria Brzezinski - Bachelor of Journalism (Honours) student at the University of King's College in Halifax, Canada. She presently works as a freelance writer for Her Campus at Dalhousie University and New Canadian Media. Victoria specializes in multimedia. She enjoys using her reporting skills to produce audio, video and written news. She also speaks multiple languages, including English, French, Polish and German. She currently resides in Halifax, Nova Scotia, and is available for freelance assignments.