This past weekend, Immigration, Refugees and Citizenship Canada announced temporary measures to help Sudanese nationals and Sudanese Canadians amid an outbreak of violence in the northeast African country.
After suspending diplomatic operations in Sudan last month, the federal government is now allowing Sudanese people in Canada to apply for free to extend their stay or change their visa status. 
People in Sudan who have applied to be permanent residents in Canada also won't have to show their passport or travel document to be approved for residency. This is a step announced in addition to fee waivers and a host of other services for Canadians stuck in Sudan.
These measures come in the wake of calls from Sudanese Canadians for Canada to aid civilians caught in the conflict. 
On April 15, clashes between the Sudanese government's army and a rival paramilitary force called the Rapid Support Forces broke out in the nation's capital, Khartoum, and elsewhere in the country. The two groups have a long history and were former allies, but are currently embroiled in a power struggle. 
The violence has resulted in 459 deaths, 4,000 people wounded, and thousands forced to flee as of last Tuesday, according to a UN World Health Organization representative in Sudan. 
National media reports say around 1,700 Canadian citizens live in Sudan and hundreds have requested aid and evacuation assistance. An update on Saturday from federal officials from the immigration and defence departments noted that around 375 Canadians have been flown out of Sudan to date.
Soldiers from @4CdnDiv4DivCA are providing security and assistance to Canadian citizens evacuating from Sudan as part of Op SAVANNE.

The Canadian Army is ready to help Canadians at home and abroad.

Images have been digitally altered due to operational security. pic.twitter.com/DU81EEUme2

— Canadian Army (@CanadianArmy) May 1, 2023
Toronto resident Yousif Hassan's family was on vacation in Sudan when the fighting began, and were unable to return to Canada. They've since fled to neighbouring Egypt and are stuck due to flight cancellations in the region.
"They took a very dangerous and exhausting trip by road for 5 days, fleeing Khartoum with relatives and others," Hassan said. "It was very frustrating because there was a lack of communication from the Canadian government and no clear evacuation plans for Sudanese Canadians." 
Calls for sponsorship and aid programs
At a rally in downtown Vancouver on April 29, Khalid Al-Noor, president of the Sudanese Canadian Association in BC told New Canadian Media that he wants more action from the federal government.
"We need the support of the Government of Canada for the people of Sudan by condemning the actions of the combatants in a manner consistent with our Canadian values and shared commitment to upholding international humanitarian law,"Al-Noor said.

Al-Noor is a Canadian citizen, but his family in Sudan are trapped, having also fled to a neighbouring country to escape the violence. At the rally, he called on the Canadian government to implement programs — like emergency funding for refugees, sponsorship programs, and immediate aid — similar to those impacted by war and humanitarian crises in Ukraine and Syria.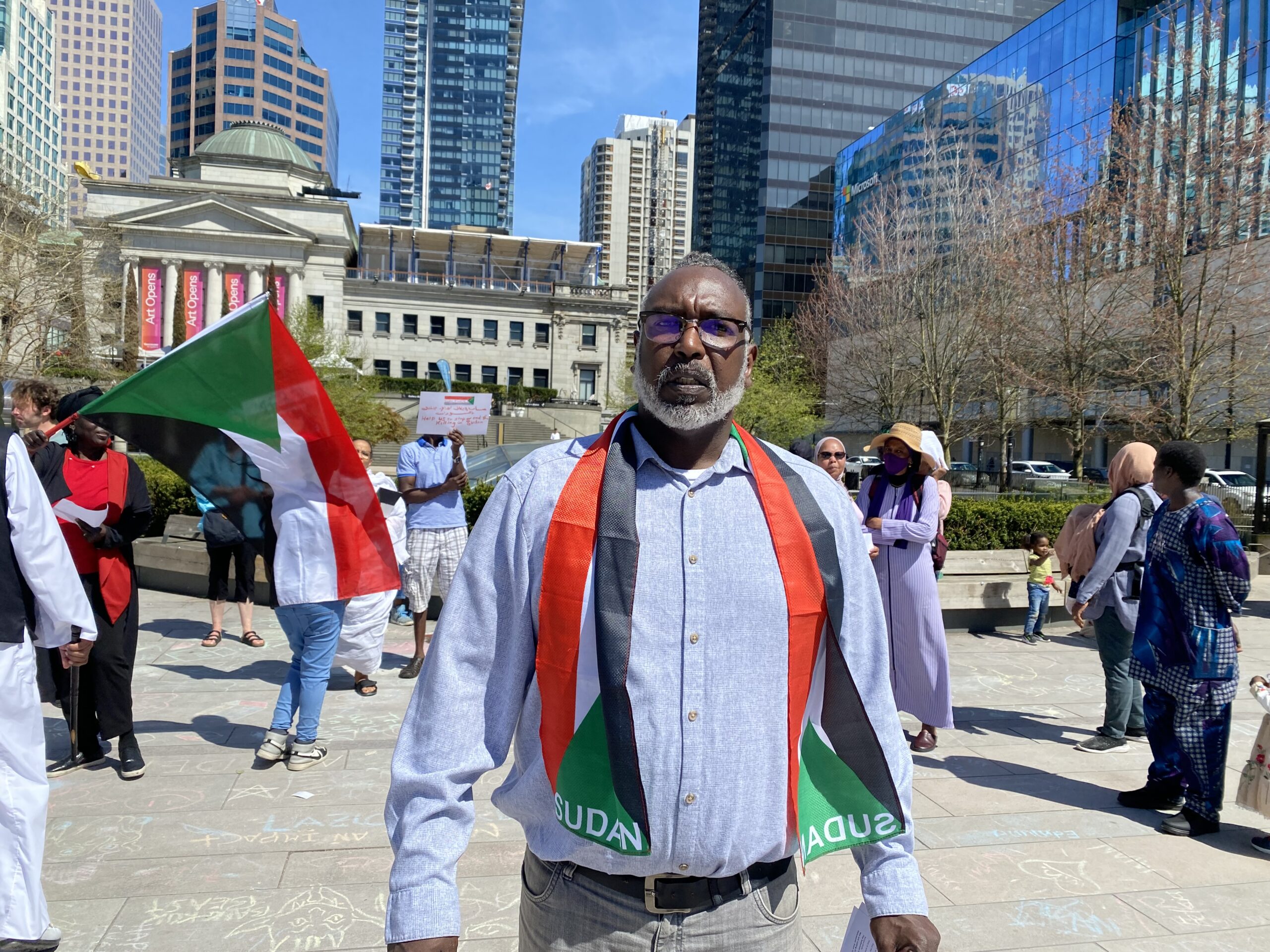 This sentiment was echoed by Dr. Salah Awadel-Karim, a Kamloops resident and chemical engineer who moved to Canada from Sudan in 1989. 
"Since there is a bloody war going on in Sudan, I expect [the] federal government to treat the Sudanese similarly as they did for Ukrainians," he said. "The politicians and militants wanted to divide [Sudan] for their interests and they are using civilians as shields."
Rally-goers in Vancouver also called on the Canadian government to send humanitarian relief and medical supplies to Sudan, as well as push for a ceasefire and peaceful resolution.
According to a Global News report, Canada's foreign minister Melanie Joly addressed the issue at a House of Commons debate on April 25, voicing concerns that the conflict could spark a larger humanitarian crisis in the region. Air strikes in the nation's capital, Khartoum, have continued in spite of a ceasefire that was meant to give civilians time to flee, according to BBC News and other media reports. 
Efforts are currently underway to airlift more Canadian citizens out of Sudan.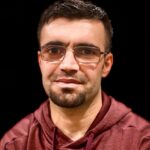 Diary Marif is an Iraqi Kurdish journalist based in Vancouver, Canada. His writing has appeared in the Awene weekly, Livin, and on KNNC TV as a documentary researcher by the name Diary Khalid. Diary earned a master's degree in History from Pune University, in India, in 2013. He moved to Vancouver in 2017, where he has been focusing on nonfiction writing. He can be found on Twitter: @diary_khalid.