When COVID-19 first appeared in early 2020, Italy had only three confirmed cases of the virus.  But within the span of a week, the country would become the global epicenter of the COVID-19 pandemic.
To combat the spread of the virus, the Italian government instituted a series of lockdowns and quarantines that began in the most infected areas and gradually spread outward to encompass the whole country. 
The ensuing days were filled with fear, uncertainty and panic for Italians. 
But how was it for the many foreigners who call Italy home? 
No advanced democracy had ever experienced a national shutdown on this scale. The many Canadians in Italy witnessed a situation that was almost impossible to comprehend as the only way to stop this virus was — and continues to be — to restrict personal contact in order to limit contagion. That meant people had to drastically change their lives. 
"Initially, it was very scary because I didn't really feel like an Italian (and) I did not know what was going to happen," Kianna Caspy, a Montrealer who moved to Florence two years ago to work in the country's fashion industry, told NCM.
During the last lockdown, from March 31 to April 26, people weren't allowed to travel between regions and could not even leave their homes without authorization. One of the main challenges Caspy faced was figuring out how to draft a certification in order to leave her house. 
"It felt like we had a lot of restrictions," recalled Caspy, 25. 
The certification, which had to be carried at all times and shown if stopped by the police, states people's identity, their destination and reason(s) for going. 
Challenges, worries and fears multiply, especially with no access to your support networks. For Canadians like Caspy, the challenges are compounded by the language barrier.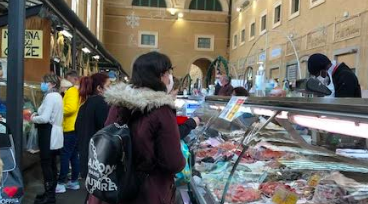 Caspy, for instance, said she found it difficult to understand what her colleagues were talking about during meetings once mask-wearing became mandatory. Wearing a mask, while essential to combat the spread of the virus, also prevents seeing the movement of the lips and other non-verbal cues which are likewise essential to understanding someone speaking a foreign language.
Despite the challenges, Caspy says she is grateful for her experience abroad.
"I have learned to become more flexible. As a Canadian, I would have been even more fearful of the situation and the restrictions if I had stayed in my home country," she said.
"While it was really hard to not have a family to rely on if something were to happen, it would have been even more difficult to be in my home country and live in conditions that I am not used to."
A year later, both countries are reporting a similar number of infections, though restrictions are easing much faster in Italy than in Canada. As of May 25, Canada was logging an average of 4,238 new daily cases over seven days, compared to Italy's average of 4,410 cases. 
All of Italy is in the yellow zone, which means shops are open. People can have up to four guests at home plus an unlimited number of children. And while in Italy restaurants, cinemas, museums and theaters are open at half capacity, most of these places are still closed to the public in Canada.
In Ontario, outdoor gatherings of up to 10 people won't be allowed until mid-June. Patios will be limited to four people at each table, while shops will be limited to no more than 25 per cent capacity.
In Caspy's home province of Quebec, the curfew will be lifted by May 28, and up to 2,500 fans will be able to watch the Montreal Canadiens in a playoff game at the Bell Centre. But enjoying a meal on an outdoor patio won't be allowed until June 11.
Tourists from a growing list of countries are being welcomed once again in Italy, although travellers must test negative for the virus before they board a plane. Once they land, visitors have to quarantine for 14 days — like in Canada — although the government is considering lifting restrictions if proof of vaccination can be provided. In Canada, borders are still closed to international visitors.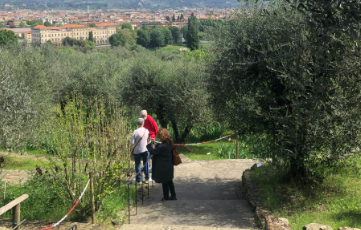 For Canadian students and workers living abroad like Caspy, direct flights are virtually unavailable. She would have to take at least two flights to get home, and once she arrives, Caspy would have to quarantine for two weeks. She also runs the the risk of catching the virus while in transit.
Despite a quicker reopening, there are disadvantages for Caspy in deciding to stay in Italy.
She says she doesn't feel confident in her chances of getting vaccinated anytime soon, as 52 per cent of Canadians have received at least one dose of the vaccine compared to only 35 per cent of Italians. Caspy would get vaccinated for free with her Italian health card, but as a foreign national, she isn't a priority.
What Caspy's experience shows is that the pandemic, while causing loneliness and suffering, has also resulted in solidarity between people across the world.
COVID-19 built bridges of shared suffering across languages and cultures, but it has also allowed us to understand each other while in isolation, together.
_________________________________________________________
This story has been produced under NCM's mentoring program. Mentor: Judy Trinh.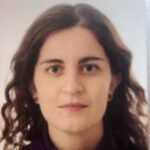 Giada Ferrucci is a Ph.D. student in Media Studies at Western University. She holds a BA in Economic Development and International Cooperation from the University of Florence, Italy, and an MA in International Relations from Aarhus University in Denmark. Her doctoral research focuses on the intersection of environmental justice and social movements.