The room was abuzz with the energy and excitement of a university alumni reunion, as approximately 100 people packed Octopus bookstore in downtown Ottawa for the launch of Resilience and Triumph: Immigrant Women Tell Their Stories last Thursday night.
A collection of stories narrated in the first person by 50 women of 'racialized' groups within Canadian society, the book is the brainchild of Rashmi Luther, lead organizer of the project.
Published by Second Story Press, a company dedicated to feminist-inspired books, many of these stories, while not overtly feminist, nevertheless describe the journeys of women who sought to assert their full rights as human beings and citizens in a culture that generally recognizes them in theory but not necessarily in practice.
Inspiration for the book
Five years ago, the Feminist History Society published a book called Feminist Journeys. Luther loved the book, but noticed that something was missing. The voices of immigrant and refugee women were conspicuously absent. She set about filling the gap.
Gathering a group of women around her, she formed the Book Project Collective. Together, the 'group of seven' (members of the Collective) collected and edited the stories. They also wrote their own stories.
The stories are not only about racism; they reflect a diverse range of experiences.
The rest, as they say, is history — part of the documented history of Canadian women.
"These narratives are important," emphasizes Luther, who retired recently from her job as a professor at Carleton University's School of Social Work. "They were missing from the story of Canada and Canadian feminism."
Yumi Kotani, another member of the collective, adds that the stories are not only about racism; they reflect a diverse range of experiences from genuine acceptance to outright hostility.
Although racism is not the only point of the book, nevertheless discrimination and hardship faced by all 'racialized' women emerges as a strong theme. Indeed, the title Resilience and Triumph summarizes the dominant narrative, which is essentially how the authors overcame nearly insurmountable barriers to survive economically — and perhaps more importantly, to gain professional and social respect.
Defining 'racialized' women
When asked how they defined the term "racialized", Vanaja Dhruvarajan, another member of the 'group of seven' explains that it described women who, on account of their skin colour or accents or way of dressing (wearing a hijab for example), were "otherized' by the dominant culture.
She emphasizes that this not only referred to immigrant women of colour, but also included Canadian-born women described as 'visible minorities.'
"All of them [the authors] are either first or second generation immigrants," says Dhruvarajan. "Almost all of them experienced prejudicial and discriminatory behaviour on the basis of culture, race, gender and religion."
She explains that some of this treatment resulted from discriminatory immigration policies and practices and some from the attitudes of individuals within the dominant society.
"All of them [the authors] are either first or second generation immigrants."
The women's responses to these challenges, as described in the book, are as varied as the women themselves and range from adopting mainstream norms such as dress codes to engaging in community activism to influence the policies of race and gender relations.
"I've been here in Canada for 50 years, and early on, I decided to assimilate as I don't like standing out" says Sheila Nirmala Denetto, one of the contributors.
Originally from India, she emphasizes that this process was not without an emotional struggle. "The way I dressed was part of my identity," she explains. "Transforming my wardrobe [from saris to Western clothes] was a slow and painful adjustment. But this was my first step towards Canadianization."
Remembrance and dedication
Roxana Ng, to whom the book is dedicated, passed away in Toronto after a "brief and courageous battle with cancer," according to the biographical note at the end of her story.
Having immigrated from Hong Kong at the age of 19, she outlines her metamorphosis from a "shy, reactionary, conservative, slightly backward young person," as she says her Canadian college professors saw her to a passionate advocate for the issues of women of colour.
"Roxana was a real pioneer, a researcher and activist who opened up a whole new field," says Luther. "By focusing on the lives and issues of women of colour, she brought our issues out of hidden recesses and into the forefront."
"Transforming my wardrobe [from saris to Western clothes] was a slow and painful adjustment."
Another strong thread in these stories, is the spark that lit the way for these women even in their darkest moments — the firm conviction that things could be set right.  Indeed all of them did, each in her unique way.
When asked how exactly Canada, despite the shortcomings of its immigration policies, offered such hope to immigrants, Luther says, "We do have human rights legislation and employment equity legislation. While not perfect, these mechanisms make it possible for us to call out and critique existing policy."
"We used to have a vibrant NGO and refugee settlement sector that helped our advocacy efforts," she adds. "Lack of funding has eroded this over the years, but we hope things will change for the better now.
"We also have a lot of hope in the younger generation of women who will keep this advocacy moving forward."
---
Susan Korah is a journalist and communications specialist whose current professional interests span two aspects of communications: journalism and public relations. She writes on a variety of topics from international relations and gender politics to community affairs, cultural diversity and travel destinations.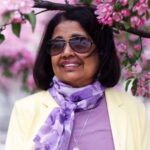 Ottawa-based writer/journalist, editor, blogger, communications professional seeking freelance opportunities in political and travel writing.