Content Warning: The following article mentions suicidal thoughts. If you or someone you know is struggling or may be at risk please contact Talk Suicide Canada at 1.833.456.4566
An immigrant nurse from Nigeria arrived in Canada with a dream to work as an RN in New Brunswick. More than a year after completing courses, collecting paperwork and preparing for a final examination, Temilola Olaleye is still stuck in red tape.
When Olaleye arrived in Canada in 2019 on a study visa, she had a bachelor of nursing degree from Afe Babalola University and two years of nursing experience with the Nigerian government. 
She graduated with a master's in nursing in September 2021 from Thompson Rivers University in B.C. It cost her $33,000 for the degree.
In December 2021, Olaleye began her journey for a nursing license, starting with the National Nursing Assessment Service, a non-profit that collects documents and assesses internationally educated nurses applying to become registered nurses.
After investing more time and money getting all the necessary documents together, Olaleye received an eligibility letter from the Nursing Association of New Brunswick (NANB) on Oct. 12, giving her authorization to write the National Council Licensure Examination, NCLEX, which would confirm she could work as an RN. Olaleye said the exam is the last of 10 requirements for an internationally educated nurse (IEN) to become an RN in Canada.
The letter she received from the nursing association clearly stated that she had six months from the day she received the eligibility letter, to write the NCLEX.
 "I paid for the exam and it was scheduled for 30th of December," Olaleye said. "I stopped working to adequately prepare."
Olaleye said she asked the New Brunswick nursing association if she would have to complete any further assessments after the exam. She said the association told her she had fulfilled all of the requirements.
But while she was in the thick of preparations for the test, Olaleye said she received a letter from the nursing association informing her that she was now ineligible to write the exam. 
"I felt my life ended that day and was consumed by suicidal thoughts," she said. 
"I put in everything that I had — time and money on tutorials, materials and classes and all of a sudden on Dec. 19, I received a letter saying I was no longer eligible as there was a new policy in place for IENs." 
She said she has tried many times to contact the nursing association, but has not had a return call. 
New Canadian Media also made several attempts to contact the association, by phone and by email, without success.
Policy changes disrupt progress 
Olaleye said the nursing association instructed NCLEX to cancel her exam registration. She said she was not even eligible for a refund of the exam fees because it was less than 30 days before the scheduled exam date.
"I have spent more than $5,000 just to get to the last stage of the whole process and then they deny me the opportunity," Olaleye said.
One of the key eligibility requirements for IENs specified by the New Brunswick nursing association is a minimum of 1,125 hours of registered nurse practice within the previous five years. Olaleye said she has clocked 4,480 hours. 
"I have fulfilled all the required steps, and have more educational qualifications than required, but it's so unfair that they wouldn't let me take the test."
Olaleye received an email from the association on Dec. 19 stating that her eligibility to write NCLEX has been withdrawn as she no longer meets the educational requirements. The letter says there is a new policy, and IENs now need to score a minimum of 54 per cent on an education requirement. Olaleye has 28 per cent. 
But Olaleye said some of her nursing classmates from Nigeria who attended the same master's program from the same Canadian university and who scored much lower on their education requirement, received eligibility letters and were able to take the licensing exam. 
"One of my friends scored only 16 per cent and her examination was on Dec. 23," she said.
The email from the nursing association said Olaleye has to start the process all over again and complete a hands-on competency assessment with the Nursing Community Assessment Service to determine the amount of remedial education she will be required to complete in order to satisfy the new education policy.
Olaleye said the day she received the email from NANB citing her ineligibility to write NCLEX, she called her mother back home. "I told her that this will be the last time she will hear from me. I wanted to kill myself. I have invested all I had into getting this far. My world collapsed the moment I got that message," she said.
"I don't have any family members in the country who can support me, and it was my dream of becoming an RN that kept me going. Until Dec. 19, I was on the last stage of achieving my dream before it was taken away from me."
Olaleye said it was hope that led her to come to Canada and she continues to hope that the nursing association in New Brunswick will honour their initial decision that she was eligible to write the exam."That's all I ask," she said. "What if I had taken the examination prior to receiving the non-eligibility email on Dec. 19?"
Tracy Christianson, associate professor at Thompson Rivers University in Kamloops, was Olaleye's graduate supervisor and mentor. She wrote to the executive director of the nursing association on Dec. 20 and also filled out an online complaint form.
"What concerns me about the change in your policy is not the change in policy per se, but rather what seems to be a misguided placement of when to implement such policy," Christianson wrote in an email.
Further, Christianson said the association had up to this point deemed these IENs eligible to write the final exam. She says it is not only unreasonable but extremely unfair to make such applicants go through another process given that the nursing association was likely aware of a planned change in policy and then to "pull the rug from under their feet" is wrong. 
"Would it not be more prudent and respectable to implement a policy change that would apply to new applications not existing ones?" Christianson asks in her email to the association. She said she has not received a response.
In her email, Christianson said she strongly urges the nursing association to reconsider and allow Olaleye and any other IEN applicants who are currently in the application system to write the exam. 
"It is the right thing to do, and our health-care system will benefit from the reconsideration as well," she wrote.
In 2019, New Brunswick released a 10-year strategy document aimed at tackling the acute nursing shortage. This strategy prescribes active recruitment of immigrant nurses and reducing potential barriers to registration in the profession.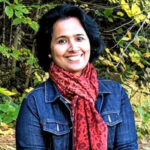 Minu Mathew is a writer and communication consultant who has worked closely with brands like Philips, 3M and Microsoft. She has a book of poems titled 'In the Garden of Rain' published on Amazon. Minu has lived in India, Sweden, US and UK. She currently lives in Toronto, Canada with her husband and two children.