As the pandemic hits Canada, Prime Minister Justin Trudeau was clear when he told Canadians to "go home and stay home," to limit the spread of the virus. Several provinces have already declared states of emergency and shut down non-essential businesses in order to impose social distancing measures. For the arts community that means darkened theatres and vanishing applause.
In Canada's largest and most diverse city, Toronto's thriving immigrant arts community is now trying to find creative ways to survive in the new COVID-19 reality.
To know how COVID-19 cancellations affect performers and artists, one must go beyond numbers and monetary losses. For artists, sharing their stories in communities that value and celebrate their diversity is crucial — not only for visibility but their emotional well-being. 
The AGO's highest priority is the health & safety of our visitors, staff, volunteers and extended community. Upon the advice of Ontario's Chief Medical Officer of Health, the AGO is closing temporarily at 9pm tonight, through April 5. https://t.co/eLIssq3Ffx pic.twitter.com/hoP0ayXDzQ

— Art Gallery of Ontario (@agotoronto) March 13, 2020
Financial Losses
Toronto Sanskriti Sangstha (TSS), a non-profit organization that celebrates South Asian music and dance, cancelled its annual festival planned for May 2020. Participants had been preparing for months and organizers say cancellation has plunged the organization into sadness.
"TSS Show 2020 had a budget of $60,000. Every year, we donate a part of the proceeds to mainstream and South Asian charities. We won't be able to do that this year," lamented TSS President, Dhruv Ghosh. Ghosh added that TSS had attracted international headliners and had already spent $4000 on their visas and paperwork. That money cannot be recovered.
Ghosh says it wasn't possible for TSS to turn its event into a virtual concert.
"As of now, online events are impossible since our artists perform with a live band in front of a cheering audience. How can a virtual show deliver the distinct essence of a festive fair?" 
Transitioning Online
While smaller immigrant arts groups like the TSS need time to realign themselves to the reality of the pandemic, others like the Aga Khan Museum are adapting and sharing its art online.
At times like these, we need art and its power to promote pluralism and understanding. Experience our #MuseumWithoutWalls with virtual gallery tours, live performances, curator talks, printable kid-friendly activities, and more. Start your journey here: https://t.co/iSAUniHJEX pic.twitter.com/amF9WdhO9p

— Aga Khan Museum (@AgaKhanMuseum) March 19, 2020
That's what the Toronto Poetry Slam has done as well. On March 14,  it put on Canada's first online poetry slam through a Zoom call. About 100 poets participated.
Our first online poetry slam happened March 14, catch our next one on March 22 at 8pm! Details on how to move your slam online in this article: https://t.co/6tR5BXVmBr

— Toronto Poetry Slam (@TOPoetrySlam) March 17, 2020
Online Promotions
Yaldaz Sadakova is the creator of Foreignish, a blog about immigration. She recently published her book, "The Wrong Passport," a collection of her personal essays. Online promotion is essential for book sales but Sadakova admits to being unsure of just how much she should publicize her new work. On Facebook, she acknowledged her own privilege and posted that she did not want to be "insensitive and inappropriate."
For now, the Bulgarian author is limiting her self-promotion on social media and focusing on forging one-on-one connections she would not be able to do in a larger setting. 
However, Sadokova says it's possible that the pandemic may be a silver lining for authors. 
"A few people in my network commented that releasing a book now isn't bad because people are indoors and they need more books to read," said Sadakova. 
Lost Connections, New Opportunities
Cancelling events obviously results in financial losses, but losing the ability to connect face-to-face is what is toughest to handle for some immigrant artists.
Bänoo Zan a Persian poet and author, founded the Shab-e She'r (Poetry Night) eight years ago. Shab-e She'r is an open-mic series that appeals to diverse audiences and touches on controversial subjects. Zan says her shows attracted people of different "ethnicity, nationality, religion, age, gender and abilities," and connected them in one space.
Since Ontario declared a state of emergency, Zan has cancelled a workshop, two featured readings and her Nowruz Persian New Year celebration. She is open to exploring virtual opportunities for her work and learning the intricacies of putting a show online. 
In this uncertain time, she is hopeful that audiences will continue to support the creative class and in return give artists a forum to continue inspiring others. 
"Artists give us hope," she reminds. "They show us the way. Give them the torch. Let them light our way." 
This story has been produced under NCM's mentoring program. Mentor: Joyeeta Ray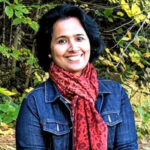 Minu Mathew is a writer and communication consultant who has worked closely with brands like Philips, 3M and Microsoft. She has a book of poems titled 'In the Garden of Rain' published on Amazon. Minu has lived in India, Sweden, US and UK. She currently lives in Toronto, Canada with her husband and two children.