Hidden behind red solid pillars in a tranquil space nestled on the edge Vancouver's Downtown Eastside, a new exhibition at the Chinese Cultural Centre of Greater Vancouver explores how artists move past the voids in life to produce artwork full of vitality.
The exhibition, "Realm of Possibilities," features the work of painters Wai Yee Chiu and Synn Kune Loh as well as photographer Hailien Tam.
For Chiu and Tam, their artwork was inspired by their connections with nature and their experiences with the cycle of life. Loh takes his inspiration from the Chinese language, exploring what is found in the "empty space between conversations."
Finding beauty in loss
Chiu began painting her series, "Gone Winter, Come Spring," about six months after her husband's death in 2008. The Hong Kong-based artist was morose and sick at the time and spent most days watching the sun set and rise.
The artist said her doctor suggested she use her art to help with her sickness, and from that advice the series was born. "After watching [sunsets and sunrises] so many times, I became one with nature. I felt the rhythm and became more peaceful," Chiu explained.
One piece of the artwork consists of four resin-coated painted circles representing the life cycle of a lotus plant: the leaf, the flower, the seed and the root. Brushstrokes show the outline of each part. It also correlates to the four seasons: spring, summer, autumn, winter.
Chiu was not the only artist featured in this exhibit who has experienced profound loss. Tam lost her best friend two years ago. They were the same age — 31 years old — and her friend's death hit her especially hard. "It was sudden. Overnight," Tam said.
Chiu began painting her series, "Gone Winter, Come Spring," about six months after her husband's death in 2008.
Every time Tam felt any negative emotions, she channeled those feelings into her art and took her camera outside. "I looked for beauty," she said.
Earlier in her life, Tam had worked as a lawyer in Hong Kong where she provided "legal advice in black and white, within strict rules and precedents, trying to find order in chaos." Photography became her emotional and artistic release.
Tam moved to Vancouver in 1996 and now spends most of her free time hiking and photographing what she finds.
Chiu encouraged Tam to use photography to create art instead of documenting daily life; each moment was an opportunity to look beyond the superficiality of an image and explore it as a piece of art. As Tam put it, "The possibilities are endless."
In her still life photography, Tam positions the light to stroke the curve of an indigo sun tomato or the crevices of a dried shiitake. The organic shapes are treasured and cushioned by the space around each item.
Tam said she uses these methods and more to make "life" be visible through her work. It can be seen in her series, as the photographs in warm hues emit a quiet beauty while the cooler shots carry a greater sense of liveliness and movement.
Bringing words to life
In his section of the exhibit,Loh, a visual artist and international speaker on the evolution of consciousness, examines how words are born in the silence between conversations.
The pieces are hand-painted with beautiful, traditional calligraphy — not the simplified versions that China's education system uses today. Some of the pieces depict specific, single words while others recite passages from classical Chinese literature.
Each artwork has tiny white dots, which Loh says were intended to give the pieces a spiritual feeling of cohesion. "I wanted to use the molecular form to create art," he said.
Loh explained that the square and rectangle shapes imply a man-made form, reflecting how language itself is man-made.
One of the pieces, "Unbidden Memories Had Surfaced" (pictured right), takes inspiration from the Chinese character for promise or vow, which is represented in the centre of the canvas. The word itself means "origin" and "paper" put together, which are also depicted in their own panels on either side of the painting.
"Simplified, [it] takes away the spirit of the culture."
The piece comes from one of Loh's many musings. He describes it as an exploration of the words themselves as pieces of separate entities and how they can possibly join together to become something.
Another piece, titled "What's Next," incorporates characters from the classical Chinese tale "Yellow Emperor," a story about the origins of Chinese civilization. Loh said the two tiny stick figures standing on the Chinese character "mountain" alludes to this story.
Loh likes the traditional characters because they have a history or story of evolution behind them. "Simplified, [it] takes away the spirit of the culture," he said. 
"Realm of Possibilities" is currently on display from September 19 until October 24 at the Chinese Cultural Centre of Greater Vancouver at 555 Columbia Street.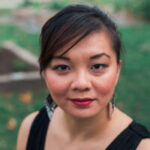 Deanna Cheng is a freelance journalist who has been published in various publications such as Vancouver Courier and Asian Pacific Post. She often covers culture, intersectionality and Vancouver.