Usually, I go to Amir Bakery to buy bread, but today I went to grieve.
Amir Pasavand, the bakery's owner, lost his 17-year-old daughter, Fatemah Pasavand, and his wife, Ayeshe Pourghaderi. Fatemah's 18th birthday would've been later this month. They were two of the 176 people who lost their lives in the Ukraine International Airlines crash near Tehran last week. There were 63 Canadians on board, including six people from North Vancouver, where I live.
I stood in front of the store in the pouring rain hoping to speak to somebody who knew the family. I walked across the street to Vanak Deli and Market and asked the manager, Reza Varasteh, if he knew the Pasavands. Varasteh said he's known them for four years; he would buy bread from their bakery and they would buy supplies from his store.
North Vancouver is home to one of the largest Iranian communities in Canada. According to a 2014 community profile of North Vancouver, approximately one in every five people who live here immigrated from Iran. Our community is devastated by the news and the people of North Vancouver are mourning.
A co-worker of Varasteh's, Sheida Zeinadi, knew Ayeshe and described her as a calm, quiet lady. Zeinadi recalled when Ayeshe told her that she and her daughter were going to visit family in Tehran about a month ago. Ayeshe was looking for drivers to make deliveries in her absence; it was the last time the women spoke.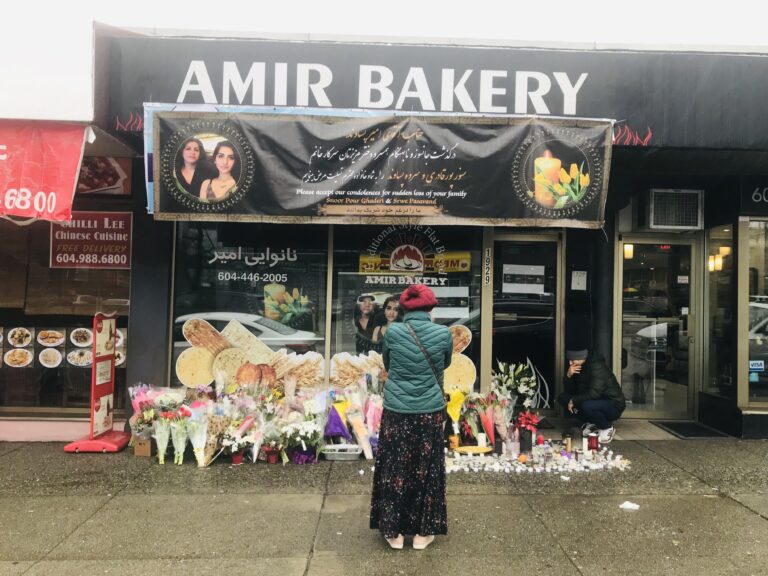 Varasteh was angry. He had hoped that the crash was an accident, but since our interview, he's learned the truth — that two Iranian missiles struck the plane. He didn't initially want to believe that the Iranian government intentionally shot it down and took the lives of his neighbours and friends.
"If that information is true, people will be mad. It will not be good for the government," he exclaimed. "Government[s] shouldn't have let any planes fly or land from Tehran, during this sensitive time. This was a mistake," Varasteh said.
Tensions escalated after Iran launched attacks on Iraqi bases housing American troops, following the assassination of Iranian general Qasem Soleimani by U.S. forces. 
International ramifications
"U.S. sanctions do not affect the government. It affects normal people," Varasteh continued. "I didn't know Soleimani. But I knew that he wasn't a good guy. Attacking the U.S. would not solve anything or improve [the] people of Iran's lives. Back in our country, freedoms are restricted and economic conditions are deteriorating. Educated young people are leaving the country in droves. They do not have hope, they do not have jobs. The government does not care about these people. They are rich. Innocent people are paying the price," he added.
I learned that Varasteh was also recently interviewed by the Vancouver Sun. Some of his customers were surprised he was willing to talk to the media. They asked him how he dared speak against the Iranian government and if he worried about facing trouble at airports or the border? Varasteh said he wasn't afraid: "I haven't returned back to my country for almost 27 years because I am running a business here. I am working hard just like Ayeshe and Amir."
I asked Varasteh if he'd spoken to Amir since the accident. He said no, but he learned from a mutual friend that Amir said he wishes he was on that flight too.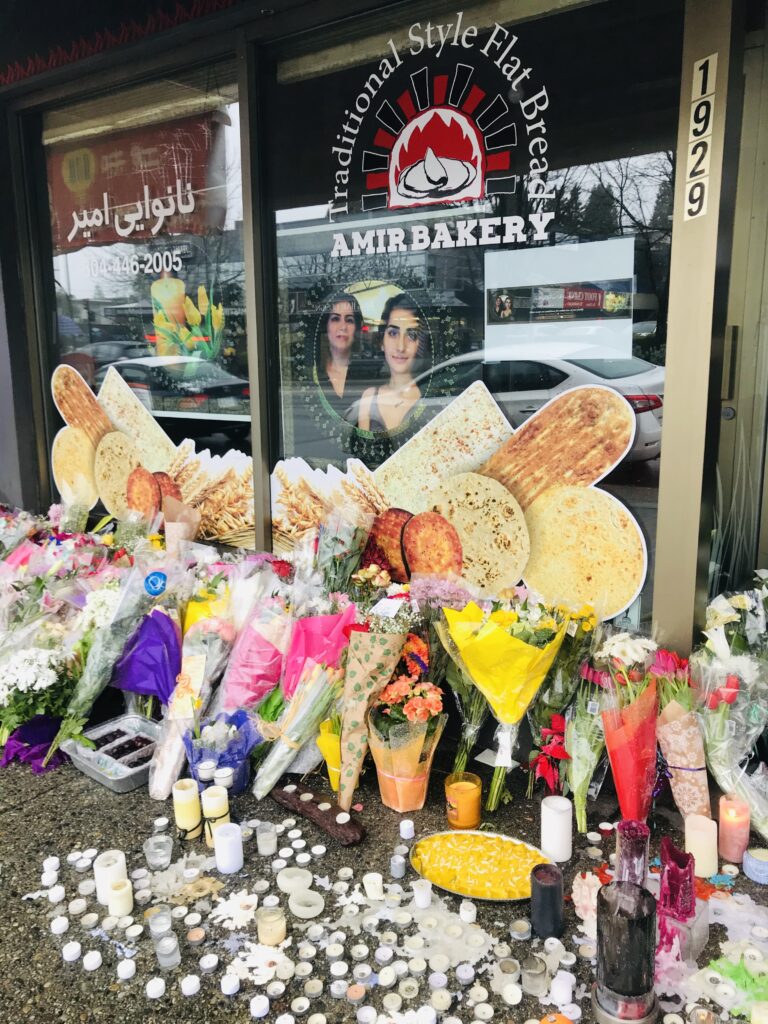 Amir left for Tehran to identify the bodies of his loved ones the day after the plane crash. However, even 48 hours after the crash he couldn't head to Tehran. He went to Turkey, then Germany, then back to Turkey, and is now trying to make his way to Tehran by bus. Varasteh said they're waiting for Amir to come back—if he comes back—to have a funeral.
Zeinadi has two other friends from Vancouver in Iran who don't know how to return. "They are afraid to fly," she said.
Friend and photographer, Arash Azrahimi
Next, I visited North Vancouver-based photographer Arash Azrahimi, owner of Rosewood Photography. Azrahimi told me he'd photographed four of the passengers on the Ukraine International Airlines flight before they died.
Amir and Ayeshe were his close friends. Ayeshe and Fatemah visited Azrahimi's store every 10 to 15 days to check their citizenship exam date. They were expecting to be citizens sometime soon. 
Azrahimi said he wasn't brave enough to call Amir after the accident. "At the time of the crash, Amir was here and requested for me to print some documents for their citizenship exam," he explained, while showing me Ayesha's and Fatameh's passport pictures. When I saw their faces on the screen I couldn't swallow.
Azrahimi also photographed Daniel Saket, an engineer, and his wife Fatemeh Kazerani, a dental hygienist, at a Christmas party last year. This time he shows me a picture of the happy couple.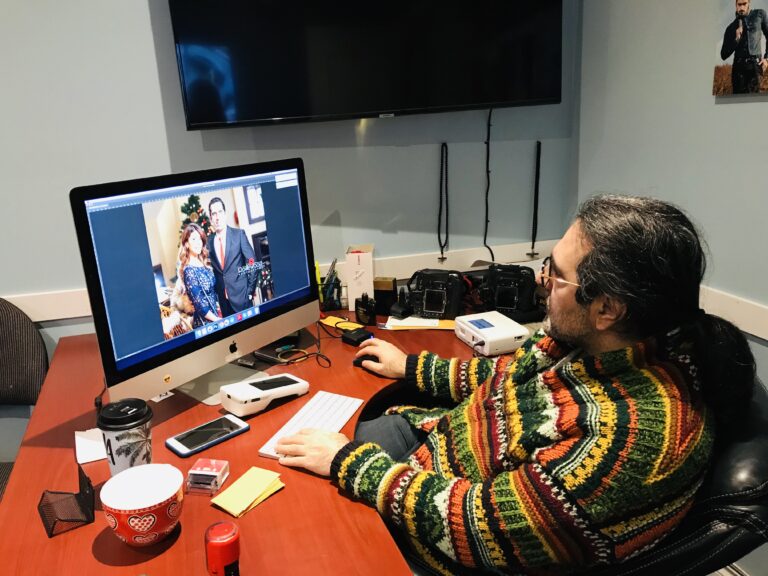 "We want answers!"
Azrahimi says he didn't ever believe that the cause of the crash was mechanical. "If there was something wrong, the pilot would speak with the control tower. Iran refuses to give the black box of the plane. This looks weird and suspicious. We want answers and we want this investigation to be conducted immediately."
#BREAKING: Security forces of #Iran's Islamic Regime have warned family members of the victims of #PS752 shot-down to not talk to media if they want corpses of their family members be delivered to them!

— Steve Harmer (@thestevesh24) January 12, 2020
My heart and my prayers are with the thousands of young, brilliant and bold Iranians who are on streets, mourning for their loved ones and standing up to their government. The world needs to hear their voices.
---
This story has been produced under NCM's mentoring program. Mentor: Marcus Medford 
Ayşe is an author, journalist and volunteer Communications Coordinator for the Vancouver Turkish Film Festival. She moved to Vancouver from Turkey with her dog and two children in 2017. Ayşe is the author of Anneee! Anne Oluyorum! (*Mooom! I'm becoming a Mom!) and Kanadalılaştıramadıklarımızdan mısınız? (*Not Canadian Enough?). Ayse also writes weekly articles for the independent internet newspaper T24.