Universities welcome the federal government's decision to open the border to international students on October 20, as announced by Immigration, Refugees and Citizenship Canada (IRCC) on Oct. 5. 
"York welcomes this development. We are working with the provincial and federal government, as well as other universities to provide a safe return of international students to Canada," said Yanni Dagonas, deputy spokesperson for York University. 
Matthew Ramsey of the University of British Columbia (UBC) added, "Like any organization, where international students play a role on campus life, we would be happy to see more students able to return to campus."
"We welcome the announcement that international students of approved institutions will be permitted to enter Canada starting October 20, 2020. As these students began their studies remotely, they are already enrolled in online courses at the University," read a statement from University of Toronto's (U of T) media relations department.
Last March, the federal government closed the border to non-residents in order to mitigate the spread of COVID-19 from foreign sources. This left thousands of international students in limbo. Universities were quick to offer alternatives like online classes. International students in Canada pay as much as five times more than domestic students in tuition fees, which represent over one third of tuition fees. The number of study permits issued between June and August of 2020 fell by 58 per cent compared to the same time period in 2019, which could entail a loss of between $377 million and $3.4 billion for universities.
But more hands-on classes, like the arts and the sciences, do require in-person attendance. The universities say they will do the best they can to find a solution for those who missed those classes. "For students who are in that situation, we would suggest they contact their enrollment services advisor to work out solutions," said Ramsey. 
"Our enrollment services providers have been working overtime since February, when restrictions started to come into place," Ramsey added. Both York and UBC have moved onto a primarily online model. Most international students have adjusted to a new model of learning and are largely unaffected by the pandemic. 
"For students with time zone, bandwidth or other connectivity problems, instructors are supporting these students with accommodations to the best of their ability," said Dagonas. "More than 95 per cent of the 3,500 undergraduate courses [are] being taught through online and remote delivery. That means that the majority of classes can be taken remotely, from anywhere."
Both universities have maintained their pre-COVID enrollment numbers, with York enrolling roughly 55,000 students— of these there are 8,500 from 178 countries— and UBC enrolling 53,000, where 18,000 are international students from 166 countries. In the case of UBC, enrollment is up slightly, by 2.4 per cent. 
U of T has 93,000 students, of whom  23,000 are international students from 159 countries. But because of the need to prioritize online courses, the hustle and bustle of campus life has come to a standstill. Nearly deserted university grounds have now become a fixture. 
At York University, "typically we have about 13,000 student residents living on campus in our resident facilities. This year we have about 40 percent of that," said Ramsey. 
All of the universities are strictly adhering to COVID-19 mitigation measures including smaller class sizes, mandatory masks and social distancing. U of T has declared it would "continue to support students arriving from outside Canada who must complete the 14-day mandatory quarantine." 
They also said that international students "will be provided with transportation from the airport, private room with washroom, meals, health checks, residence life programming, and other supports at no cost to students. Students will also be tested for COVID-19 before the end of their quarantine period."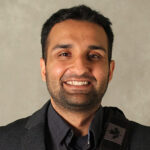 Mansoor Tanweer is New Canadian Media's Local Journalism Initiative reporter on immigration policy. An immigrant himself, he has covered municipal affairs and the Brampton City Council in addition to issues relating to newcomers over several years.