President Donald Trump announced on December 6 that the US would recognize Jerusalem as the capital of Israel unilaterally, triggering global protests and rejection of the US as a peace broker.
About 60 Winnipeggers protested on December 10 on Portage Avenue, near the Polo Park Shopping Mall. That day happened to be International Human Rights Day as well.
Many vehicles honked enthusiastically while passing along Portage Avenue, one of Winnipeg's main thoroughfares.
Rana Abdulla, a Palestinian-Canadian organizer, said, "The protest was diverse, and full of positive energy. It included many community and social justice organizations."
The event was organized by:
The Canadian-Arab Association of Manitoba
The Canada-Palestine Association of Manitoba
The Canada-Palestine Support Network (Winnipeg)
Independent Jewish Voices (Winnipeg)
Peace Alliance Winnipeg
The Winnipeg Coalition Against Israeli Apartheid
"The first objective of our public leafleting and rally action was to condemn and rail against United States President Donald Trump's decision to relocate the US Embassy in Israel from Tel Aviv to Jerusalem — this, alongside, his fatuous declaration of Jerusalem as the capital city of Israel," said Krishna Lalbiharie, Event co-organizer and member of the Canada-Palestine Support Network (Winnipeg): "The second objective of our action was to educate Winnipeg shoppers, media and the larger Manitoba citizenry as to the illegality of Trump's decision, and the resistance to it — commensurate with International Human Rights Day."
"I would say the objective was achieved. There was a good turnout, the action received some accurate media attention, and the public response was generally positive," said Harold Shuster of Independent Jewish Voices.
"We received an overwhelmingly positive response from receptive, kind Polo Park patrons and drivers along Portage Avenue," continues Lalbiharie: "There was widespread, favourable media coverage too." 
It's important to recognize, according to Lalbiharie, that President Trump's ill-conceived decision may be to distract from the hot issue of  Russian collusion during his election, and his need to prove his gratitude to Zionist contributors and lobbyists in the US and Israel.
---
Ashoke Dasgupta is a member of the NCM Collective based out of Winnipeg. As a journalist, he has won three awards in Canada and Nepal.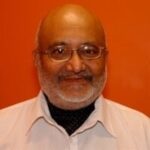 Ashoke Dasgupta is a freelance journalist and former editor of Compassionate Friend, Beauty Without Cruelty-India's magazine. He won a UNDP - Goethe Institute Award for Environmental Journalism in Nepal 1995, and the Canadian Ethnic Media Association's Best News/Feature Awards for 2004 and 2006. He got a scholarship to study journalism at Sheridan College Toronto in 2007, graduating with high honours. He has done internships at the Winnipeg  Free Press and CBC Radio, and been published in the Winnipeg Free Press, the Calgary Herald and the Toronto Star.