Athletes who compete at the national level in their home countries can now apply to immigrate to Canada as self-employed persons.
The program, which began in 2022, has some conditions attached to it, but it is open to athletes have taken part in athletics or cultural activities at a "world class level" or been self-employed in these areas.
About 2,800 new Canadians work in sports as athletes, coaches, officials and referees. Another 16,000 athletes who immigrated here are leaders and instructors in recreational sports and fitness, according to information from Statistics Canada.
In all, 20 per cent of immigrants work in some area of Canada's sports and fitness industry, Stats Can reports.
Successful Canadian immigrants who work in professional sports include hockey player Geraldine Heaney; sprinter Donovan Bailey; BC Lions football coach Wally Buono; and tennis star Bianca Andreescu. Tennis player Denis Shapovalov, whose home country was Israel, and figure skater Elvis Stoyko, who is of Hungarian/Slovenian origin are two more of the many well-known athletes.
Heaney said she was interested in ice hockey because most of the population of her new country seemed to watch the sport.
"We were told that everybody watches Hockey Night in Canada on Saturday nights, but my mother had never seen a hockey game nor did she understand the rules," she said.
Buono, who immigrated to Canada from Italy with his family, was a mentor who was appreciated by his players.
"He was our coach, then he went to the University of Kentucky to play football and he played for the Montreal Alouettes for a number of years," wrote Chris O'Leary, a senior writer for the Canadian Football League (CFL). "He's the one who mentored us and kept us on the straight and narrow, as far as sports."
Some athletes have contributed to sports in their communities. Maryam Salehizadeh, a Paralympic goalball player from Iran, wanted to compete at the international level so she decided to immigrate to Canada. She says that she was proud to be part of the 2019 Lima Parapan American Games where Canada won a bronze medal. She hopes to find work as an ESL teacher or with a settlement agency.
Two-time Olympic champion Donovan Bailey said he wants to help future athletes.
"I want to give as many Canadians as possible the opportunity to be successful," said Bailey, whose home country was Jamaica.
"And if we can use their athletic gifts to get them a free degree or a free diploma, then I guess I'm doing my job."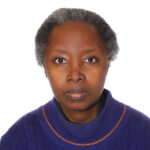 Beatrice is a freelance journalist, writer and poet. She is interested in the environment, film reviews, art criticism, social history as well as travel.