"Diversity is our strength." Despite this being the motto of Toronto – widely considered to be the most diverse city in the world – there continues to be a large gap between the racial and ethnic composition of city residents and those elected to represent them in municipal politics. The pioneering efforts of Idil Burale, Munira Abukar and Ausma Malik in trying to break down such barriers during their respective 2014 election campaigns is showing that many diverse communities are demanding that progressive political representation be made a priority by Toronto.
During a recent conversation with Burale, Abukar and Malik on the representation of racialized Muslim women in Toronto's 2014 municipal election, many important insights are unearthed regarding the barriers that affect diverse candidates from running successful municipal election campaigns. Additionally, strategies on how to address these barriers are also highlighted. Burale and Abukar ran for city council positions, and Malik – who won – for a Toronto District School Board (TDSB), and in the background of all of their campaigns the visibly racist and Islamophobic public reactions showed that there is much work to be done in changing discriminatory attitudes.
Identity Politics
All three women cite the importance of giving back to one's community and the values of public service that formed an integral part of their upbringing as primary reasons for taking the leap into politics.
Abukar says she put her name on the ballot because she wanted to bring about change in her community of Rexdale, which is often labelled as being 'underserved'. "I want people in my community to have options" she states. She works towards bettering the living conditions of families, and changing the popular notion that residents of Rexdale are 'victims' of their social and economic circumstances. She actively encourages community members to take back their power.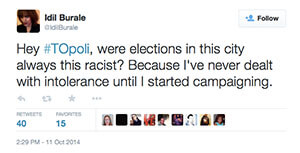 During the election, identity politics was unavoidable at every stage of their campaigns. They faced the prejudices of those outside of their cultural and faith communities who focused on their identity as women, racialized and Muslim. "I naively thought I could stick to the issues," says Burale, when referring to some reactions of residents she witnessed that focused more on her skin colour than her qualifications. She says she was spoken about in terms of being a "Somali-Canadian" candidate rather than being engaged in discussion about her campaign proposals.
Burale explains that she also faced sexism from within certain Muslim communities. She experienced differential treatment by the management of a mosque that allowed a male candidate running for the election to speak to the congregation, but did not provide her with the same opportunity when she requested it.
Malik says her experience was slightly different. In contrast to Burale's experience, Malik was invited to a local mosque to speak about her campaign at a Friday prayer. She says that it is, "important to understand the dynamics within your own community," but the varying reactions from the different ethno-cultural and faith communities show the resistance and acceptance that these candidates received from both external and internal community groups.
"The idea of you being a politician is not readily acceptable. We keep electing White councillors because the White option is the default option." – Idil Burale
Much of the media coverage of the racist and Islamophobic incidents that occurred during the election focused on the defacing of Abukar's election signs, the hurling of garbage at her volunteers, and the coordinated campaign of hate targeting Malik. However, Burale shares that she also faced serious threats on the basis of her faith. "I chose not to talk about this publicly, because I did not want it to overshadow my candidacy," she shares.
For Abukar, on the other hand, going public about the hatred she faced was her way of showing the perpetrators that she was not going to be silenced. "I wanted to show them I was not afraid," she says. The variety of strategies that these women used shows the complexity of the challenges that diverse candidates face, which often distract the public from focusing on their campaign platforms.
For Malik, aspects of her identity such as her visible Muslim faith (i.e. her hijab), being young and being a woman were all made the focal point of her campaign, rather than her platform for change. It was surprising to her, because she was running for a school trustee position, which is typically given the least attention during municipal elections. In the face of such challenges, Malik states that she focuses on, "being who I am, having honesty and integrity, and finding ways to move forward," in her approach. A respect for equity is the foundation of all her political decisions.
Barriers to Political Participation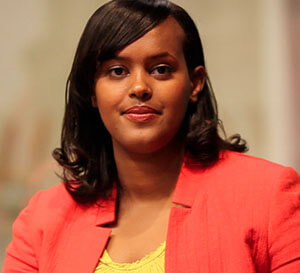 Burale (pictured to the right) points out that it is difficult for candidates from diverse backgrounds to enter municipal politics because they do not have the same access to financial resources as others might. It is also difficult for newcomers to unseat incumbents. There is the perception that a person from a non-European background will focus on serving their community, while a White candidate is better positioned to serve all communities. As a result, the racialized candidate has to work twice as hard just to prove that he or she is "Canadian enough" to serve the entire community.
"The idea of you being a politician is not readily acceptable," Burale says. "We keep electing White councillors because the White option is the default option."
In the current environment of heightened Islamophobia this can amplify the obstacles that racialized Muslim candidates experience, because they are often "othered" by resistant members of society that are not comfortable with the face of politics changing.
"My victory is that my community knew it could be politically active." – Munira Abukar
In addition, the women emphasize that within diverse communities there is a need to build cross-cultural collaborations to support progressive candidates that will serve the interests of all communities. Political literacy needs to be increased within diverse communities in order for them to see how their engagement or lack thereof impacts municipal decision-making. Abukar mentions that after the election, "my victory is that my community knew it could be politically active," while at the same time acknowledging  the adage that Rome was not built in a day. It will take hard work and time to effect progressive change in politics. She uses the word "pioneer" to describe the path that she, Burale and Malik have paved for other young people in their communities, many of whom reached out to the women to tell them how inspiring they are.
Supports for Diverse Candidates
All three women stress the importance of establishing strong networks of progressive candidates and allies. These networks are crucial in exerting political influence over what Burale terms an "attitude of elitism" permeating city hall. Burale suggests that a party system is needed in municipal politics if we are really serious about seeing municipal politicians reflect Toronto's ethno-racial diversity.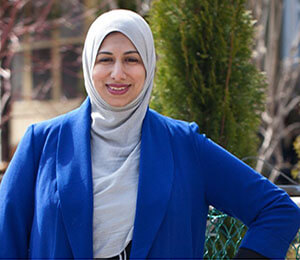 Mentoring is another support that Burale, Abukar and Malik (pictured to the left) agree is essential to helping diverse and progressive candidates have a realistic chance of running a successful campaign. Because candidates from backgrounds of privilege have more access to political institutions and networks, they should use that privilege to help candidates who do not have the same level of access. Burale mentions that "incumbents need to show new entrants the ropes." Access to these networks and endorsements can help strengthen the candidacies of people from diverse backgrounds.
"My allies helped me to keep going despite the hate," claims Malik, who credits mentors and allies such as Olivia Chow, Kristyn Wong-Tam, Joe Cressy and Mike Layton with motivating her to overcome the obstacles she faced.
Toronto's Role in Equal Opportunity
Concerning political power at city hall, Abukar states, "power is not absolute and we have to be willing to share it." Additionally, she mentions the importance of holding politicians and the municipality accountable to the residents of Toronto so that we are, "putting the community first rather than interests." This is achieved by asking politicians tough questions and ensuring that public consultation occurs in decision-making processes.
 "I have worked with politicians that have principles. There's so much we can do to support each other. We need to push the limits of what is possible." – Ausma Malik
Abukar and Burale also place responsibility on the media to be mindful of how the stories of candidates (especially from underrepresented communities) are presented, because news stories have a significant impact on how their identities are perceived by the public. The angles from which stories are written can affect the safety and lives of the people they profile, and this responsibility should not be taken lightly. Abukar mentions that fact-checking is crucial, and states that out of the media outlets that covered the hateful incidents during her campaign, only one of them actually checked the facts with her. The emphasis on expediency in publishing stories should not override journalism ethics and standards.
Malik emphasizes the need to examine issues of equal opportunity in politics from a systemic lens. She applauds politicians that take a stand for progressive politics. "I have worked with politicians that have principles," she says. Furthermore, she states that this type of solidarity building is a personal journey for anyone, and it requires much internal reflection and using one's own "internal compass" for guidance. She points out: "There's so much we can do to support each other. We need to push the limits of what is possible."
Photos courtesy of source's individual social media profiles.