I was confident I was not being naïve or a ninnyhammer when I decided to relocate as a family to North America yet again, this time to Canada. That was a year ago.
I had a Master's degree, lots of national and international journalistic experience – both print and electronic – including 10 years in the U.S. This whole package gave me confidence and optimism about finding success from my Canadian expedition. [See picture with current Democratic Presidential contender and former Secretary of State Hillary Clinton, in New York, below]
It wasn't that I was desperate to leave Pakistan. I was very well-placed there, working a dream job as an anchor and executive editor on the largest TV network of Pakistan called PTV. I had more than 5,000 television airtime hours to my credit and was the anchor on a branded, peak-time show called "Dialogue with Israr Kasana" thrice a week.
And, by the way, I was making good money too, even by the Canadian standards.
Why Canada?
I didn't migrate here because I thought Canada was 'cool'  for its poutine, insulin, wonky gravity in some areas of Canada, especially in Hudson Bay where you actually weigh less than your normal weight, or that the tap water was drinkable. Or, even because Santa Claus was Canadian, or that the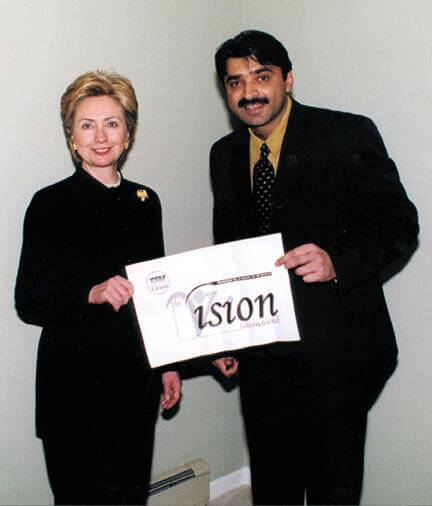 Canadian government has direct toll-free lines for the public to seek answers to questions they have, or their consumption of Kraft Dinner (KD), or the trick-or-treating at Halloween.
They are all admittedly as Canadian as the maple leaf, but these were not what prompted my decision.
My family and I were attracted by the values and characteristics for which Canada is known for all over the world – the multiculturalism, open and friendly society, relatively free of class distinctions, better work-life balance, less income disparity, higher social mobility, security and safety, and, finally, more paid holidays than the U.S.
I also made this decision because Canada was more immigrant-friendly than many countries. I knew Canada receives more immigrants per capita than the U.S. The economy, I gathered, was not bad either and assumed I'd be able to make a good living.
Going topsy-turvy
And look what happened when we arrived in Calgary? Everything went topsy-turvy. Alberta had just been hit by yet another oil shock, with lay-offs galore. Lots of unrelated jobs were lost, too, and the whole economic cycle was almost at a standstill.
A well-wisher told me to contact different agencies who help immigrants settle into Canada. I got myself registered with a couple of them, participated in their programs, but I was really disappointed by the services they offered. They were slow and least productive. One agency took six months to teach me how to write a resume and another six months for a cover letter.
When would I get a job? Their answer, obviously: "It's not our job to get you a job".
Flummoxed, yet composed, I started sending out resumes for different jobs and kept a close eye on my e-mail account, waiting for a job interview, which so far has remained a dream. Instead, I have received lots of carefully and artfully worded 'Thank You' letters, which more or less go like this: "After careful review and consideration, in the context of our current needs and requirements, we have decided to continue employment discussions with other candidates. We encourage you, however, to continue taking an active role in your job search."
That put me in a decidedly awkward situation. I came to realize I had put myself and my family in a perilous situation. A friend came over and was worried to see me struggle like this. He said, 'You will not get a job unless you have "Canadian experience".' "What is that?" I asked.
Chasing 'Canadian experience'
"You have to have job experience with some Canadian company," he replied. "But I have 10 years of American experience, isn't that enough?" I retorted.
He said, "No, my friend, you got to have some Canadian experience." That sounded weird to me. And, this in a city that has a mayor, Naheed Nenshi, who speaks up for immigrants and has repeatedly said, "We're all in it together. Our neighbour's pain is our pain, our neighbour's success is our success, our neighbour's failure is our failure."

Ok, I thought, now I would try to get the Canadian experience I lacked. By the way what else was I trying to achieve earlier; wasn't it aimed at getting Canadian experience too?
I decided to adopt another strategy. I tried to contact my fellow journalists from print and electronic media. But every one of them shied away, saying they couldn't help me because of my lack of "Canadian Experience" and economic conditions in the media industry.
Calgary experience
The print media in Calgary, I found out, is facing a moribund situation. It has become a threatened species and faces possible extinction. This brought to mind the website "Newspaper Death Watch" which tracks the demise of newspapers.
So, the million dollar question in my mind is, How was I going to get this "Canadian experience" if I never landed a job? Obviously, I can't buy it from somewhere. Someone has to give me a job – small or big.
I don't know when that will happen, but I do know that there are umpteen new immigrants who roam around, looking for jobs and finding nothing. And trust me they are all very educated, skilled and well-trained people, many of them held enviable positions in the countries they came from.
This situation demands a fresh and thorough re-evaluation of immigration policies before we admit more than 300,000 permanent residents in Canada during 2016. We should plan ahead and provide skilled workers with better opportunities, without waiting for years to attain "Canadian Experience."
This is important to save them and their families from depression and anxiety, which are not a good omen for society either.
---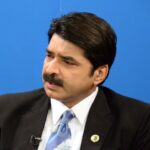 Israr A. Kasana is an award-winning writer, TV host and a communications professional based in Calgary. His work has been published in English newspapers The Frontier Post and The News in Pakistan. He started his own newspaper The Vision International in New York and also launched a community TV channel.