They come from Afghanistan, Pakistan, Syria, Palestine, Somalia, Eritrea, Libya and even West Africa. They walk many thousands of miles, traversing every imaginable landscape, using any possible means of transportation and encountering people, good and bad, on this epic movement of nations.
They pass beyond Iraq, Iran, Turkey, Greece, Bulgaria, Macedonia and Serbia to arrive on the tranquil Pannonian plain divided by the border between Serbia and Hungary, one step closer to the dream of safe haven for their families in a rich Western country.
We found them in a park near Belgrade's railway station. They know it is a distant dream, but their eyes brighten up when they hear the word: "Canada!"
"Can you get us there?!"
They are migrants from conflict-ridden countries in Asia and Africa. There are four million of them, and they are coming to stay.
Gruelling journey
The UN Refugee Agency (UNHCR) reports a dramatic, almost ninefold increase in the number of migrants from Asia and Africa in the Western Balkans.
"An urgent response from Europe is needed before the situation deteriorates further." – William Spindler, UNHCR spokesperson
In the first half of 2015, some 45,000 people applied for asylum status in this region, primarily in Greece, (FYR) Macedonia and Serbia. However, the real numbers are much higher, because most of the migrants are only in transit through the Balkans on their way to the Hungarian border (Schengen zone), and then further to Germany, France, Scandinavia and overseas countries.
Their journey is gruelling and often deadly. On July 7, a vessel carrying around 40 migrants capsized between the Greek islands of Agathonisi and Farmakonisi. Five bodies were retrieved and another 16 people are feared dead. In a separate incident that happened near Veles in Macedonia on April 24, 14 migrants from Somalia and Afghanistan were run over by a train while following the tracks on their way to the Serbian border.
UNHCR estimates that half of all refugees who are actually passing through the region do so without being registered by the authorities, and are exposed to violence and abuse by smugglers, opportunistic individuals and criminal gangs.
Urgent response needed
Cash-strapped Balkan countries are trying their best to cope with the influx, and to provide basic care for the migrants. Those who enter Serbia legally at the Macedonia/Serbia border in Preševo are given a document allowing them up to 72 hours to get to one of the five asylum centres in the country's interior.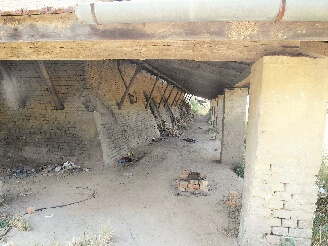 Most migrants, however, prefer to use this document as a pass to Belgrade or Subotica, Serbia's northernmost city, and then illegally try to cross the Hungarian border. In Subotica, they concentrate around a dilapidated brick factory (pictured left), staying in improvised tents scattered in the fields, a few kilometres from the border with Hungary. They call it "the Jungle."
"An urgent response from Europe is needed before the situation deteriorates further," UNHCR spokesperson William Spindler told a press briefing in Geneva.
Hitting the wall
Some European Union (EU) countries, though, opt for less subtle solutions. Hungarian Prime Minister Viktor Orbán has announced the plan to build a four-metre-high, 175-kilometre-long wall along the border with Serbia to discourage migrants from entering. This highly controversial project has raised eyebrows in both the EU and Serbia, but Hungary is determined to carry on with the plan, and the Hungarian military personnel raised the first "sample section" of the fence on July 14.
The pressure on the EU immigration and welfare system is overwhelming, but experts doing the field work think the worst is yet to come.
Orbán's anti-migrant campaign also includes billboards, which in a patronizing tone asks migrants to "not take jobs from the Hungarians" and "to obey Hungarian culture and laws."
The pressure on the EU immigration and welfare system is overwhelming, but experts doing the field work think the worst is yet to come. A UN official currently working in the humanitarian relief efforts in Syria, Turkey and Iraq (who wanted to remain anonymous) thinks that developed countries, including the U.S. and Canada, should take a more active role in mitigating this crisis, which is mostly the consequence of their failed foreign policies and military interventions.
"The West should bow its head in shame for creating this situation in the first place, and then sitting on its hands, and hoping that Turkey, Jordan and Lebanon can somehow absorb the millions that the West has set in motion, especially concerning the attack on Iraq, and the failure to stop the Assad regime from slaughtering its own citizens," says the UN source.
The Canadian Conservative government has tightened admission requirements for the refugees on the grounds that "too many abuse our generosity or take advantage of our country," and it has taken a tougher line on the "family reunion" claims. In addition, the Conservatives' measures to cut expenditure on refugees' health care were taken to court and ruled unconstitutional.
The immigration minister has been criticized for pledging in 2013 to admit only 1,300 Syrian refugees. There are approximately 2,400 refugees in Canada now, and the next pledge is to resettle 10,000 over three years.
Our UN source says this is too little, too late. "ISIS is the pneumonia on the cancer-riddled bodies of Syria and Iraq: hard to say what the cause of death is, but they'll both get there, sooner or later . . . These people are running for their lives, and with good reason."
A related read from our partners at The Walrus: "Ferry Tale"
Zoran Vidic is a communications and public relations specialist, open source analyst, reporter, writer and editor with over 15 years of experience in Canada and Serbia. Zoran holds a BA in journalism and political science from the Belgrade University in Serbia, and a MA in journalism from Carleton University in Ottawa. Vidic has been living in Kyiv, Ukraine since 2017.