A new exhibit offers a first-person look at the everyday challenges refugees face on their journey to safety in Canada.
Refuge Canada, curated by the Canadian Museum of Immigration at Pier 21 in Halifax, will stop at 16 cities across the country over the next three years.
The travelling museum includes 160 photographs, some of refugees fleeing conflict, personal portraits, interviews and 25 interactive displays.
"There are so many compelling threads and important stories to share," said Marie Chapman, CEO of the Canadian Museum of Immigration at Pier 21.
In one of the oldest photos, taken in Kenya in 2008, rows of white tents are spread across Dadaab, a Somali refugee camp. It was the largest in the world at the time, according to UNHCR.
The other photos were taken between 2015 and 2017.
Chapman said the idea for the exhibit was inspired by the 2015 refugee crisis in Syria. The hope is that it will raise awareness and challenge the perceptions of Canadians by sharing the perspectives of refugees.
"We didn't want to shy away from telling the horrible stories and we also didn't want to re-traumatize people," she said.
The Museum of Vancouver opened the exhibit on this month and it continues until Feb. 2, 2024.
In one powerful photograph taken in 2016, a student studies inside a tent in a refugee camp in Mali. The image is taken from outside of the UNHCR-provided tent.
Visitors can also sit inside a tent decorated in a similar way to the one in the photo.
Throughout the exhibit, the sounds of waves crashing mingle with archival tapes of UN press conferences and old music.
Conlin said the exhibit shows a wide range of experiences refugees contend with in Canada, including labels, myths and stereotypes.
"The exhibit also shares the stories of success and contributions made by people who came to Canada as refugees," he said.
A smaller version of the travelling museum, called Refuge Canada Tent, will stop at 23 libraries and smaller towns across the country.
In February, Refuge Canada will open in Prince George B.C.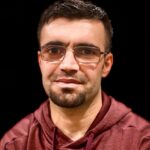 Diary Marif is an Iraqi Kurdish journalist based in Vancouver, Canada. His writing has appeared in the Awene weekly, Livin, and on KNNC TV as a documentary researcher by the name Diary Khalid. Diary earned a master's degree in History from Pune University, in India, in 2013. He moved to Vancouver in 2017, where he has been focusing on nonfiction writing. He can be found on Twitter: @diary_khalid.