Israel's highly contentious elections saw incumbent Prime Minister Benyamin Netanyahu return for his fourth term as the country experienced its highest voter turnout in almost two decades. While this has been widely covered in the mainstream media, Israeli outlets here in Canada have some other top stories they've been reporting, including their own take on the elections.
Netanyahu Lacks Leadership, Claims Vancouver-based Newspaper
An editorial piece published by the Jewish Independent says Israeli Prime Minister Benyamin Netanyahu lacks leadership. The newspaper criticizes statements released by Netanyahu's Likud Party just days before the election, that many read as proof he did not support a two-state solution even though Netanyahu had previously said he did.
"Prime Minister Benjamin Netanyahu said that any evacuated territory would fall into the hands of Islamic extremism and terror organizations supported by Iran. Therefore, there will be no concessions and no withdrawals. It is simply irrelevant," read the Likud Party statement. The editorial board also commented on Netanyahu's failure to participate in debates during the campaign and his insistence on speaking to the U.S. Congress without U.S. President Barack Obama's support.
"It remains to be seen whether he is just grasping at political straws, trying to convince those on the right to vote for him, or he feels so confident that he can finally say what he truly believes," the newspaper reported.
Anti-Jewish Slurs Used in Real Estate Listings
According to The Canadian Jewish News, the Jewish community was outraged after seeing online advertisements for houses in Brampton, Ontario, that read "You don't have to be Jewish to buy this house."
Real estate agent Jazz Samra of Homexperts Real Estate Inc. said he used a third-party for his advertisements and doesn't review every ad that gets posted. The ads were posted on online sites such as kijiji and craigslist but were taken down after the matter was brought to their attention. They still appeared on Trovit and Mitula, and the craigslist ad was changed to "You don't have to be rich to buy this house."
Homexpert's president and CEO apologized for any offense the ad caused and said he was looking into the matter.
Jews Urged to Immigrate to Israel
Following last month's attacks on Jewish communities in France and Copenhagen, Israeli Prime Minister Benyamin Netanyahu has urged European Jews to immigrate to Israel – much to the dismay of European Jewish leaders –  reported the Jewish Independent.
Once Israel was established as a Jewish state in 1948, some argued Zionism's goals had been achieved and thus there was no more need for it.
The article questioned the purpose of Zionism (the nationalist movement for the return of the Jewish people to Israel), citing Copenhagen's chief rabbi, Jair Melchior, who said that increased terrorism should not be the reason European Jews immigrate to Israel. "People from Denmark move to Israel because they love Israel, because of Zionism. Not because of terrorism. If the way we deal with terror is to run somewhere else, we should all run to a deserted island," he is quoted as saying.
The term Zionism was coined in 1896. Ever since then, the movement has been a divisive issue within the Jewish diaspora (outside Israel). Once Israel was established as a Jewish state in 1948, some argued Zionism's goals had been achieved and thus there was no more need for it, noted the Jewish Independent's editorial board.
But Zionism soon took on a different meaning; as Jewish groups outside Israel began allocating their fundraising efforts to support the Jewish state, especially during times of war. This, they noted, is another reason why Netanyahu's comments were uncalled for – the country itself is not immune to terrorism, so why promote the idea of leaving Europe after terrorist incidents?
Although Zionism is contested, especially amongst Jews, the newspaper argued that, "it is not quite time for Zionism to wind up its affairs."
Did Denmark Live Up to Its Reputation? 
Over 30,000 Danes gathered for a vigil to commemorate the victims of a shooting at a Denmark synagogue in early February – a show of support that fits the country's history, reported the Jewish Independent.
In 1943, the country helped successfully evacuate the country's Jews to Sweden, saving almost the entire Jewish community at a time when Jews were being annihilated across Europe. The Danish resistance, as it came to be known, was organized by ordinary citizens and was one of most successful resistance efforts during the Nazi era.
The motive, argued the reporters, was clear; terrorists went to a Jewish place of worship to murder its inhabitants, specifically targeting a certain group of people.
But the newspaper claims the support ended there. Denmark Prime Minister Helle Thorning-Schmidt called the murders a "cynical act of terror" while discussing the motive. But then added, "we don't know the motive for the attacks but we know that there are forces that want to harm Denmark, that want to crush our freedom of expression, our belief in liberty. We are not facing a fight between Islam and the West, it is not a fight between Muslims and non-Muslims."
The motive, argued the reporters, was clear; terrorists went to a Jewish place of worship to murder its inhabitants, specifically targeting a certain group of people. The article went on to question, why then did the Prime Minister refuse to call out these clear motives? The fact that over 500 Danes attended the attacker's funeral gave the reporters more reason to question Danish support towards its Jewish population.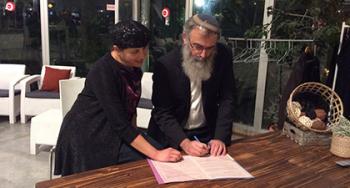 Israeli Prenups Won't Help "Chained Women" in Canada
Under Jewish law, a woman can only get a divorce (called a get) if her husband grants her one. When a husband refuses, his wife is considered an agunah – a chained woman who cannot remarry until granted a divorce.
To combat this phenomenon, Israeli rabbinical and legal experts unveiled a legal prenuptial agreement that would prevent husbands from withholding divorces. But these agreements will likely not hold up in Canada, reported Paul Lungen from The Canadian Jewish News.
According to the Israeli agreement, introduced by Tzohar (an Orthodox Zionist group whose goal is to enforce "moderate, rabbinic leadership and sharing public policy"), if a husband refused to grant a divorce, he would be required to make maintenance payments until a religious divorce is issued.
That agreement won't help "chained women" in Ontario, though, since Ontario courts don't enforce the decision of religious courts when it comes to matters of family law, rendering the prenups legally ineffective.
"It appears the Rabbinical Council of America (RCA) document will not be upheld by a Canadian court, because the courts in Canada will only allow monetary penalties imposed by courts, not by rabbis [or] panels," said Rabbi Michael Whitman of Adath Israel Poale Zedek synagogue in Montreal.
For many Orthodox Jewish women, being unable to get a divorce from their husband can have lifelong implications, preventing them from remarrying and leaving them "chained" to their husbands.
---
Vicky Tobianah is an experienced writer, editor, and content strategist. She has a Bachelor of Arts, Honours from McGill University in Political Science and English Literature. She is passionate about the future of digital media. Find her work at: www.vickytobianah.com