As Narges Mohammadi considers her Nobel Peace Prize while still imprisoned in her Tehran jail cell, the honour is in part an acknowledgement of the growing global power of human and women's rights movements.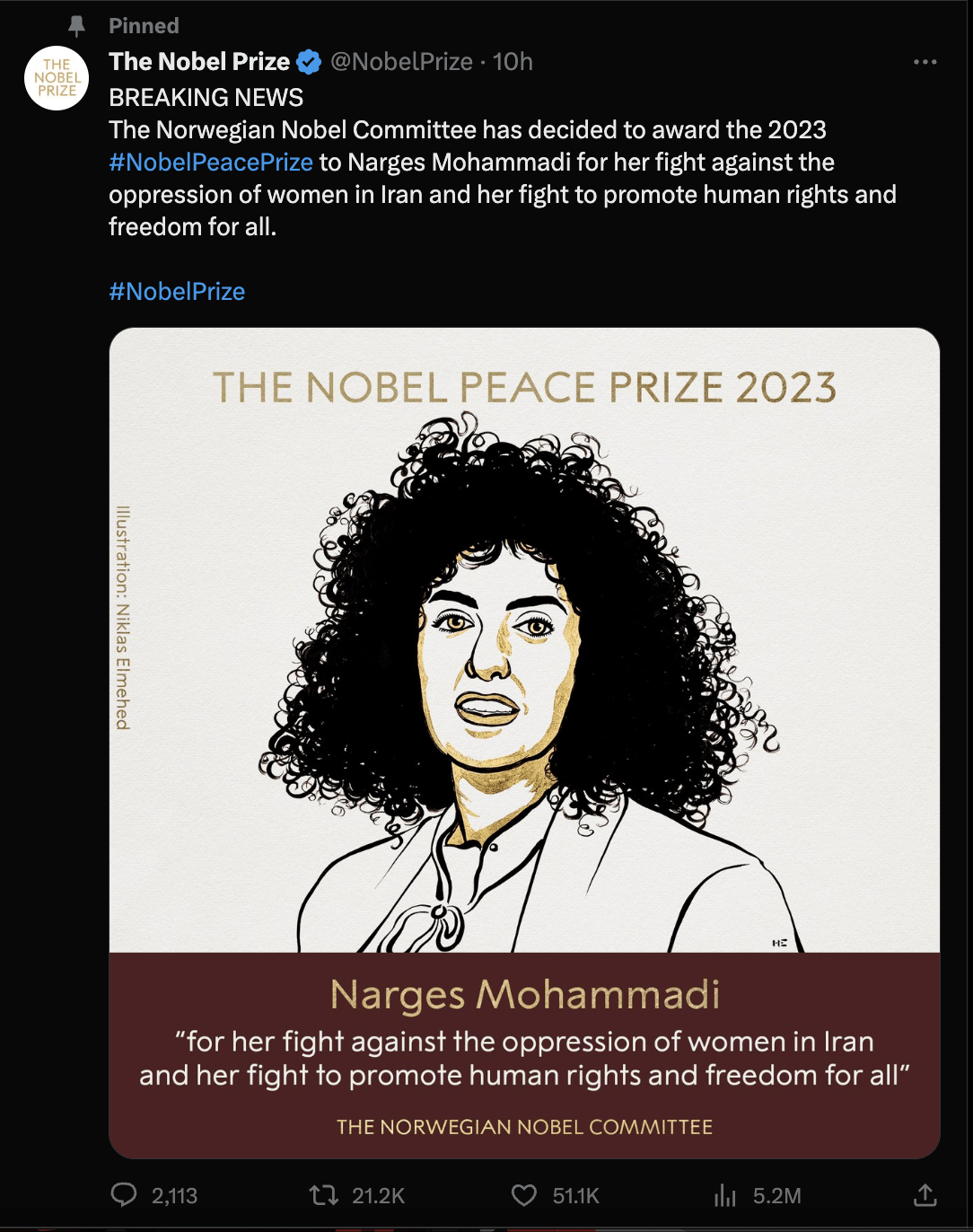 But, as advocates say, the international community must do all it can to harness that power and exert even more pressure on Iran's regime to release activists such as Mohammadi.
Mohammadi has been arrested 13 times, convicted five times, and sentenced to a total of 31 years in prison and 154 lashes by the Islamic Republic regime
In announcing Mohammadi's award last week, Nobel chair Berit Reiss-Andersen began by saying "Women, Life, Freedom" in Farsi and English.
These words serve as a reminder of the Woman, Life, Freedom movement that began in Iran following the tragic death in custody of 22-year-old Mahsa Amini, who was arrested in Tehran on Sept. 16, 2022, by the morality police, a dedicated unit that enforces strict dress codes for women. Since the protests began in Iran, there have been at least 537 deaths and 22,000 arrests.
Protests over Amini's death erupted around the world, including in Canada, which has more than 200,000 residents who were born in Iran.
Mohammadi, a 51-year-old journalist and activist, is currently in Evin prison in Tehran, serving a 10-year sentence for being accused of action against national security and propaganda against the regime.
Mohammadi is the second Iranian woman to win the prize, following in the footsteps of Shirin Ebadi, a lawyer and human rights activist who received the Nobel Peace Prize 20 years ago.
Mohammadi was honoured "for her fight against the oppression of women in Iran and her fight to promote Human Rights and freedom for all, the Nobel award committee said."
Niloofar Hooman, a PhD candidate in the Department of Communication Studies and Media Arts at McMaster University, believes this award reinforces the broader importance of the human rights and women's rights movements and their tireless efforts to pursue a more just and equitable world. According to Hooman, the prize serves as a powerful symbol of recognition and support for those who advocate tirelessly for justice, equality, and freedom in societies with repressive regimes.
"It inspires activists worldwide, drawing global attention to the struggles of individuals and groups fighting for justice and gender equality, exerting diplomatic pressure on repressive governments, fostering solidarity among activists, and potentially driving policy changes to improve human rights and women's rights on a global scale," Hooman stated. "This award reinforces these movements' importance and tireless efforts to pursue a more just and equitable world."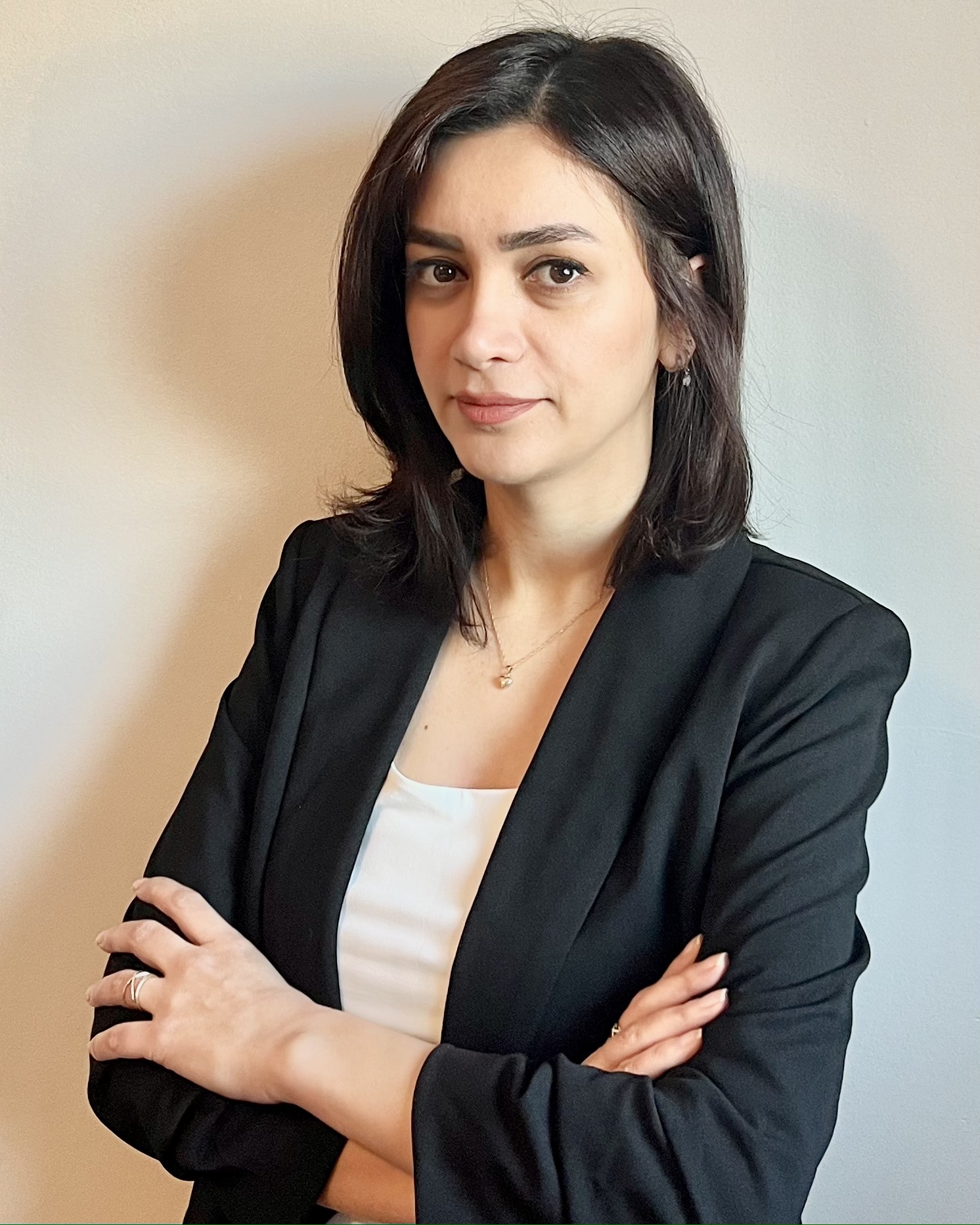 Lily Pourzand, the director of programs and services at Sandgate Women's Shelter, believes Narges Mohammadi's Nobel Peace Prize was an award to "Iranian women," "Iranian youth," and "Iranian civil society" for a unique movement – not only for the Women, Life, Freedom movement, but also "the history of civil movement which shook the world."
Pourzand, who used to work as a part-time faculty member at Seneca College, teaching Diversity and inclusion in Canada, says: "The international community has recognized, acknowledged, and rewarded the Iranian people with rewarding one of the most important figures of bravery, who is Narges Mohammadi. The recognition sent the message that we hear you, we acknowledge you and we believe you. We are rewarding you and we are supporting you."
Also, as Hooman explains, "over the past year, the Iranian people, particularly women, have shown remarkable resistance and determination in their quest for equal rights and freedom from oppressive regulations. It has been a year marked by both adversity and courage as women continue to challenge the entrenched patriarchal structures that restrict their autonomy and rights."
Hooman noted that passing a new bill in Iran's parliament that imposes further restrictions on women's rights only underscores the importance of recognizing and celebrating the efforts of Iranian women. "In such an authoritarian context, Narges Mohammadi's Nobel Peace Prize serves as a beacon of hope and a global acknowledgment of their relentless efforts. This award is not only a tribute to Mohammadi but also a symbol of solidarity with all those fighting for justice, equality, and human rights in Iran."
However, the headlines out of Iran remain dismal, as Hooman notes.
On Sunday, Oct. 1 , Armita Geravand, a 16-year-old girl, fell into a coma after being pushed by a hijab enforcer in the Tehran subway. Recently, the fact-finding committee of the UN Human Right council announced that they are investigating the reported assault of Armita Geravand.
"The Nobel prize news was a ray of hope in a tumultuous time, particularly with the recent tragic incident involving Armita Geravand," Hooman says.
As a community activist, Pourzand believes that the international community needs to take action for Iranian activists who are currently imprisoned in Iran.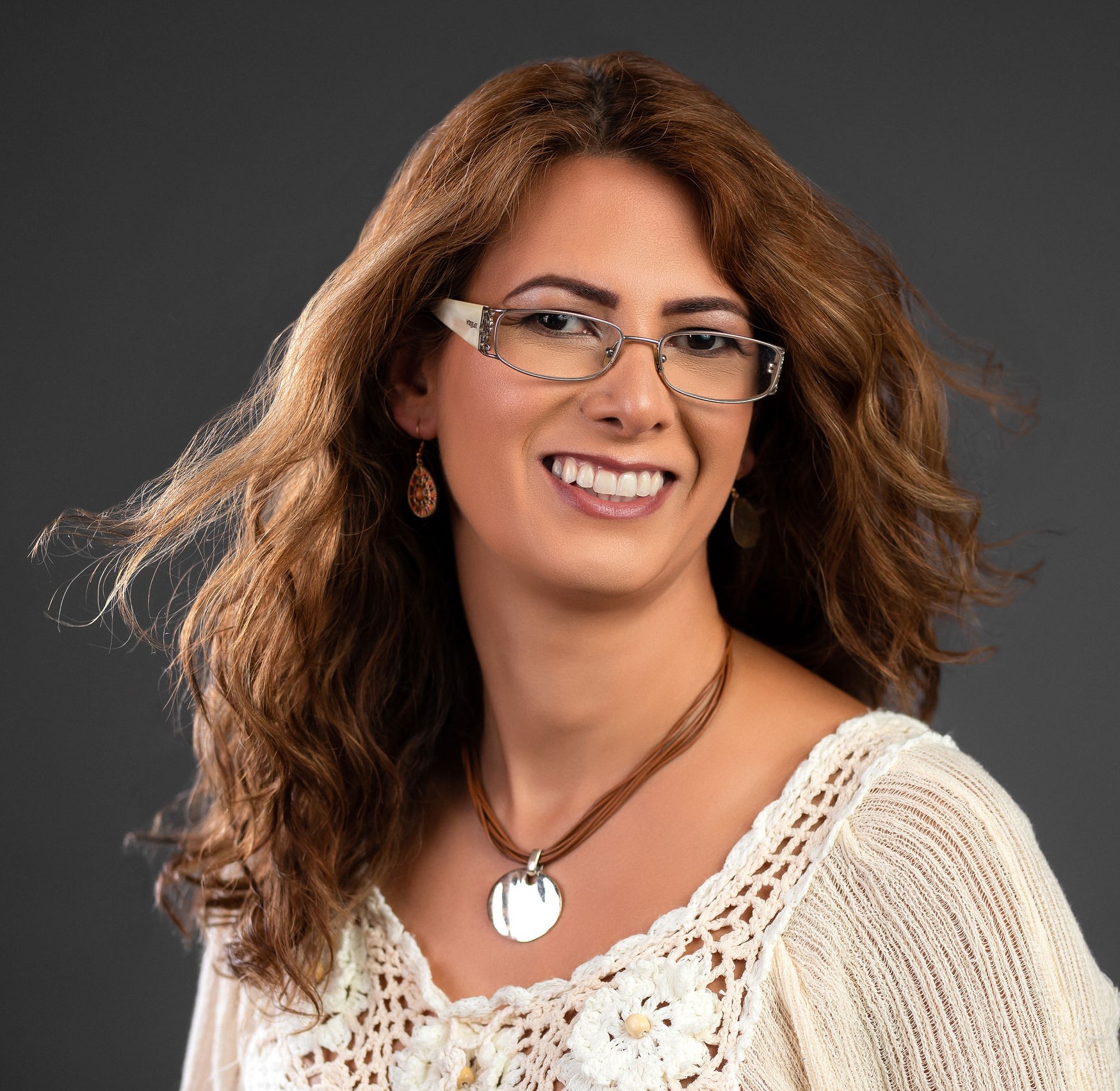 "The international community should put pressure on the Islamic Republic to release Narges Mohammadi, Niloofar Hamedi, Elahe Mohammdi and many other activists who are still in jails. It's crucial for Narges Mohammadi to be able to see her kids as a mother after eight years. That is the worst torture on a woman to choose between her goals and children."
She emphasized that the international community should ensure that they do not engage in negotiation with Iran's regime. She added: "they showed the most brutal face of themselves during the past year."
Mohammadi and Taghi Rahmani have two children, Ali and Kiana. Rahmani left Iran in 2011 and the kids joined their father in 2015 in France.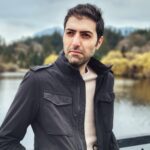 A Vancouver B.C based journalist who writes about the Iranian community in Canada, art, culture and social media trends.