The arrest of a young Iranian girl and subsequent death in police custody has sparked a global revolution. Mahsa Amini's crime? Her hair was not properly veiled. 
Amini's death last month by morality police has inspired protests around the world, putting pressure on the Iranian regime to recognize women's rights. 
Today Amini has become a symbol for women's freedom. The slogan that is now spreading throughout Iran and the world is: Woman, Life, Liberty. The flag used at these demonstrations is the Lion and the Sun, an ancient national symbol for Iran prior to the Islamic symbol on the flag post the 1979 revolution. 
Global protests, organized by a Canadian, are now shaping into a revolution with many women rejecting hair coverings in public and teachers and students refusing to attend classes. 
Those who do attend school post videos of themselves pulling down and tearing the supreme leader's portrait off the classroom walls. Shopkeepers are going on strike across the nation. Parents and family members of those killed in the past few weeks of protests are displaying their hatred for the regime overtly in interviews with new media and on social media postings. 
One such family is that of Hadis Najafi, the young Iranian woman who died in a spray of bullets during a protest following the death of Amini. Sadly, her father was beaten by regime agents when he went to get his daughter's body from the morgue. Her mother and sisters are now posting video clips in which they are expressing their rage and disgust at the repressive regime, even declaring readiness to die.
Demonstrations around the globe in support of Mahsa Amini have been organized by  activist Hamed Esmaeilion, a Canadian-based spokesman for the families of victims of Ukrainian flight PS752, shot down by Iran in January 2020. Ever since Esmaelion lost his wife and daughter on that flight, he has seen to it that the regime in Iran is exposed for its crimes against humanity, including for the killing of protesters in the recent weeks. 
There are also many demonstrations around the globe in support of Mahsa Amini. In Canada alone, protests have been held in Toronto, Montreal, and Vancouver, with more planned for Ottawa, Saskatchewan, Montreal, and again Vancouver. 
Other cities protesting in solidarity include  Houston, Calgary, Vienna, Sydney, Miami, Madrid, Hamburg, Boston, Washington, Zurich, Tokyo, Rome, Frankfurt, Dusseldorf, Copenhagen, and San Francisco. 
Through  Esmaeilion's  global campaign, with the help of other Iranian activists and Iranian citizens themselves, who are fighting in the streets of Iran, the gender apartheid that Iranian women have had to suffer over the past four decades, is finally being heard throughout the world. Four weeks ago, it was hard to imagine that people would rise up in such large numbers with support from the entire world to shake the foundations of the Islamic Republic. Protesters who are mostly Generation Z, are fighting to change the regime, members of which send their own children abroad to live and enjoy freedoms in democratic countries such as Canada.
Meanwhile, Iranian citizens are policed for all and every aspects of their lives, from eating and drinking to clothing and sex. With hundreds of thousands hitting the streets in Iran and around the world to support the uprising in Iran, it is hard to imagine that the people of Iran, especially women, will go back to the life as it went on barely four weeks ago. As Nelson Mandela famously said: revolutions seem impossible before they happen, inevitable after they have.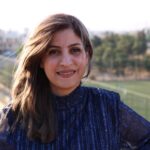 Shaghayegh Moradiannejad is a social documentary photographer who is fond of narrating women's stories. The story of women who carry the heavy and severe burden of war on their shoulders. She attempts to record the long-term effects of war on women and children. This effort was started in Iran and Afghanistan and she intends to continue it in other areas of the world.
She would like to announce their suppressed sorrow through her photos.