In Romeo and Juliet, Shakespeare gave us the famous line "What is in a name? That which we call a rose by any other name would smell as sweet." While he was stating, with a noble intention, that it's not the name of a person but their content and character that truly matters, we know that in 2017 our relationship with our own names and how they're perceived by others isn't so simple.
Names matter. For many people they're a major reflection of our identities, origins, family histories, and the expectations and wishes of our parents symbolized onto us by the very word we use to not only personally identify with but also to introduce ourselves to the world.
When it comes to employment, recent research has shown that names definitely do have an impact on how people are perceived and unfortunately this can manifest in a negative way.
A newly released joint University of Toronto and Ryerson study shows discrimination and hiring bias are present when it comes to applicants with Asian (defined in the study as Indian, Pakistani or Chinese) names. In a study of data from a 2011 Canadian employment audit, researchers analyzed nearly 13,000 job applications for over 3000 job postings in Toronto and Montreal.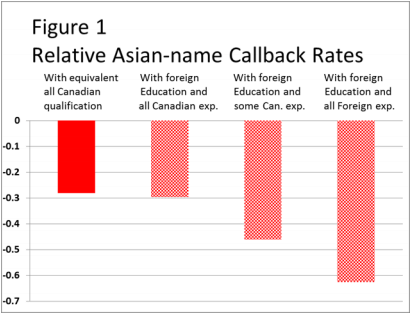 Even when all qualifications were equal and the individual was Canadian in origin, the study found that applicants with an Asian name were 28 per cent less likely to get called for an interview compared to applicants with a more traditional Anglo-based name. The callback rate for an interview deteriorates even further when the applicant's education or work experience was from outside of Canada.
Small vs. Big organizations
The study also shows that smaller companies exhibit even worse discrimination than larger organizations, likely due to lack of resources and internal diversity awareness programs. In companies with fewer than 500 employees, the chance of an applicant with an Asian name and of Canadian origin getting a call for an interview was 42% less, and this drops to a staggering 68% less when the applicant's education and work history was international.
Following the release of the study, RBC and Ryerson University co-sponsored a panel discussion event moderated by Ratna Omidvar, Senator and Visiting Professor, Global Diversity Exchange at the Ted Rogers School of Management at Ryerson University. The goal was to explore the challenges discovered by the research and identify ways to eliminate these types of persisting hiring biases.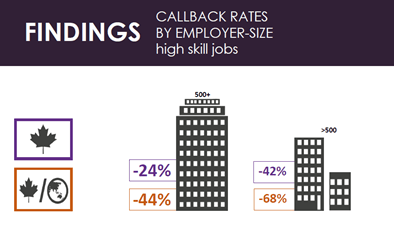 Hiring from the community
As an Asian Canadian and one of the RBCers who were invited to the event and discussion, my feelings were hopeful but also bittersweet. On the one hand, I continue to be very proud of working for a company like RBC where 33 per cent of our workforce is made up of visible minorities, surpassing the Canadians average of 25 per cent by a sizable margin.
In my role as Senior Manager, Inclusive Recruitment, I know from a wide range of personal experiences that hiring from the community to serve the community has always been one of our most effective and rewarding guiding principles. We've passionately built a suite of forward-thinking programs designed to help immigrants and new Canadians build their career at RBC, including ourCareer Edge internship and TRIEC mentoring programs, and RBC volunteers also actively participate in various speed-mentoring events with newcomers to help us look beyond a resume and meet the person behind the name.
Visible minorities are also highly represented in our own recruitment team, which helps us build the cultural competency needed to truly understand the nuanced needs of new Canadians and leads us to address unconscious bias when it comes to screening resumes.
On the other hand, if the study indicates that society in general still interprets minority status negatively then it unavoidably has a potentially negative impact in organizations all across Canada.
Hiring biases
Canada is an immigrant country and by 2035, almost 100 per cent of the Canadian population growth will depend on immigration. Hiring bias against minorities will hugely impact our ability to build competitive advantage both as a company and a country.
So what can we do differently?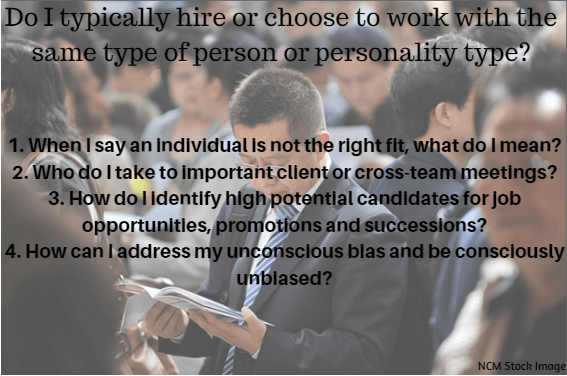 We often talk about how diversity is the mix and inclusion is how we make the mix work well together. The bottom line is that in order to make the mix work well together, each one of us needs to look within and examine our own conscious or unconscious bias. It is human nature to favour people who are most like us and view people who are in our own groups as being more favourable than "the others." A lot of the time, addressing unconscious is about asking ourselves uncomfortable questions (see graphic alongside).
With that in mind, my challenge to everyone is this: the next time you're looking at a resume and decide to put it aside, pause for a moment and ask yourself why you are doing it… and then look at the name.
---
Vivian Li is a Senior Manager responsible for inclusive recruitment at the Royal Bank of Canada (RBC). Prior to her experience in RBC, Vivian worked as an HR professional with Bell Canada.