Immigration lawyers in Canada are warning about risks caused by the spread of misinformation as the Trump administration rolls back a U.S. government program that shielded illegal immigrants brought to the United States as minors from deportation.
U.S. President Donald Trump formally announced on Tuesday the end of an Obama-era program that protected almost a million young people brought illegally into the country by their parents and granted them renewable two-year work permits, which will now begin to expire in early 2018.
While immigration lawyers said many clients of the Deferred Action for Childhood Arrivals (DACA) program — widely known as "dreamers" — could be prime candidates for legal immigration to Canada, the challenge will be in making sure those looking to move are not getting faulty information about Canada's immigration rules from unscrupulous immigration advisers or false reports. That's what happened with thousands of Haitians earlier this summer when Trump threatened to rescind a program that lets those displaced by the earthquake in Haiti seven years ago live temporarily in the United States.
"These people are North American trained or brought up, so they have the skills to quickly adapt to the Canadian labour market or integrate into the post-secondary schooling system so there may in fact be some options for them," said Betsy Kane, one of Canada's top immigration lawyers and a partner at Capelle Kane.
"The only issue is if they are going to get misinformation from people trying to capitalize on their vulnerability and get sucked into a situation like the Haitians did, relying on potentially false information that would lure them into coming to make the wrong type of application to Canada."
Roughly 7,000 asylum seekers, most of them Haitians from the U.S., have crossed into Canada since July. Some critics have accused Prime Minister Justin Trudeau of not doing enough to prevent the surge; some have even accused him of being partly to blame for it.
A January tweet in which critics said the prime minister implied that Canada would welcome just about anyone — legal migrant or not — has increasingly come under fire, prompting the government into damage control mode in recent months.
To those fleeing persecution, terror & war, Canadians will welcome you, regardless of your faith. Diversity is our strength #WelcomeToCanada

— Justin Trudeau (@JustinTrudeau) January 28, 2017
Two weeks ago, Trudeau walked that welcome back in a series of tweets cautioning that while Canada is an open and diverse society, it also has immigration laws that must be obeyed.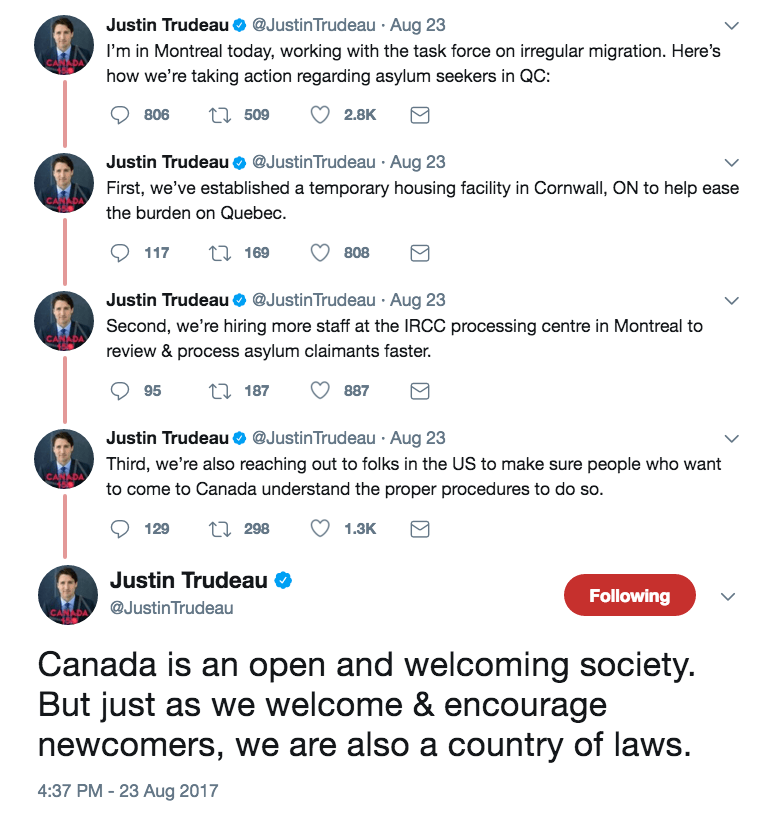 Liberal MP and Whip Pablo Rodriguez also announced Wednesday he is heading to Los Angeles on Friday on a mission similar to that of MP Emmanuel Dubourg last month.
Following a surge of illegal Haitian migrants over the summer, the government sent Dubourg — who is himself of Haitian origin — to Miami to speak with Haitian community leaders and try to counter the flow of misinformation about how Canada's immigration system works.
The government's goal was to get a message across loud and clear: Not every refugee claim in Canada succeeds.
Now, Rodriguez is set to carry that same message to the other side of the country in a bid to stem a new wave of Mexican and Central American asylum seekers who are expected to be next to try and make the move north. Those people are in limbo now because of the possible end of temporary protected status for nearly 350,000 Salvadorans and Hondurans in the U.S. — a change that is unrelated to the rescinding of the DACA program but is similar in terms of how those affected might be influenced by misinformation.
Kane said the effort so far to counter the spread of bad information has been committed and social-media focused, which is exactly where it needs to be.
"I think it might be a more sophisticated group that's not going to rely on WhatsApp or an internal rumours or community rumours as opposed to doing their research," she said. "These are young people, they're internet-savvy, and perhaps they're going to spend a little more time getting the correct information, especially with all the social media that's out there, because they're all on social media. They're young people, so that's where they're looking for information and CIC has been targeting social media."
Many of those living in the U.S. under the DACA program are highly-educated and have skills that would make them prime applicants for the Express Entry system, Canada's immigration scheme for skilled workers.
The question is whether those who want to use that route, or other legal options like applying for international student visas, will even be able to do so given the system overload caused by the influx of Haitians.
"The system is now overwhelmed," said Julie Taub, an Ottawa immigration lawyer and former member of the Immigration and Refugee Board. "It's having an impact on the other applications and it's creating a lot of resentment for those who are immigrating to Canada legitimately through the proper channels and for those who are legitimate refugee claimants."
For now, Taub said, those Americans who may face deportation without DACA will be looking for the best way to wait for a reinstatement of the protection — and she expects Trump's move to rescind the program eventually will be overturned.
"It's beyond reason that he has taken this measure," she said. "It's ludicrous and I think it will be overturned." 
---
By arrangement with ipolitics.ca.