The majority of Pakistani candidates running for various offices in the recent Ontario municipal elections continued their losing streak.
Only two Pakistani candidates emerged victorious in the polls, whereas hundreds of others did literally nothing but blabber and distribute their pamphlets all over the place.
Most of these candidates suffered from a glaring deficiency in English language skills and in their knowledge of the Canadian system. Many seemed utterly indifferent towards the problems in their constituencies, and had no recourse but to play up already familiar topics to scrape up a handful of votes.
Not only did they plan their election campaigns poorly, but several of them were also involved in personal conflicts with other Pakistani candidates.
In many areas, several Pakistanis filed their nomination papers from a single constituency, effectively dividing the Pakistani vote several times.
It is fair to say, then, they had it coming.
Peoples' representatives
Pakistani candidates running for office in Canada are no more an unprecedented feat. Every four years, a large number of Pakistanis — never seen before at any community gathering — show up from nowhere, and portray themselves as 'peoples' representative'.
Many a candidate get their pamphlets printed in Pakistan as early as a year before the elections, and transport them to Canada with their luggage. When these flyers are distributed among people, the poor chaps are clueless about the candidate, because these candidates neither engage, nor serve the community, and hence remain unknown to a large number of people.
Indian Canadians also compete in the elections, but in contrast to Pakistanis, their success ratio is higher as they make efforts to engage with their community. On the other hand, Pakistani candidates are confined only to photo sessions for local Urdu newspapers, association with Pakistani political parties, and seeking votes on the basis of caste and clan.
Pre-poll surveys this year showed that the victory of Pakistani candidates was highly unlikely, as the results later proved. The causes for this are not too hard to comprehend.
Election manifesto
I asked one Pakistani candidate, "What is your manifesto?" only to be hear this shameless reply: "Umm … I am jobless nowadays … I've heard that the councillors have handsome remuneration, so I am trying my luck there …"
Every four years, a large number of Pakistanis — never seen before at any community gathering — show up from nowhere, and portray themselves as 'peoples' representatives'.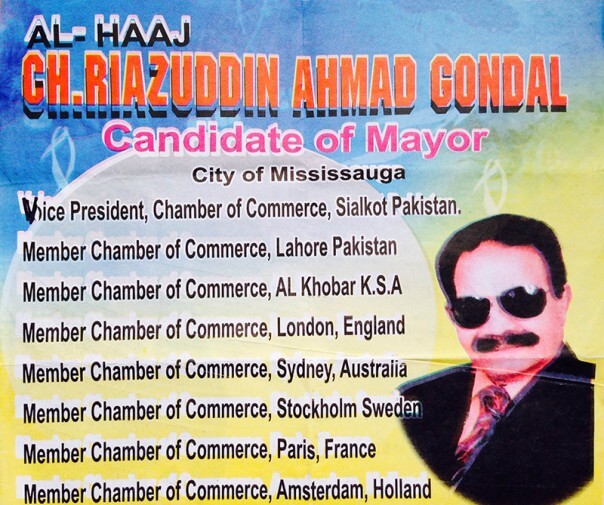 These candidates include a Pakistani grocery store owner of my area as well. The lies on his website were traced and duly rebuked by his Canadian rivals – what a defamation of our country.
There was another candidate, a self-proclaimed business tycoon from Sialkot, Pakistan. Having no experience of business, literature and politics, this man has made a mockery of Pakistan overseas.
This business tycoon, named Riazuddin, is also known as Malik Riaz of Mississauga.
The election flyer of this candidate was printed in Pakistan. The flyer reads that Riazuddin has been member of chambers of commerce in Pakistan, Saudi Arabia, Britain, Australia, Sweden, France and the Netherlands, and has served as vice president at Chamber of Commerce in Sialkot, Pakistan.
---
Mohsin Abbas is an award-winning Pakistani-Canadian journalist, filmmaker and press freedom activist. He is the editor of Diversity Reporter, a multilingual weekly newspaper for newcomers and immigrants in Canada.