Political candidates have been risking their composure, their message control and their dignity to court the youth vote since long before Bill Clinton answered the "boxers or briefs?" question on MTV in 1994. 
In our own current election campaign, there has not yet been much talk of appealing to the finicky Millennial vote, either in the only leaders' debate on Aug. 6 or on the campaign trail.
On Thursday, NDP Leader Tom Mulcair was the first of the three major party leaders to participate in a Facebook Q&A.
Mulcair, who got no awkward queries about his underwear preferences, answered questions on a variety of issues such as CBC funding, the push for an inquiry into murdered and missing aboriginal women and affordable daycare.
According to the latest iPolitics/EKOS poll, approximately 39 per cent of 18-to-34 year olds said they would vote NDP if an election were held tomorrow. About 26 per cent would vote Liberal and 24 per cent said they would vote for the Conservative Party.
Getting the millennial vote — which represents about 25 per cent of the population — could be the deciding factor in this three-way election race.
"The politicians are fishing where the fish are and this is important — because young people don't vote," said Jeffrey Dvorkin, the director of the journalism program at the University of Toronto Scarborough and former managing editor and chief journalist for CBC Radio.
Going where the voters are
Getting the millennial vote — which represents about 25 per cent of the population — could be the deciding factor in this three-way election race. The only problem is getting this demographic out and voting. In the last federal election, about 38 per cent of those 18-to-24 voted. For older millennials, 25-to-34, that number rose to about 45 per cent.
With 49 days until the election, Dvorkin says party leaders will have to use social media to get their platforms out to millennials because of the changing nature of the political campaign.
"Meeting the voters means you have to go where they are."
For Mulcair — who is avidly going after the millennial vote — it means engaging with this demographic online. The Toronto Star reported those 25-to-34 spent 110 hours online a week — the most of any Canadian demographic.
Mulcair is not the only leader to use social media to get his message out to young Canadians. In April, Liberal Leader Justin Trudeau sat down with VICE founder Shane Smith for a 15-minute interview. They chatted about issues millennials care about: climate change, Bill C-51 and marijuana legalization.
"You have to look at it from a branding standpoint and what your key demographics are."
Whether the approach is enough to get young voters excited about either Mulcair or Trudeau and motivated to vote is another question, said Dvorkin.
"You have to look at it from a branding standpoint and what your key demographics are," said David McGrane, a professor of political science at the University of Saskatchewan, on why these leaders are on social media.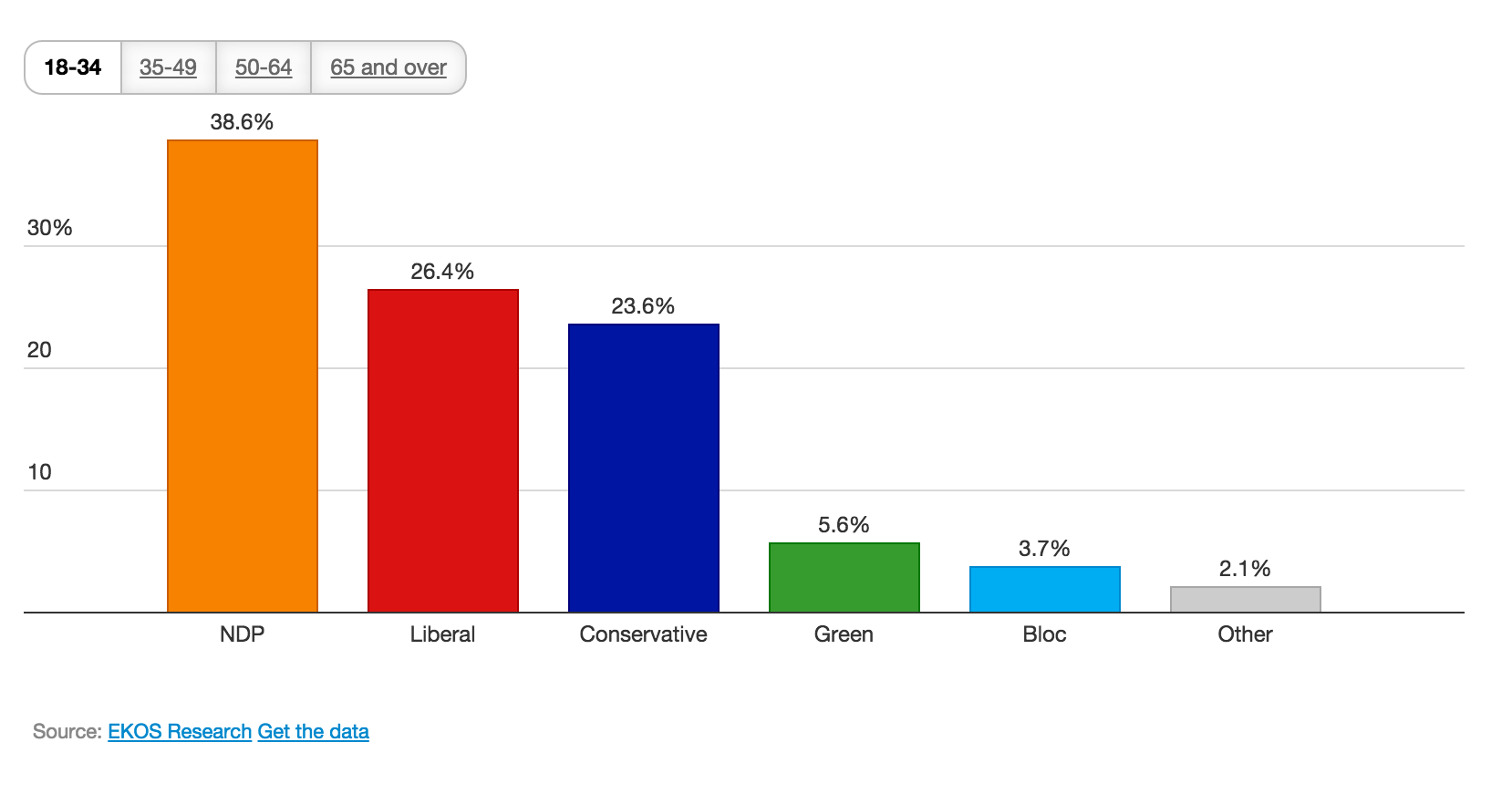 McGrane says he doubts Prime Minister Stephen Harper would be on social media the way Mulcair or Trudeau are because young people tend to vote for left-wing parties.
But Conservative strategist Tim Powers argues Harper is quite active on social media. He tweets, Instagrams and has a video channel — 24 Seven — on Youtube. These are some of the platforms he uses to communicate with his supporters.
"Whether [these messages] are creative enough or effective enough is one thing — but they certainly are not afraid to embrace various channels that are out there," Powers said.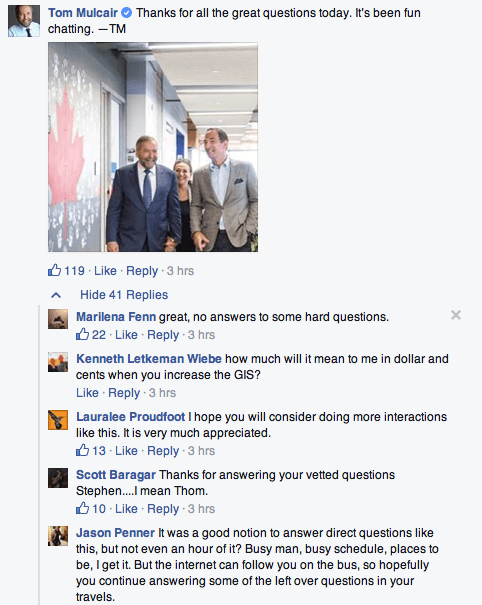 Powers says even though younger people might be left-leaning, Harper has tried to reach out to millennials through policies like the "no Netflix tax" — which promised no tax on digital streaming services.
He also says Harper could follow in the footsteps of Trudeau and Mulcair in taking part in online interviews and Q-and-A's if he thought votes were there to be had. "If he saw a proposition to use tools like that to move voters to the polls, you can be damn sure he would do it."
Different medium, same game
Whether Trudeau would pursue further online and non-traditional media interviews, Olivier Duchesneau The Liberal Party's communications manager and spokesperson, said he was not in a position to confirm future plans. In the e-mail he did express that "Mr. Trudeau and the Liberal Party of Canada are always eager to use new technologies and online platforms to engage Canadians, especially young Canadians."
Having leaders use social media to engage with people online, McGrane says can mobilize young voters and activists. But some disgruntled Facebookers — politically motivated or not — complained that Mulcair's Q-and-A was too short and that his answers were merely talking points.
Politicians might change their message for the medium they are using, or the demographic they are speaking too — but they aren't going to go off script, McGrane said.
"It's modern politics. In 2015 — no one ever goes off their message."
---
Published in partnership with iPolitics.ca.