Mahatma Gandhi's non-violent strategies won India independence from Britain and set India on a firm foundation of democracy. His actions still inspire champions of justice around the world said a panel of human rights veterans commemorating Gandhi's 150th birthday in Ottawa.
"If violence has to be tackled, hatred has to be tackled," said professor Rajmohan Gandhi, quoting his illustrious grandfather. Rajmohan described Gandhi as a leader who remained steadfastly committed to the principle and practice of non-violence, despite the pressures.
His co-panellists were Ebrahim Ebrahim, former Deputy Minister of International Relations in South Africa, and Cindy Blackstock, executive director of the First Nations Child and Family Caring Society. All three panellists paid tribute to Mahatma Gandhi as an inspiration for their life's work.
The panellists and moderator Irwin Cotler, Canada's former Minister of Justice, said Gandhi's work is particularly relevant because democracy is under threat. "Two years ago, a group of human rights activists signed the Prague Appeal for Democratic rights," said Cotler. The document raised concerns that democracy itself is under threat. "In today's world, with a growing resurgence of authoritarianism, the weaponization of social media and a rising anti-immigrant ethos," he added.
"In today's world, with a growing resurgence of authoritarianism, the weaponization of social media and a rising anti-immigrant ethos."
"Democracy supporters must stop this," said Cotler, who himself signed the Prague Appeal. He described the panellists as "warriors for democracy," adding that they exemplified "the non-violent struggle for democracy," that Gandhi popularized. "Mahatma Gandhi's philosophy was very much part of our struggle against apartheid," said Ebrahim.
Ebrahim was not only actively involved with Nelson Mandela in the struggle against apartheid but was imprisoned for 15 years along with Mandela. Following the dismantling of apartheid, he worked tirelessly to establish the democratic foundations of South Africa. "From the South African perspective, Gandhi came to our country where he experienced discrimination and abuse from the South African government of the time," said Ebrahim. "He developed his ideas of non-violent resistance in South Africa."
The former Deputy Minister went on to say that: "Gandhi was a moral force in South Africa and Gandhian thinking was very prevalent in the leadership of the African National Congress. Thanks to this, today we are the most democratic country in Africa and we embrace unity in diversity."
"Gandhi was a moral force in South Africa and Gandhian thinking was very prevalent in the leadership of the African National Congress."
Rajmohan Gandhi is a professor at the Centre for South Asian and Middle Eastern Studies at the University of Illinois. Rajmohan had words of praise for Canada as an exemplary democracy. "If there's one country that can give the world a lesson in democracy, it's Canada," he said. Adding that he admired Canada's commitment to equality and liberty. He compared it with the current state of democracy in India, which moved away from the principles of love and justice for all that his grandfather preached.
"Today, India's minorities have become more vulnerable with hate speech, organized mobs and lynchings demonstrating the hatred that Gandhi tried so hard to eliminate," he said. Gandhi's comments were in sharp contrast to those of Vikas Swarup, India's High Commissioner (Ambassador) in Canada. Swarup called his country's recent federal election a "festival of democracy" where 900,000 citizens cast their votes.
Rojmohan spoke of the growing intolerance towards minorities in India. "In 2019, many people in India are forced to chant certain slogans which are against their religion," he said. In Mahatma Gandhi's time, respect for diversity was reflected in independent India's first cabinet he said. "The cabinet included not only Hindus, who represented 80 per cent of the population, but also Muslims, Christians, a Zoroastrian, and one woman who happened to be a Christian," he recalled. "In fact, the architect of our constitution was Dr. B. R. Ambedkar, a brilliant lawyer, was a member of the untouchable caste."
Agents of Change
He said, however, that it wasn't all bad news. Many people in India are engaged in peace and reconciliation work to counter inter-ethnic and religious hatred and corruption. He cited the peacebuilding organization called Initiatives of Chang India, (IofC India), of which he is a former President. Asia Plateau, IofC's centre for training Indians in the arts of democracy and peace, does wonderful work, he said.
Blackstock said her work to gain equal rights for Canada's First Nations children owes its vision and strategies to Gandhi. She recalled her visit to the Gandhi Museum in New Delhi, where she was advised by an employee to put an end to the Canadian government's inaction by going directly to the Canadian people with her cause. "This is what Gandhi did when he rallied the people of India against British rule," she said. Gandhi had words of hope to combat the difficult days for democracy. "Every dark age comes to an end," he said. "Love and compassion are stronger than hatred and anger."
The University of Ottawa's Institute for Fiscal and Democratic Studies and the Mahatma Gandhi Peace Council organized the panel.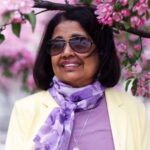 Ottawa-based writer/journalist, editor, blogger, communications professional seeking freelance opportunities in political and travel writing.