Last summer, I had an interesting debate with a young, well-travelled Qatari friend in Doha. Not unlike millions of others around the world, he was curious to know what I thought of Donald Trump's chances winning the Nov. elections.
"He is going to win; Donald Trump will be the incoming President," I said emphatically, many months before the elections.
My friend was shocked. When he pressed me to back up my prediction, I explained: it's not because Trump is the best candidate and nor is Hillary Clinton the worst nightmare, but the American people want Trump and they will make sure that Trump will be the next U.S. President.
Clearly intrigued, my Qatari friend moved closer, in an effort to speak more privately.
My reasoning went something like this: the profile of immigrants to both Canada and the U.S. has changed over the years and it's not hard to understand the anxiety in both countries.
For me, two names personify what I see as a sea change in the attitude of immigrants to Canada over the last 80 years: Helwi Hamdoun of Edmonton and Nabil Warda of Montreal.
Canada in the 1930s
I painted for my skeptical friend the story of Canada's first mosque that was built nearly 80 years ago in the Alberta city of Edmonton, at a time when the number of Muslims in Canada was less than 700 . With such a small number of Muslims, most of whom had migrated from Lebanon and Syria, the community didn't have a lot money.
They worked on farms, and some of them learned to trade in fur, the main commodity in Canada at the time.
As Edmonton's Muslim community began to grow and prosper, they felt that their religious life was being hampered. After several meetings, they concluded that a mosque is urgently needed to accommodate the small number of Muslim families who wanted not only to guard their traditions, but also have a place to socialize, party, and give back to the community as well.
The real heroes were actually heroines, the wives of those hard-working Muslim men. These women, who had challenges with the English language, knocked on the doors of businesses in their community. They were led by Helwi Hamdoun, who managed to fund-raise exactly $5,750, despite the dire economic circumstances caused by the Great Depression.
They managed to raise money for their project and get donations from non-Muslim business owners, lawyers, politicians and members of the community who donated generously. Thanks in part to support and land from the then Edmonton mayor John W. Fry, the community broke ground for the mosque in May 1938.
To me, as an Arab immigrant to Canada, the story of the first mosque is essential to the fabric of Canada. Without Christians, Jews and other non-Muslim Canadians, the mosque wouldn't have existed. I've read that I.F. Shaker, a Christian Arab, was the master of ceremonies at the opening.
The building itself was inclusive. In addition to the prayer hall, it had a social and recreational venue in the basement, with a donated piano to also entertain guests from different faiths. The mosque also housed ovens to make baked goods that could be donated and served free-of-charge to neighbours and friends.
Canada of today
I compare that with what I see today. The issue is not in Islam as a religion, but rather with some of today's Muslims who choose freely and willingly to migrate to Canada, but have a different approach, with goals that are irreconcilable with Canada's diversity and multiculturalism.
Here's what I have witnessed first-hand:
Some Muslims believe that – only because they're Muslims – they are better than everybody else.
Some of them teach their kids not to greet people from other faiths on their religious occasions or holidays.
Some feel offended when they see Christmas decorations in public places.
Some of them will not send their kids to public schools and will provide them with homeschooling or other forms of secluded education.
This leaves us with a new reality, a new ideology within our society, which brings me to my second character study: Nabil Warda, the Montreal real estate developer who wants to build a community exclusively for Muslims.
Most disturbing to me was a statement he made in an interview he gave to the Montreal Gazette in which he was quoted as saying, "We would share services between us and live with people who believe that life on Earth is not only to eat and sleep but that there is something else, and to try to live as close as possible to the monotheist ideals which started with Abraham."
Really?
Diversity, peace and equality
Why don't these people just follow the Koran, which has lots of verses that suggest co-existence ("diversity"), kindness ("peace") and the principle that all individuals are equal before God ("equality").
To me, the Canadian Charter of Rights and Freedoms can literally be found in the Koran, which was written thousands of years ago, and yet many of today's so-called followers deny others the right to live peacefully.
Let me just cite one verse from the Koran that has been interpreted as follows:
"O mankind! We created you from a single (pair) of a male and a female, and made you into nations and tribes, that ye may know each other (not that ye may despise (each other). Verily the most honoured of you in the sight of Allah is (he who is) the most righteous of you. And Allah has full knowledge and is well acquainted (with all things)"
I sincerely wonder why Warda decided to immigrate to Canada in the first place.
This sort of narrow-mindedness bothers me. I don't find it surprising that lots of people in Canada now feel that it's important to screen newcomers who want to live in our countries. Are these anxious people to blame?
Conservative leadership candidate Kellie Leitch is proposing a values test for all new immigrants. I suggest that we should seriously consider the factors that have led her to make such a proposal.
Unfortunately, we'd rather debate the fallout from her proposal, rather than examining the root causes that may be behind it.
---
Khaled Salama is an Egyptian-born journalist, columnist, radio host and reporter for Arab media.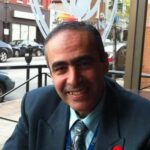 Khaled Salama is an Egyptian-born journalist, columnist, radio host and reporter for Arab media.