The first and only Filipino-Canadian senator died today (November 16, 2017) in Medellin, Columbia where he was attending a parliamentary meeting.
The Ontario senator was in the South American country for the ParlAmericas Annual Plenary Assembly, along with Liberal MPs Robert Nault and Randy Boissonnault, NDP MP Richard Cannings and Conservative MP Bev Shipley.
Tobias 'Jun' Enverga, Jr. was 61. His wife Rosemer Enverga was with him when he died according to his senate office.
"I offer my condolences to the family who is obviously in mourning and in grief right now," says Dr. Rey Pagtakhan when reached from his home in Winnipeg.
"The community suffered a loss," adds the retired parliamentarian, the first Filipino-Canadian elected to the House of Commons. The two never met each other.
Enverga was appointed to the senate by Prime Minister Stephen Harper in 2012 for the province of Ontario. He was first elected  as a school trustee for the Toronto Catholic School Board.
The former banker's appointment was hailed by the Filipino community but he became a lightning rod for a vicious campaign by his critics.
Among the fiercest criticism came from Toronto's Balita newspaper who constantly ridiculed the senator for his alleged incompetency for the job.
He was labelled the 'karaoke senator' by Balita's Romeo P.Marquez for his first speech in the senate where he alluded to Filipinos as good karaoke singers.
Balita followed his every activity in Toronto and suburbs and hammered on his alleged failure to account for monies raised by the Philippine Canadian Charitable Foundation (PCCF) a charitable organization that he was involved with before being appointed to the senate.
Senator Enverga with Toronto Mayor Tory and Councillor Pasternak in a ribbon-cutting ceremony.
Eventually Enverga filed a libel suit against the paper, its publisher Tess Cuispag and Romeo P. Marquez for defaming him. Last year,  Enverga won a judgement against the defendants and as awarded $350,00 in damages, one of the largest award in Canada.
Cusipag went to prison
Cusipag was also sentenced to 31 days in jail for contempt of court for violating the injunction imposed in connection with the libel case. She served 13 days of her sentence and released.
It is not known if the award has already been already paid as of this writing. Queries to Enverga's senate office and his lawyer were not answered.
Enverga emigrated to Canada in the early 1980s after earning a bachelor of arts degree in the Philippines. He was 28 years old.
He took an MA at York University and his tenure at the Bank of Montreal lasted for three decades.
Enverga, who hails from Lucena, Quezon province, is survived by his wife Rosemer and three daughters Rystle, Reeza and Rocel.
---
Published under arrangement with the Philippine Canadian News.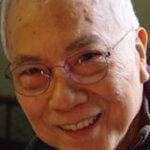 Ted Alcuitas is the founder of Canada's first Filipino newspaper, est. 1976. He is also former Senior Editor of Philippine Asian News Today and current publisher and editor of Philippine Canadian News.