Shikha Mehta, an IT professional from Pune, India, was all set to begin a new life in Toronto this spring with her husband. The couple had quit their jobs to embark on this life-changing move, and booked their flights for April 17. Then the COVID-19 pandemic hit. Nations sealed their borders and stopped issuing visas, putting the couple's dream of immigrating to Canada in limbo.
Mehta has a Confirmation of Permanent Residence (COPR)
from Canada. Her "golden ticket," the COPR document marks the end of a long wait and provides confirmation that one can officially live, work and raise a family in the Great White North. Like many, as soon as she got this treasured document, she began packing up her life in western India, in anticipation of the move overseas.
"We planned to land in April, so both of us left our jobs. We booked our flight and kept our savings aside. We never thought that this was coming," said Mehta, in an interview over Facebook messenger.
The 30-year-old suddenly finds herself without a job and stressed because she won't arrive in Canada by the travel deadline on her visa. And the Canadian government hasn't informed her if she will get an extension. Mehta is concerned that all the couple's past effort in applying for immigration will go to waste.
The couple had applied for Canada's express entry program for skilled immigrants. They had to  gather documents to verify their educational qualifications and contact previous employers to get references and take an English proficiency exam. They had to get a medical exam and submit the health information along with proof showing they each had a minimum of $6,000 CDN in saved funds.  The entire process took more than a year to complete.
Different aspects of the same nightmare
Another COPR holder, Aditya Madan, 27, a social media marketer from Mumbai, India, is just as distraught as Mehta. He was also supposed to start his Canadian adventure this spring, but the COVID-19 threat has replaced his excitement with worry. As the health crisis grew, Madan's chance to leave diminished.
"The problem is that my passport expires on March 30th. I wanted to avoid the hassle of renewal in India."
Now Madan will now have to wait even longer.
In order to leave before his Indian passport expired, Madan rushed to quit his job, liquidated his assets and even purchased a highly inflated one-way ticket to Canada for the "criminal" price of $2,587 CDN. His plans failed to take off when India imposed a 21-day nation-wide lockdown on March 25, shuttering businesses and halting public transportation.
"The worst part is that I am still willing to travel in a global crisis, though I understand it's a very 'COVIDiotic' move," said Madan.
But there's no way he can do that right now, because Canada has banned international flights to its airports.
Implications of the Travel Ban on COPR Holders 
Prime Minister Justin Trudeau issued an international travel ban on March 18. The Immigration, Refugees, Citizenship Canada (IRCC) website was quick to inform applicants as the risk of COVID-19 spread and safety measures were put in place. 
Ten days after the ban was implemented, exemptions were put in place to allow temporary workers, international students and approved permanent residents to travel to Canada. However, they must pass the health check conducted by the airline and a wellness assessment at Canadian airports. They will also have to undertake mandatory self-isolation for 14 days, even if they do not show symptoms.
Excluded from Canada's repatriation flights

More than 15,000 Canadian passport holders are stranded in India.
The government has scheduled repatriation flights for early April, but it is unlikely that Mehta and Madan will be able to get on those planes. 
Kerry Molitor, a Canadian immigration consultant, says the repatriation flights will be limited to Canadian citizens and immediate family members who are permanent residents of Canada they are travelling with.
But Molitor says once borders open, people who have a COPR will be allowed to land. But the number of people infected with COVID-19 is continuing to rise and the curve has yet to be flattened in Canada. The travel ban won't be lifted until Canada gets the virus under control. That means Mehta, Madan and others will just have to cope with the uncertainty.
This story has been produced under NCM's mentoring program. Mentor: Joyeeta Ray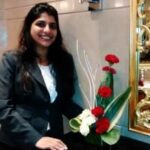 Kate Fernandes is a marketing and communications professional who loves telling stories to help build brands. She has worked with a charitable organization, professional service firm and helped startups in India. She is now discovering the world of communication in Canada after moving to Toronto from India in the Fall of 2019. You can read about her networking adventures on her LinkedIn blog.