This past February, an enterprising and cheeky Cape Breton radio disk jockey set up a website entitled "Cape Breton If Donald Trump Wins." By this means, Rob Calabrese sought to poke fun at the narcissistic buffoon and presumptive Republican nominee for U.S. President, and, more importantly, interest disaffected Americans in immigrating to beautiful Cape Breton.
According to Rolling Stone Magazine, Calabrese and his wife had been following the U.S. election campaign closely and thought that it might be "the key" to reversing the fortunes of an island that has been witnessing a steady decline in population. Still, the DJ was stunned by the reaction to his site.
Hundreds of inquiries poured in, many of them from Yankees expressing a serious interest in moving to Nova Scotia. And the avalanche of inquiries continued. When he could no longer handle the huge volume, Calabrese passed them on to the local tourist board, which then started to refer to the uptick as the "Trump bump".
Trump convention
Website viewers who had contemplated seeking refuge in Nova Scotia if Trump became President came closer to taking that step when Republican National Convention delegates voted Donald Trump the party's presidential nominee. The convention, held in Cleveland, Ohio from July 18 to July 21, could aptly be described as the Trump Convention. As such, it  was a disorganized, ramshackle affair, in short, a bizarre showcase for the New York City businessman's political style.
[The Trump convention] was a disorganized, ramshackle affair, in short, a bizarre showcase for the New York City businessman's political style.
In his long acceptance speech, Trump painted an America on the verge of collapse, a country beset by violence and chaos everywhere. To make it great again, he will ban immigration from countries where terrorism is rife and build "a great border wall to stop illegal immigration." He will also enforce law and order in his own country; boost employment in the hard-hit manufacturing sector by prohibiting companies from moving their production outside the U.S. "without consequences", "turn bad trade agreements into great ones"; and reconsider America's membership in NATO. 
With Trump becoming the Republican Party's standard bearer and Hillary Clinton becoming the Democratic Party's presidential candidate, the race for the White House became a real one. In fact, on July 28, Nate Silver, of the poll aggregation site fivethirtyeight.com, placed the probability of Clinton being voted into the presidency at just 52 percent, down from 75 percent the previous week.
Lifestyle change
The serious threat of a Trump presidency made the promise of an attractive lifestyle in Nova Scotia resonate even more with many Americans.
Each year, thousands of Americans pack up and move to Canada, but not after being aggressively courted by Canadian government officials and radio disk jockeys. As my book Strangers At Our Gates notes, when it comes to assiduously courting American immigrants, we have to look back to the early years of the 20th century.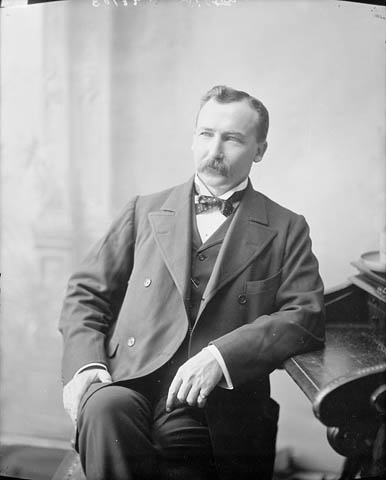 These were the years when dynamic Clifford Sifton (picture at right, courtesy Library and Archives Canada) oversaw immigration as Minister of the Interior and Superintendent-General of Indian Affairs in Wilfrid — Laurier's "Sunny Days" Liberal government (1896-1905). A lawyer from Brandon, Manitoba, Clinton was convinced that massive agricultural immigration was the key to general Canadian prosperity; if primary resources were developed, then industry and commerce would follow naturally.
This close-mouthed man stated his immigration goals nowhere more explicitly than in a memorandum that he wrote to Laurier in 1901. Said Sifton, "Our desire is to promote the immigration of farmers and farm labourers. We have not been disposed to exclude foreigners of any nationality who seemed likely to become successful agriculturalists … (Strangers At Our Gates, p85).
When wearing his immigration hat, Sifton sought to attract agricultural settlers from the U.S., Great Britain and continental Europe to the almost empty Canadian prairies. Pamphlets in several languages flooded the U.S., Britain, and Europe; foreign journalists were wined and dined on guided tours across the West and Canadian exhibits were mounted at fairs and public displays in targeted countries.
Heading north
When it came to recruiting immigrants from the United States, Sifton pulled out all the stops to attract experienced farmers with capital. Thanks to his effective advertising campaign, the expansion of his department's network of offices and agents and the widespread  perception in rural America that the frontier had closed, more Americans than ever before headed north. In fact, Americans constituted the largest immigrant group in the newly formed provinces of Alberta and Saskatchewan.
When it came to recruiting immigrants from the United States, Sifton pulled out all the stops to attract experienced farmers with capital.
Could a similar surge in American immigration take place in Nova Scotia and the rest of Canada in the months to come?
Or, will the "Trump bump" be short-lived, another example of progressive thinking Americans joking about moving north when American politics threaten to take a "conservative" turn.
---
Valerie Knowles is an Ottawa author with degrees from Smith College (B. A. Honours History), McGill University (M.A. History), and Carleton University (B.J.). In addition to authoring books, Knowles has written for magazines, newspapers, and federal government departments, taught history, and worked briefly as an archivist. Her book, From Telegrapher to Titan: The Life of William C.Van Horne (Dundurn Press, 2004), won the University of British Columbia Medal for Canadian Biography for 2004, the City of Ottawa Non-Fiction Book Award for 2005, and the Canadian Railroad Historical Association Annual Book Award for 2005.