Canada is basing its post-pandemic future on immigration, and the country is currently accepting more permanent residents than before COVID-19, Marco Mendicino, minister of immigration, refugees and citizenship, said during the country's biggest annual event devoted to migration policy.
"As we continue to fight COVID-19 and cast our eyes to post-pandemic future, we are at a unique juncture in Canadian history," Mendicino said in his address during the 23rd annual Metropolis Canada Conference, held virtually on March 22-26, 2021.
"We are facing a generational challenge and we will meet the moment by welcoming 401,000 new permanent residents this year," the minister said, citing Canada's immigration quota for 2021 from its 2021-2023 plan updated last October.
"This is the choice we can make together for our country, it's the choice we need to make now so that Canada's destiny is not constrained by our demographics," he added. "We are choosing to be open, compassionate and prosperous."
Metropolis Canada is the largest annual gathering of academics, immigrant settlement agencies, governmental and non-governmental organizations, and business sector representatives with a focus on migration policy and research.
Over 1,200 delegates from coast to coast of Canada took part in this year's edition titled Migrants, Migration and Mobility: COVID-19 Response and Recovery and held remotely for the second time due to the pandemic. The five-day event comprised more than 100 workshops, roundtables, and poster presentations with more than 270 people involved in presentation sessions.
Immigration creates growth
Canada's "ambitious road map" means "welcoming new permanent residents at a higher rate than before pandemic," the minister said. "We are seizing the opportunity to engage immigrants who are already here."
To illustrate, on Feb. 13, 2021 Immigration Canada held the largest draw in the history of its Express Entry program, extending invitations to over 27,000 people, all from the Canadian Experience class, which means they are already in Canada.
Central to Canada's 2021-2023 immigration plan is belief that "immigration creates jobs, immigration creates growth, and immigration is there to accelerate our economic recovery," Mendicino said.
"The reason why diversity is such an important value is because immigrants take risk, they are problem-solvers and innovators," he added. "They overcome tremendous adversity just to get here. By supporting them in this journey of integration we are becoming competitive, stronger, and that is why this country has it in its DNA."
Canada: "bright light in a horrible year"
Since 2020, the global resettlement ecosystem has been operating at reduced capacities, and many countries have closed their doors, but Canada is living up to its standards, Mendicino stressed.
"We led the world in accepting 9,000 refugees. We are on track to admit more," he said, emphasizing that UNHCR, the UN Refugee Agency, "has called Canada a bright light in a horrible year for refugee resettlement."
According to the UNCHR, fewer than 23,000 refugees were resettled across the globe by the agency in 2020, while an estimated 1.4 million refugees are in urgent need of resettlement.
Citizenship ceremonies were held online to welcome over 50,000 new citizens, the minister added, stressing that Canada became the first country in the world to offer citizenship and conduct asylum interviews remotely.
"We became the first country in the world to provide citizenship testing online." @marcomendicino, Minister of @CitImmCanada
#MetropolisCAN2021 #COVID19Response #Immigration pic.twitter.com/ktgXObTswO

— Metropolis Conference (@metropolisconf) March 22, 2021
"As we go forward, welcoming international students and refugees is a central part of our plan," he said.
Mendicino also emphasized the need to fight racism and discrimination as a way for Canada to lead in the world.
"It is not as though we just have to rest on our laurels," he said. "We've got to work at it. But by sharing these positive stories, I believe we do ourselves a great service in fighting discrimination, fighting racism and building that country we all aspire to."
A crisis of solidarity
Canada's Ambassador to the UN, Bob Rae, who addressed the delegates on the third day of the conference, spoke about a crisis of solidarity, a crisis of empathy and a crisis of understanding during the COVID-19 pandemic. But Canadians must be aware that informal migration and internal displacement in countries of the Global South have not stopped because of COVID-19.
"Our support for humanitarian assistance needs to go up," the diplomat said. "The challenges that we see are not that far removed from our own borders," he added, referring to Colombia, where refugees keep pouring in from border conflict areas in Venezuela.
"Within the Americas we see a crisis we did not fully appreciate before," Rae added. "Canada's stepped up. We have indicated our strong support for Columbia. We are going to be chairing efforts in June 2021 … to raise funds for Venezuelan refugees in Colombia and we are going to need to face up to the need to look more broadly at the impact of migration in the Americas."
Prior to his appointment as Canada's Ambassador to the United Nations last year, Rae served as Canada's special envoy on humanitarian and refugee issues, continuing the work he began in 2017 as special envoy to Myanmar while also addressing other pressing humanitarian and refugee issues around the world.
Canada, with the support of UNHCR and the International Organization for Migration, is hosting the next International Donors' Conference in Solidarity with Venezuelan Refugees and Migrants on June 17, 2021, as announced by Global Affairs officials earlier in March.
Canada has also taken the chairmanship of the Central America's UNHCR project "which I think it is going to be critical in talking about resettlement and how that goes forward,' Rae said.
The Metropolis conference concluded with the announcement of three Awards of Excellence for outstanding contributions to the field of immigration and settlement. The recipient of Service Provider Award this year was Tara Bedard, executive director of the Waterloo Region Immigration Partnership. Metropolis Researcher Award went to Lori Wilkinson, professor at the University of Manitoba / Canada Research West. Finally, Metropolis Policy Maker Award recipient was Dawn Edlund, former associate assistant deputy minister of operations, immigration, refugees and citizenship Canada, and Government of Canada operational lead for Operation Syrian Refugees (retired).
The next, 24th Metropolis Canada Conference, be held in Vancouver, B.C., in March 2022. The hosts hope to return to the traditional, in-person format.
Note: Naser Miftari participated at this year's Metropolis Conference on behalf of NCM, presenting the findings from our recent project, "Bridging the Mainstream – Ethnic Digital Divide in COVID-19 Literacy" .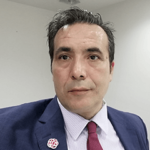 Naser Miftari is an independent media researcher. His broad area of interest is in political theory and his research focus is on the future of public broadcasting, media governance and political economy of communication. For more than ten years he was a writer and editor for Koha Ditore one of leading newspapers in South East Europe. He is an active contributor in media research studies and has also taught graduate and undergraduate courses in media and political science at colleges and universities in United States and South East Europe. More recently he served as a contributor on global journalism issues with the Toronto-based Canadian Journalists for Freedom of Expression (CJFE) and in 2016 he was a research fellow at King's College in New York.